If you're looking for the best rabbit hutch for 2 rabbits there are a few points to consider before making your final decision. One very important thing is whether you plan on using the hutch indoors or outside.
If you plan on placing the hutch outside you'll be able to get a much larger hutch with an attached run. If on the other hand, you plan on keeping your rabbits indoors a smaller hutch will end up being the best option.
Best Rabbit Hutch for 2 Rabbits

Rabbit Housing Requirements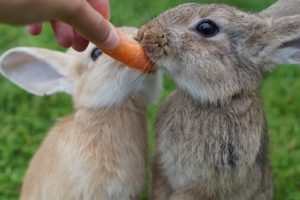 In order to keep your rabbits happy and healthy it's good to know the proper hutch/cage size they will require. A good rule of thumb is that one rabbit needs a minimum of 12 sq. ft of living space and 32 sq. ft of run/exercise area.
A rabbit hutch should have a minimum width of at least 2 feet (61cm) for a small rabbit all the way up to 3 feet (91 cm) for a large/giant rabbit. As for the length of the hutch, a rabbit hutch should be at least 6 feet long so the rabbit can freely hop about without the risk of running into the walls.
A rabbit hutch should also have adequate headroom since rabbits like to stand up on their hind legs to survey their surroundings. This means that for small breeds of rabbit a hutch should have an internal height of 2 feet, and for large/giant breeds a 3-foot tall living area is recommended.
The exercise area or run can either be attached to the hutch or purchased separately. A large enough run will keep your rabbits stress free, by giving them a place to play and stretch their legs. In order to provide your rabbits with enough space a run/exercise area with 32 sq. ft of space is recommended. Even though a 32 sq. ft run is the minimum for one rabbit it can accommodate up to two rabbits if space is limited. But if you can find the space a larger run is always better.
Try Our Rabbit Cage Size Calculator
Best Rabbit Hutch Reviews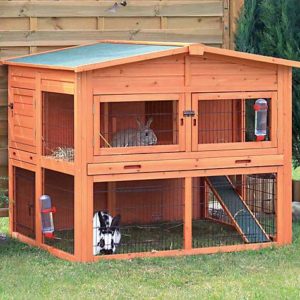 The Trixie Natura XL Two Story Rabbit Hutch with Outdoor Run is a large rabbit hutch for 2 rabbits. The two-story design is perfect if you have limited space in your yard for a hutch, but you still want to provide a large living and play area for your rabbits.
The first story level of the Trixie Natura Xl Hutch is comprised of a large open run with steel bars on three sides and a solid wood back wall. A large door is located on the first story of the hutch which can be used to allow your rabbits to exit the hutch and explore the rest of the yard.
When your rabbits are ready to move up to their living quarters a nice high traction ramp will allow them to easily hop up to the second story level. Once your rabbits have moved up into the second story living area they will have the option of relaxing in the front of the hutch. Or they can retreat into the back of the hutch which is totally enclosed making it a perfect hiding spot or nesting area.
While all of these features are great for your rabbits, this hutch will also make caring for your rabbits a whole lot easier. The top level of this hutch has two easy to slide out plastic tubs, which will make cleaning the rabbit's litter a cinch. And no matter where your rabbits are in this hutch the 7 doors will make it easy to get to your rabbits. And another nice feature of this hutch is the attic which can be used for storing food and other cage accessories.
---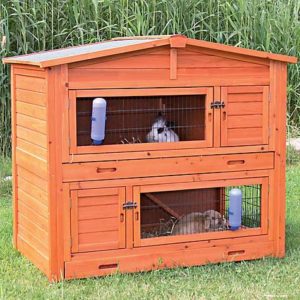 The Trixie Natura Two Story Peaked Roof Rabbit Hutch is made to house two rabbits either indoors or outside. Since this hutch doesn't come with an attached run it can easily be placed inside your house. This hutch is a great choice if your unable to keep your rabbits outdoors for any reason.
The hutch has two levels with separate living and nesting areas for each rabbit. The two levels are connected with an easy access ramp so the rabbits can move freely to any area they please. Cleaning the hutch will also be an easy task thanks to the slide-out tubs located under each level.
Another nice thing about this hutch is that it doesn't use a wire mesh floor. If you are at all concerned about the health of your rabbit's feet this is a great feature. While most of us are used to mesh floors and the easy maintenance they afford, our rabbits really do need a soft floor in order to be comfortable. Not having a mesh floor in this hutch won't even make pulling the trays out much of a problem. All you will have to do to work around this is move the rabbits from one level to another, and then pull each tub out individually in order to clean them.
If you really need a compact hutch that will work well indoors, this is the best indoor rabbit hutch for almost any situation. The only thing this cage lacks is a run for the rabbits to play in. To keep your rabbits happy just let them out of the hutch as often as you can, so they can explore and stretch their legs.
---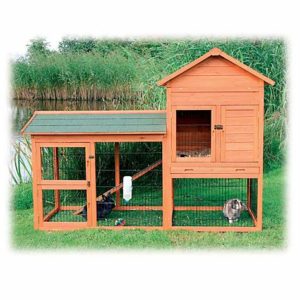 The Trixie Natura Two Story Rabbit Hutch with Large Run is perfect for rabbits that like to spend most of their time outside instead of in their living area. This rabbit hutch has a 32 sq. ft run which is the perfect size for 1-2 rabbits.
The top level of this hutch is connected to the run with an easy to climb up ramp. The living area is comprised of three compartments. The first is the open area where your rabbits can sit and look out the metal mesh door. The second compartment is an enclosed hiding area perfect for those times when your rabbits feel anxious or just want to be left alone. And finally, this hutch has a very spacious attic area, which is designed for storing food and any other cage accessories.
When it comes time to clean the hutch it has a single easy to remove plastic litter tray located right under the living area. And if you need to handle your rabbits they can be easily reached by anyone of the four doors which all come equipt with secure safety latches. If your rabbits need a large outdoor rabbit hutch with a run this is the best outdoor rabbit hutch for 2 rabbits available.
---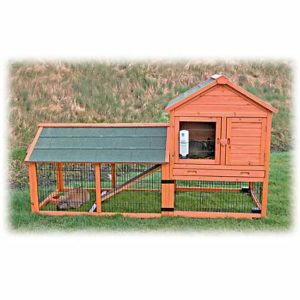 The Trixie Natura Two Story Wheeled Rabbit Hutch with Run balances portability and size in a very nice package. While it might not have the largest run out of all the hutches in this guide, it more than makes up for that with its portability. This hutch is perfect for people who don't want to damage their lawn by having a hutch sit in one single location. Or if you garden you can move this hutch over your garden beds during the winter or when they are fallow. This will allow your rabbits to eat the leftover crop residues and fertilize your garden.
This hutch has a nicely sized run area that is perfect for rabbits that love to spend the day eating grass and playing around outside all day. The run area is connected to the living area via a gently sloped ramp so the rabbits can move inside and out with ease. The whole run area is covered so your rabbits can even stay outside during inclement weather.
For all intents and purposes, this hutch is just a slightly scaled down version of the Trixie Natura Two Story Rabbit Hutch with Large Run. It has the same three compartment design with an open living area a hiding/nesting box and a storage attic.
What really sets this hutch apart though is the wheels located under the living area of the hutch. Even though this cage weighs slightly over one hundred pounds it is very easy to move. What makes it so easy to move is that the wheels are located under the heaviest part of the hutch. So all you have to do to move it is pick up the very light run area and pull the whole enclosure along. If you need a hutch with a large attached run that is also portable you really can't beat this unit.
---
The Trixie Natura Insulated Two Story Rabbit Hutch is a perfect rabbit hutch for cold climates. This hutch has been specially designed for areas that experience very cold winters. Even though rabbits are pretty well equipt to handle the cold, giving them some extra protection is always the best course of action.
What really sets this hutch apart, is how every last detail has been designed to help protect your rabbits and the hutch from harsh winter weather. First off the walls are made of specially treated pinewood that is weatherproofed so it won't warp or crack in extreme conditions. Then sandwiched between the durable pine walls is a thick layer of Styrofoam insulation. And to top it all off each of the front mesh panels has a see-through plastic door with small air holes to keep any drafts inside the hutch to a minimum. If you plan on keeping your rabbits outside year round in an area that has very cold winters, this is the best outdoor rabbit hutch for that kind of situation.
The internal living area in this hutch has two spacious levels for your rabbits. The two levels are connected via a ramp so the rabbits can spend time together or stay in their own separate areas. Each level has a hiding/nesting space and large open area that is easily visible through the large metal mesh front doors. And cleaning this hutch will be a simple chore since the hutch comes with two easy to remove pull out plastic litter pans.
---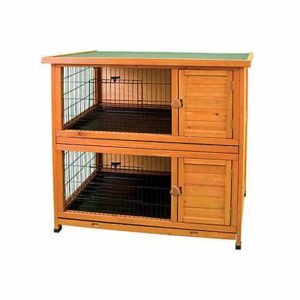 The WARE Premium + Double Decker Hutch is a good low-cost hutch for housing two rabbits separately. The two living areas of this hutch are not connected so you can keep two rabbits in a single hutch without them interacting. Where this might be necessary is if you have male and female rabbits and you're trying to prevent them from breeding. Or you might have a pair of rabbits that just don't seem to get along. If you have those issues or any others this hutch could be a good option.
This hutch has a nice individual living space for each rabbit. Each level has an open living area with metal bars on two sides and a small hiding/nesting box for each rabbit. You can gain access to each level either through the front gated door, or each hiding/nesting box has a latched wooden door. When it comes time to clean the hutch each level has its own pullout tray for quick and easy waste removal.
One small limitation of this hutch is that it is not designed to be exposed to the elements. This hutch should only be placed in covered areas like a patio a garage or inside a house. If you need a nice hutch at a low price for housing two rabbits in separate living areas this hutch might just meet your needs.
Sources:
https://ohioline.osu.edu/factsheet/4h-31
https://4hanimalscience.rutgers.edu/2019/02/15/winter-care-for-rabbits/
https://www.canr.msu.edu/news/determining_cage_size_for_rabbits