Choosing the right pellet food for a guinea pig can be a bit of a challenge. Guinea pigs can't eat the same pellets that you would give to a hamster or a rabbit. The reason for this is that guinea pigs need extra vitamin C in their diet. If you don't get the right food for your guinea pig they will suffer a number of health issues related to vitamin C deficiency. That's why choosing the best pellet food for guinea pigs is one of the most important things you can do to keep your guinea pig healthy and active.
We recommend Oxbow Animal Health Guinea Pig Bene Terra (Buy Online) as a staple food, and Kaytee Fiesta Guinea Pig Food (Buy Online) if you want to add a little variety to your guinea pig's diet.
Best Pellet Food for Guinea Pigs
Best Guinea Pig Pellets
Oxbow Animal Health Guinea Pig Bene Terra Organic Food (Buy Online) is a great choice if you want to avoid feeding your guinea pig pesticides and other harmful chemicals. This is one of the few guinea pig foods on the market that is certified by the USDA to be 100% organic. That means no artificial fertilizers are used to grow any of the ingredients in this food, and any pesticides that might be used have to meet USDA organic standards.
Oxbow Animal Health Guinea Pig Bene Terra Organic Food is also highly nutritious. It is fortified with essential vitamins and chelated minerals. In addition, oxbow guinea pig food ingredients include high-fiber hay, alfalfa, and it also contains essential fatty acids. The vitamin C in this product is stabilized so it won't quickly degrade once the bag is opened.
F.M. Brown's Tropical Carnival Gourmet Guinea Pig Food (Buy Online) is one of the best guinea pig pellets on the market. This food contains a wide assortment of seeds, nuts, fruits and grains which makes it a great way to add some variety to your guinea pig's diet.
The fruits in this food are a great natural source of vitamin C and they also contain beneficial vitamins and phytonutrients. Fruits like papaya and pineapple are excellent sources of vitamin C, while raisins and cranberries are chock full of vitamins and minerals.
F.M. Brown's Tropical Carnival Gourmet Guinea Pig Food also contains vegetables like pumpkins, sweet potatoes, and carrots which are all excellent sources of beta-carotene and carbohydrates.
This food also has all the staples you expect to find in a high-quality guinea pig food like timothy hay and alfalfa meal. On top of that this food also contains 14.5% crude protein, 5% fat and 22% fiber, and each kilogram of food has had 220 mg of Vitamin C added to it. All in all this food is one of the most varied and nutrient dense foods you can feed a guinea pig as a treat or to round out their diet.
Kaytee Fiesta Guinea Pig Food (Buy Online) contains a wide range of healthy ingredients at a very affordable price point. This food contains a blend of alfalfa, seeds, vegetables, fruits, and grains so you can provide your guinea pig with a well-rounded diet.
Kaytee Fiesta Guinea Pig Food also contains probiotics and prebiotics to help keep your guinea pig's digestive system balanced. This food is also fortified with natural antioxidants for immune health and to reduce oxidative damage.
The inclusion of fruits and vegetables in this food make it a more complete source of nutrients than most regular guinea pig pellets. All the fruits, seeds and vegetables in this food have been ground down and formed into pellets. This is nice if your guinea pig is used to eating pellets, or if they won't eat seeds and dried fruit when they are mixed into a regular pellet based diet.
The pellets also encourage chewing, which will help keep your guinea pigs teeth filed down. The pellets also come in a mix of shapes, colors, and sizes so they will still add a little variety to your guinea pigs diet.
Kaytee Fiesta Guinea Pig Food is also nutritionally complete since it contains 16.5% protein, 5% fat, and 12% fiber. This food also contains 450 mg/kg of stabilized vitamin C. In addition, it also contains omega 3 fatty acids to help keep your guinea pig's skin and hair healthy.
Kaytee Supreme Diet for Guinea Pigs (Buy Online) is a high-quality no frills guinea pig food that you can buy in bulk to save some money. These guinea pig pellets are perfect for picky guinea pigs who only like eating pellets. If you have tried giving your guinea pig food with fruit and seeds mixed in and they didn't like it then this food might be a better option.
Even though these guinea pig pellets might seem a little uniform and boring they still contain all of the essential nutrients a guinea pig needs in a balanced healthy diet. They contain 18% protein, 3 percent fat and 16% fiber. These pellets also contain 100 mg/kg of vitamin C, which is a little on the low side given some of the other options on this list.
If you just want a plain pellet then Kaytee Supreme Diet for Guinea Pigs will do the trick. They are also a cheap guinea pig food to buy in bulk since you can get them in 5-pound bags all the way up to 25-pound bags, so you can stock up if you are on a budget.
Higgins Sunburst Gourmet Guinea Pig Food Mix (Buy Online) offers a good balance of pellets along with mixed in roughage. The pellets in this bag are fortified with vitamins and minerals, and the fruit and vegetable flakes make this a great food to add to any guinea pigs diet.
This food also contains some unprocessed seed heads and pieces of hay which will make it seem much more natural to a guinea pigs pallet. Higgins Sunburst Gourmet Guinea Pig Food also contains no artificial colors or preservatives, which is why it isn't as colorful as some of the other foods in this article.
This guinea pig food also doesn't skimp on ingredients. It contains alfalfa, hay, oats, wheat, and barley. It also contains a mix of essential fatty acids and probiotics to help keep your guinea pigs digestive system healthy, and their immune system active.
The macronutrient profile of this food is also pretty good since it contains 14% protein, 2% fat and 18% to 22% fiber. This food is also well fortified with vitamin C since it contains 400 mg/kg of this essential vitamin. If you need a natural guinea pig food that has a good mix of nutrients without any added artificial ingredients then this food is a great option.
What Nutrients do Guinea Pigs Need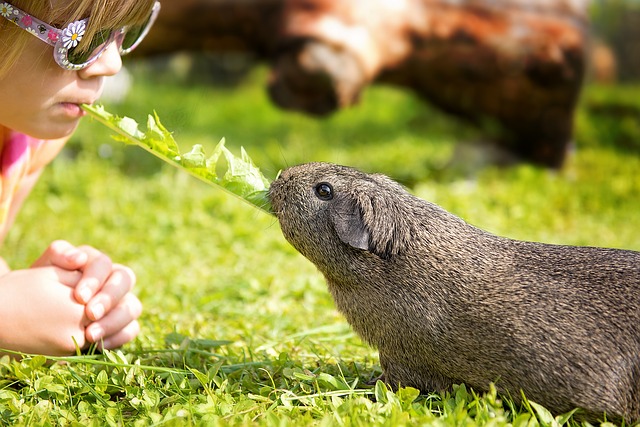 Vitamin C
The one thing that sets guinea pigs apart from most mammals is that they can't produce vitamin C in their own bodies. That means they need to get all the vitamin C they need from their diet. Interestingly enough humans are one of the only other mammals that have this same problem, and we also have to get all our vitamin C from the food we eat as well.
That means when you buy guinea pig food you can't just pick up any kind of pellets. You will need to find a food that is formulated to meet a guinea pigs specific dietary requirements. Always make sure to read the label on any guinea pig food you buy to make sure it lists Ascorbic Acid (Vitamin C) as one of the ingredients. You might also want to look for pellets that use stabilized vitamin C. Stabilized vitamin C will last longer in storage, and it is less susceptible to degradation when it is exposed to heat, oxygen, light, and moisture.
Fiber
Fiber is essential for a guinea pigs digestive health. The fiber found in guinea pig pellets also plays a role in a guinea pigs dental health as well. The primary function of fiber in your guinea pigs diet is to keep their intestines functioning properly, so they don't become constipated or suffer diarrhea. Fiber also feeds beneficial bacteria in your guinea pigs intestines. In addition, the fiber in guinea pig pellets helps grind down their teeth so they don't grow out of their mouth and become a problem.
What are Guinea Pig Pellets Made Of?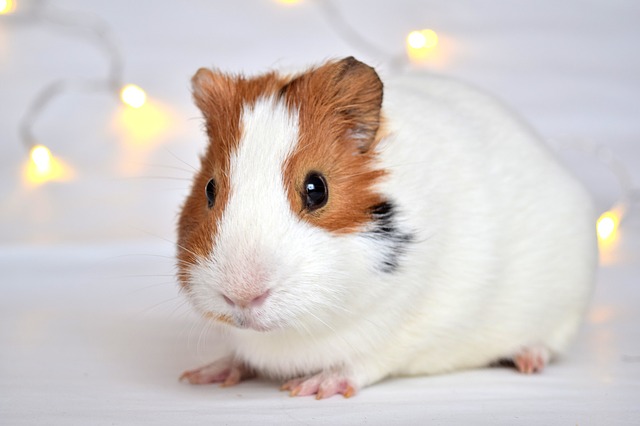 Most guinea pig pellets are made of timothy hay, alfalfa, soybeans, oats, wheat, and barley. They can also contain fruits and vegetables, and some also have other seeds added to them to increase their nutritional value. High-quality guinea pig pellets will also include probiotics and prebiotics along with essential fatty acids.
Guinea Pig Pellets How Much to Feed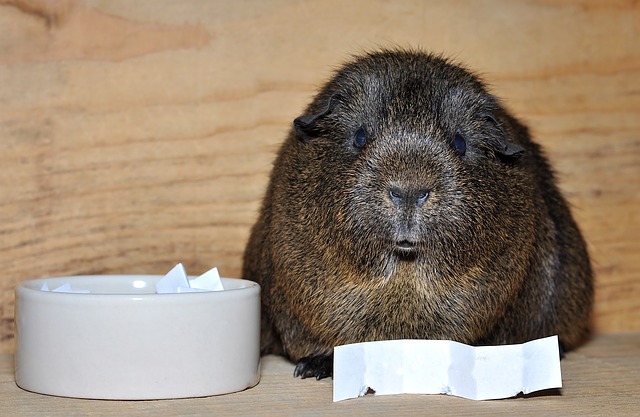 Most guinea pigs won't over eat even if you give them unlimited access to food and water. That means you can fill up their bowl and they will only eat if they are hungry. If you do give your guinea pig too much food though there is a chance that they might spill the food or soil it. The food will then be inedible and if they eat it they could become sick, so you will have to remove the food as soon as possible. For this reason, you should only feed each guinea pig about 1/8 of a cup of pellets a day, in order to make sure they always have enough food, but not so much that any is wasted.