Have you noticed your cat is starting to look a little thinner than normal? Maybe they have recently suffered an illness and lost some weight? Or do you have a cat that tends to be naturally skinny, but you would like them to put on a couple a little extra weight. No matter what situation you find yourself in, there are some very good high calorie cat foods you can purchase to help your cat gain weight.
Best Cat Food for Weight Gain
How much should a Cat Weigh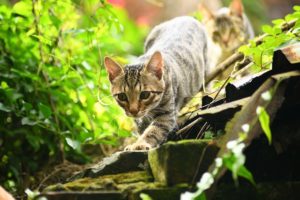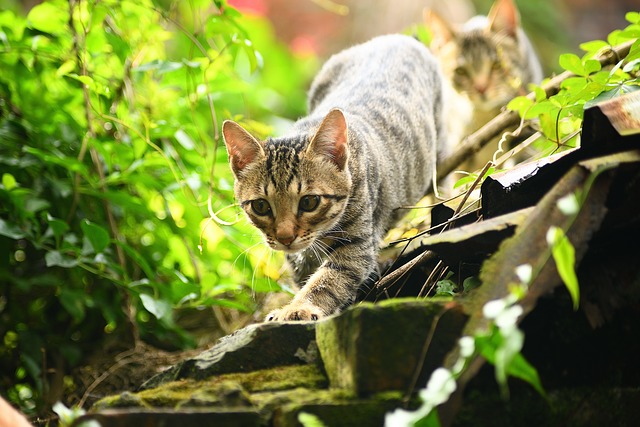 Before you start trying to fatten up a skinny cat, you should know what a normal weight is for a healthy cat. While no two cats will have exactly the same body type, there are some generally accepted weight ranges for different types and breeds of cat.
Average Housecat Weight: 8-10 lbs
Persian Cat: 7-12 lbs
Siamese: 5-10 lbs
Maine Coon: 10-25 lbs
Kittens 1 to 5 Weeks: 5-14 ounces
Kittens 5 to 10 Weeks: 1 -3 lbs
Kittens 10 to 15 Weeks: 2-5 lbs
If your cat falls into one of these categories, then figuring out if they are underweight should be as simple as putting them on a scale. If instead you have a unique breed of cat, or your cat doesn't fit into common breed standards, it might require a little extra work. The next section will address other ways of deciding if your cat is underweight.
How to tell if your Cat is Underweight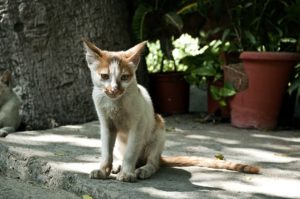 One of the easiest ways to tell if your cat is underweight is to visually inspect if their ribs and backbone are visible. If their ribs and spine are showing this is a very strong indicator that your cat is very underweight.
If you don't see their ribs and spine through a visual check, your cat could still be slightly underweight. In that case, you will have to feel for their ribs and spine by gently palpating your cat. If there is minimal fat padding and the ribs and spine are very easy to detect, your cat is most likely slightly underweight.
How many Calories does a Cat need per day
The average house cat needs about 20 calories per pound to maintain their body weight. For cats that spend the majority of their time outdoors, the amount of calories jumps up to 35 calories per pound. What this means is that a house cat that weighs 9 pounds will need 180 calories per day just to maintain their body weight. And an active outdoor cat that weighs the same 9 pounds will need 315 calories a day just to meet their daily energy needs.
How to Fatten Up a Cat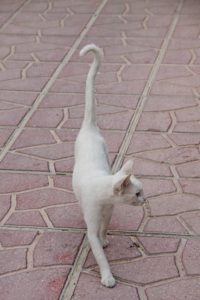 Now that you know how many calories a cat needs just to maintain their weight. I'm sure your asking how many calories will it take to make a skinny cat gain weight. As with most things the answer is it will be different for every cat. But there are some rules of thumb to follow to help your cat gain weight at a healthy rate.
Extra Calories
An easy way to look at this is if you want your cat to gain one pound, they will need to eat 3000-3500 calories in excess of what they need to maintain their weight. Of course, a cat won't be able to eat this amount of extra calories in one day or even one week. So you will have to add small amounts of extra food to their regular meals for weeks or months to see any noticeable change.
Start Slow
In order to promote a healthy and sustainable rate of weight gain, you should start out slow and see if your cat will even eat the extra food. Once you are sure your cat is comfortable with eating a little more each day, you can start to adjust their calories to maximize the amount of weight they gain.
Target Calories
To get a cat to gain one pound in a three month period, you will have to feed them at least 40 extra calories per day. So if you are normally feeding your cat 180 calories a day, you will have to increase that to 220 calories a day to reach that goal.
Faster Weight Gain
If you need to see faster results, or your cat seems hungry even with the extra calories, you can speed up their weight gain under those circumstances. For short periods of time, you can increase your cat's calories by up to 50% per day. But you should only increase your cat's calories that much for a limited time. to reduce the risk of any health or intestinal problems.
High Calorie Cat Food Reviews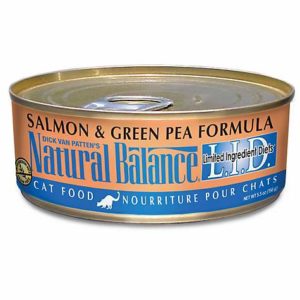 Natural Balance L.I.D. Limited Ingredient Diets Salmon & Green Pea is a very high calorie cat food, which is perfect for skinny cats. Not only is this one of the highest calorie cat foods available, it is also great for cats that have food avoidance issues or even food allergies. The reason this food is perfect for cats with food issues is that it contains only quality ingredients with no unnecessary fillers.
At 41.8 calories per ounce, this is one of the most calorie dense non-prescription cat foods you can find. Calorie density is very important especially if your cat has a hard time finishing a meal. If you feed your cat this food, every bite they eat will help them get to a healthy weight at a much faster rate.
Protein: 37%
Fat: 51%
Carb: 12%
Calories: 41.8 per ounce
---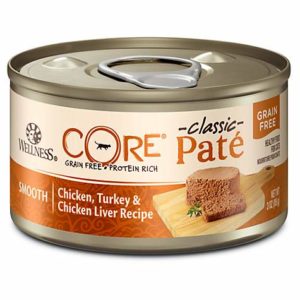 Wellness CORE Natural Grain Free Chicken, Turkey & Chicken Liver Pate is a great high calorie cat food for underweight cats. Not only is this cat food grain free, it is also free of artificial colors flavors and preservatives. This food contains only natural ingredients with no meat by-products and is made and packaged in America.
Beyond the high-quality ingredients and the lack of fillers this cat food has a very good nutrient profile. At 39.63 calories per ounce and 60% fat this cat food will quickly put some weight on even the skinniest cat. And unlike some other high calorie, cat foods Wellness CORE is low carb. Which will ensure your cat won't just be eating empty calories. If your cat needs to put on weight fast, and you want to feed them only high-quality ingredients you should give this food a try.
Protein: 32%
Fat: 60%
Carb: 8%
Calories: 39.63 per ounce
---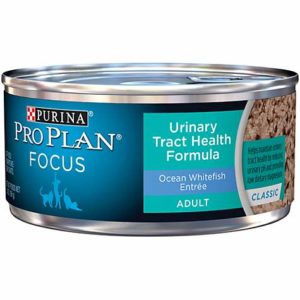 The Purina Pro Plan Focus Whitefish Entree Classic is perfect for picky eaters and any seafood-loving cats. And if you are wondering what to feed an old cat to gain weight, this food just might be the best choice. Since this food is made for older cats, you can rest assured that it has been formulated by taking older cats dietary needs into account.
Whether you have young or old cats this food will entice even the most discriminating cats. The whitefish in this food has a very strong scent that will compel almost any cat to give this food a try. And once they take their first bite they will be consuming a very calorie dense food that packs 36.9 calories per ounce. So if you have an older cat or just a picky eater the Purina Pro Plan Whitefish Entree is a great choice to help a cat quickly gain weight.
Protein: 52%
Fat: 43%
Carb: 4%
Calories: 36.9 per ounce
---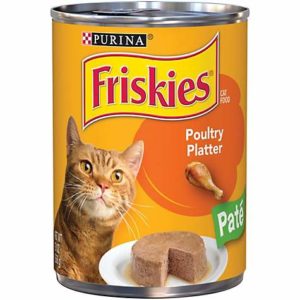 Friskies Poultry Platter is a very affordable high calorie cat food that comes in a large easy to open can. Since this food comes in a 13 oz can you will be able to easily adjust your cat's portions without having to open multiple cans a day. While 5-6 ounce cans are perfect for maintaining a cats weight, they usually don't have enough calories to help a cat gain weight. The 13 oz can, on the other hand, will allow you to feed larger portions to your cat, with the added bonus of having a lower cost per serving.
If you have a cat that needs 220 calories a day in order to put on weight, the Friskies Poultry Platter 13 oz can is the perfect option. One 13 oz can of the Friskies poultry platter contains 447 calories. If you evenly split this can into two portions you will have enough to provide your cat with 223 calories per day for two days. And if your cat is still hungry after eating half the can, it will be quick and easy to scoop out a little extra so they can have a snack in the middle of the day.
Protein: 35%
Fat: 61%
Carb: 4%
Calories: 34.4 per ounce
---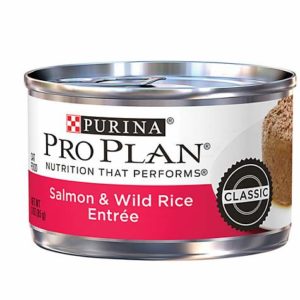 Pro Plan Adult Salmon & Wild Rice Classic is a good high calorie cat food that comes in small individual servings. This is a great choice of cat food if you prefer to feed your cat multiple meals throughout the day. If you have a cat that just can't eat a regular sized portion, these 3 oz cans might make feeding your cat a few smaller meals a day easier.
Since this cat foods, main ingredient is salmon it contains a very high-fat level at 61%. And the fats in this food are primarily healthy Omega 3 fatty acids. Omega 3 fats will not only help your cat gain weight but they will keep your cats hair and skin healthy too.
Protein: 37%
Fat: 61%
Carb: 3%
Calories: 34 per ounce
---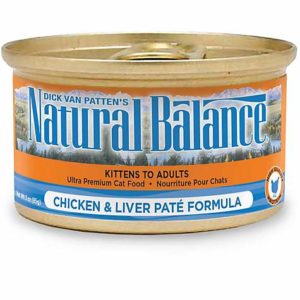 Natural Balance Ultra Premium Chicken & Liver Pate is a high calorie cat food that contains no artificial flavors or preservatives. Natural Balance foods are the best choice if you want to give your cat a food that only uses high-quality protein sources. And if your cat is not a fan of flake style wet cat food the pate texture might be more to some cats liking.
The Chicken & Liver Formula is a good source of calories since it contains 32.7 calories per ounce and has 64% fat. The liver in this cat food will also help nourish a skinny cat due to the fact that liver is an excellent source of vitamins and minerals.
Protein: 31%
Fat: 64%
Carbs: 6%
Calories: 32.7 per ounce