Finding the right water bottle for your guinea pig doesn't have to be a difficult task. First, you need to get a large enough bottle so your guinea pig never runs out of water. And then you have to find a bottle that is well made, so it doesn't end up leaking water all over their cage. The following article reviews the water bottles we have found work best in a wide range of conditions and situations. If you are in a rush and just want to know our top pick, we found that the best water bottle for guinea pigs is the You & Me Flip Top Water Bottle
Best Water Bottle for Guinea Pigs
Image
Name
Type
Rating
Shop
 

You & Me Flip Top Water Bottle

 

Plastic

 

Plastic

 

Glass

 

Plastic

 

Plastic

 

Glass

 

Plastic
Best Water Bottle for Guinea Pigs
(Reviews)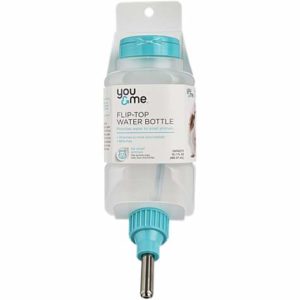 The You & Me Flip Top Water Bottle (Buy Online) is a durable water bottle with a unique design. The bottle is made of BPA free plastic, and it holds up to 16 oz of water. And the sipper tube on this no drip water bottle uses a double-ball stopper to help prevent leaks. But what really sets this water bottle apart from most other bottles on the market is the flip top design.
The flip top makes it possible to quickly add water to this bottle whenever you want. This feature allows you to keep the bottle on the cage when you need to fill it up. All you will need to do with this bottle is fill a large pitcher with water and pour it right into the top. And if you have multiple bottles to fill that is where the time savings can really add up.
---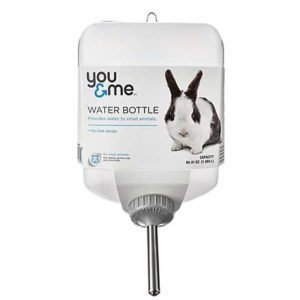 You won't have to worry about your guinea pigs running out of water with the You & Me Jumbo Small Animal Water Bottle (Buy Online). This bottle is made of BPA free plastic and the metal sipper tube features a leak resistant double-ball design. There is also a floating water level indicator inside this bottle, so you can easily tell at a glance when the water runs out.
This high capacity water bottle holds an impressive 64 oz. That makes this bottle perfect for a cage that houses multiple guinea pigs. Or if you use this bottle with a single guinea pig this amount of water could last up to 5-8 days. And this bottle is great if you have to go away for a couple days and you want to make sure your guinea pigs have enough water.
---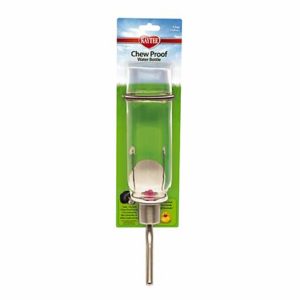 The Kaytee Chew Proof Water Bottle is a reliable water bottle with a classic design. As the old saying goes if it ain't broke don't fix it. And Kaytee keeps to that adage by making a high-quality water bottle with a no-frills design. This is the bottle to get if you need a water bottle that just works with no gimmicks or flashy designs.
This glass water bottle is extremely durable and is built to last for years of dependable service. The rugged chew proof design means it will hold up to even the most destructive small animals. The bottle also won't soak your guinea pigs bedding thanks to the sipper tubes double ball bearing stopper. And inside each bottle is a brightly colored floating water level indicator, so you will always know when the bottle needs to be refilled.
---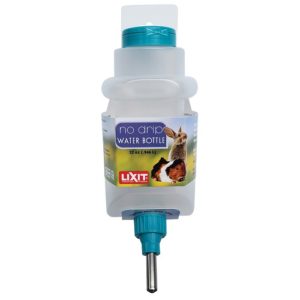 The Lixit No-Drip Top Fill Water Bottle (Buy Online) is the best water bottle for someone who is sick and tired of leaky bottles. This bottle is made of BPA free plastic and it holds up to 32 oz. And the contoured shape makes holding onto this bottle easy even if your hands are wet. And the flat low profile design allows this bottle to be mounted on the inside or outside of a cage.
This high capacity no drip small animal water bottle uses a patented valve-ball tip. The valve-ball tip requires an animal to apply pressure to the sipper tube to get the water out. The pushing action is the only thing that will open the valve, so you won't have to worry about this bottle sitting there all day leaking water into your guinea pigs cage.
---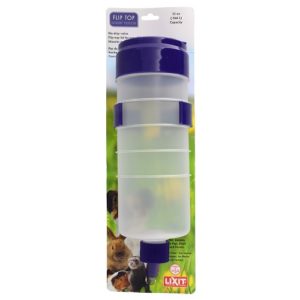 The Lixit Water Bottle Flip Top (Buy Online) is a high quality no drip water bottle with an easy to refill design. This bottle is made from BPA free plastic and it holds 32 oz of water. This bottle also comes with a convenient flip top cap for quick and easy refills. And the adjustable mounting bracket makes attaching this bottle to any cage a snap.
This bottle also uses Lixit's patented valve-ball tip which is far superior to other bottles that use a ball bearing stopper. Ball bearing stoppers rely on gravity and water pressure to stop water from leaking out. The valve-ball tip, on the other hand, is in a closed state all the time, and it only opens when sufficient force is applied to the drinking tube.
---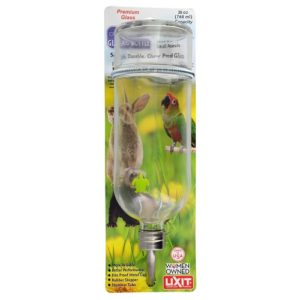 The Lixit Chew-Proof Glass Water Bottle (Buy Online) is a very durable bottle that will stand up to the most aggressive chewers. This bottle is made of glass and it can hold up to 26 oz. And this bottle has a small lip formed into the upper part of the glass, so it won't easily slide off its mounting clip like other smooth glass bottles.
The stainless steel drinking tube on this bottle uses a rubber stopper instead of a ball bearing. The rubber stopper forms a better seal than a stainless steel ball so the risk of this bottle leaking is significantly reduced. And this bottle comes with a little floating turtle inside so you can tell from a distance when the bottle is starting to run dry.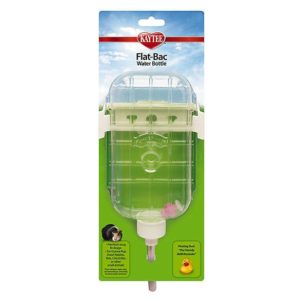 The Super Pet Flat-Bac Water Bottle is a compact water bottle with a low profile design. This water bottle is perfect for cages in tight spaces where you can't have a water bottle sticking out. This bottle is made of BPA free plastic and comes in two sizes 16 oz and 32 oz. And this bottle comes with a convenient mounting bracket that makes refilling this bottle a quick and easy job.
The bottle comes with a floating duck inside so you can see from a distance when your guinea pig needs more water. The sipper tube uses a spring-loaded steel ball stopper which is better at preventing leaks than gravity ball stoppers. And the mounting bracket holds this bottle firmly in place so your guinea pig won't easily be able to knock it around.