If you are a new hamster owner, or if you just want to know what do hamsters need in their cage to keep them healthy and happy. It can be a little overwhelming for anyone since there is a wide range of products to choose from. The following article goes over in detail the things a hamster absolutely needs in their cage. And then there are a few suggested items you can add later on whenever you're ready.
What do Hamsters Need in their Cage
| Image | Name | Type | Rating | Shop |
| --- | --- | --- | --- | --- |
|   | Carefresh Custom Hamster & Gerbil Natural Bedding | Bedding | | |
|   | Kaytee Chew Proof Water Bottle | Water | | |
|   | Kaytee Critter Trail Food Dispenser | Feeder | | |
|   | Kaytee Silent Spinner Exercise Wheel | Exercise | | |
|   | Kaytee Fiesta Hamster & Gerbil Food | Food | | |
|   | Kaytee Apple Orchard Sticks | Chew Toy | | |
Hamster Cage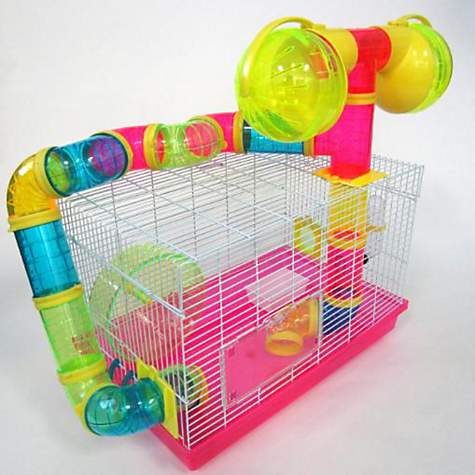 If you don't have a cage yet, make sure to get a high-quality cage since that decision will pay for itself in the long run. A well-made hamster cage will last longer and be easier to clean. And getting a cage that is tightly constructed will also limit the risk of a hamster escaping from their cage.
Even though hamsters are relatively small animals they still need to be kept in a properly sized cage. Some of the smaller hamster cages/habitats on the market are not big enough for a hamster to live in comfortably. Hamsters need ample space to move around and explore just like they would in their native habitat. For this reason, we recommend the YML Pink Tubed Hamster Cage since it offers ample floor space and it's built to last.
Hamster Bedding
One of the most important things you will need in your hamster cage is some form of bedding. A high-quality bedding material will lock away moisture and minimize any unpleasant odors. And Bedding is also important for a hamster since they need a soft material to dig up and make small burrows in.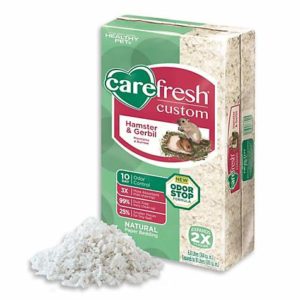 Carefresh Custom Hamster & Gerbil White Bedding is a soft all natural bedding material specifically made for hamsters. This hamster cage bedding is made from recycled paper that has been infused with baking soda to give it odor absorbing properties. The Odor Stop + technology incorporated in this bedding is able to lock away odors for up to 10 days.
Hamsters will also love building small nests out of this bedding since it's very soft which makes it easy for them to dig and tunnel. And unlike wood shavings, this bedding is much safer for a hamster to be around since it doesn't contain any toxic volatile oils.
---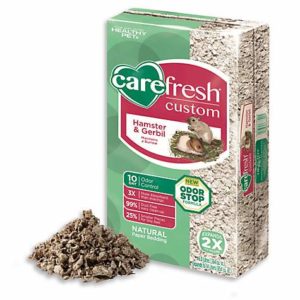 Carefresh Custom Hamster & Gerbil Natural Bedding will not only lock away odors and moisture it will bring your hamster hours of enjoyment. This bedding has Odor Stop + technology which will lock away odors for up to 10 days. And it is much more absorbent than alternative bedding materials like wood shavings.
This bedding is minimally processed so it still has a very natural brown to off-white color. The organic look and feel of this bedding can be more appealing to some hamsters. And the smaller individual pieces of bedding are perfect for hamsters to dig up so they can make burrows.
---
Hamster Water Bottle
Water is one of the most important things a hamster will need inside their cage. A good water bottle that is built to last is one of the first items you should get. Since hamsters are smaller than other pets like rabbits and guinea pigs, you will be able to get a somewhat smaller water bottle.
A water bottle that holds at least six ounces is good enough for most hamsters, but going with a larger bottle is always a good decision. A larger water bottle will allow you to rest assured that your hamster always has water. You will also have less maintenance work to do since you will need to fill up the water bottle less often.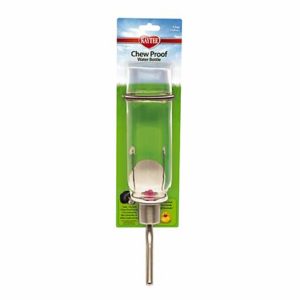 The Kaytee Chew Proof Water Bottle is a large water bottle well suited for use in a hamsters cage. This twelve-ounce bottle should last a hamster about 5-10 days. And this durable chew proof bottle will stand up to the gnawing of even the most aggressive hamsters. If you need a water bottle that will last, then Kaytee Chew Proof bottles are one of the best options.
---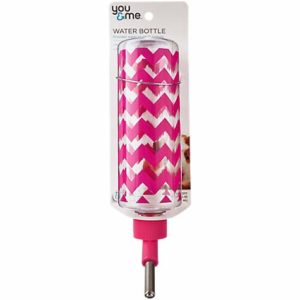 The You & Me Printed Water Bottle is a stylish water bottle that will keep a hamster well hydrated. This bottle has a strong chew proof design that will last for quite some time. And it can be purchased in multiple colors to match your hamster's cage or even your homes décor.
---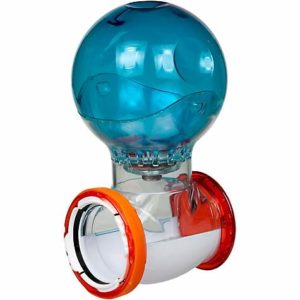 The Habitrail OVO Water Bottle is specifically made for use in a Habitrail modular system. If you have a Habitrail hamster habitat this 450mL bottle will fit into any open port you have available.
---
Hamster Bowl / Feeder



After you get a water bottle for your hamster the next thing they will need is a bowl. A hamster will need to eat a diet that consists of pellets and hay. The pellets should be fed to your hamster in a durable bowl. It's a good idea to get a bowl that is not easy to knock over to prevent any loss of food. And you may even want to get a feeder that a hamster can't jump into in order to reduce the risk of contamination.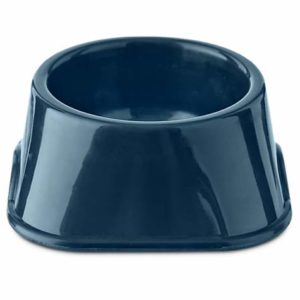 The You & Me Plastic Hamster Dish will meet the needs of most hamsters. This dish is small enough to not take up much space in a hamsters cage. Yet it is still deep enough to hold a good amount of food. And since this dish has a flared out base it is less likely to be knocked over.
---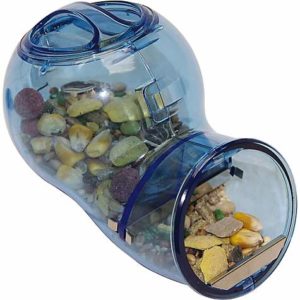 The Kaytee Critter Trail Food Dispenser offers a novel way to feed a hamster. This food dispenser is perfect if you have a hamster that likes to jump into their bowl. While that behavior may seem cute, it can spoil their food and may even cause a hamster to suffer an illness.
The Critter Trail Food Dispenser prevents a hamster from walking all over their food thanks to its unique design. The dispensers opening is engineered to keep a hamster out, but it still allows them easy access to their food. And the dispenser is much more chew resistant thanks to its rounded design and high-quality construction.
---
Hamster Food
After you get your hamster a bowl or feeder, you will have to get a high-quality food to fill it up with. Since hamsters need a varied diet it's important to give them a good hamster food that is made up of a good mix of food sources.
Make sure to get a pellet food that is designed for hamsters and not other small mammals like rabbits or guinea pigs. A good hamster food will contain the proper mix of vitamins and minerals a hamster needs to stay healthy and active.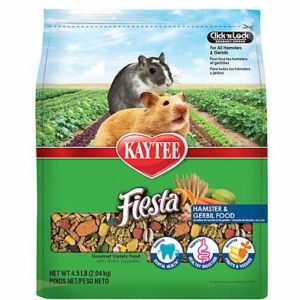 Kaytee Fiesta Hamster & Gerbil Food contains a nice mix of vegetables, seeds, and grains. With so many tasty morsels to eat your hamster will never get bored of this food. And the wide variety of foods will ensure they are always getting all of the nutrients they need.
This food is also fortified with probiotics and Omega 3 fatty acids. The probiotics will help maintain your hamster's digestive health. While the Omega 3 fatty acids will promote heart and brain health. And to top it all off this food uses no artificial ingredients or preservatives.
---
Hay
Another nice thing to give a hamster as a treat is hay. One reason why you should give a hamster hay is to give them something to chew on. Hamsters like most rodents have teeth that are always growing, so they need to chew things to keep their teeth filed down.
If a hamster doesn't have some hay they will direct their chewing elsewhere. That could lead them to destroy their water bottle or any other items that might be in their cage. If you give a hamster some hay from time to time, it can help limit destructive behaviors.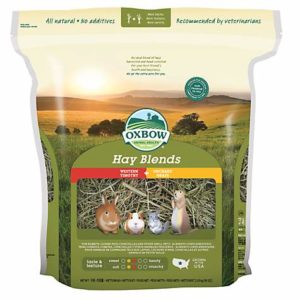 Oxbow Hay Blends Western Timothy and Orchard contains a good mix of two different kinds of grasses. The primary ingredient in this package is timothy hay, and the other hay in this product is orchard grass. Providing a nice blend of grasses will hold a hamsters interest for longer. And the orchard grass and timothy hay combined have a better nutrient profile versus a diet made up of only timothy hay.
---
Hamster Chew Toy
Keeping chews in a hamsters cage is another way to focus your hamster's natural chewing behaviors. A hamster that has a wide variety of toys to chew on will be less likely to destroy their cage or water bottle. And some chews are fortified with nutrients so they can act as a vitamin supplement.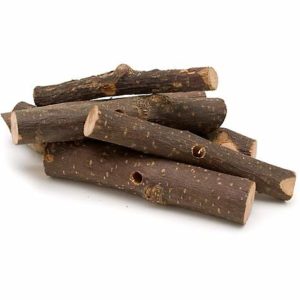 Kaytee Apple Orchard Sticks Small Animal Chews are natural wood chews that are great for hamsters. These chews are irresistible to most hamsters since they are made from real apple trees. You can be sure a hamster won't grow bored of these chews since fruit tree wood has a texture and scent that hamsters can't get enough of. And they are a great value since they come in packs of 10 and they are 3 inches long so they will last for quite a while.
---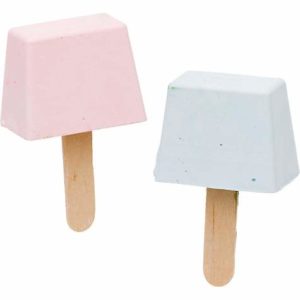 The WARE Mineral Ice Pops Small Animal Chews are a fun and healthy way to satisfy your hamster's natural chewing behavior. These hamsters chew toys are made from ground clam shell, limestone, starch and fruit flavoring. The clam shell and limestone will help keep your hamster's teeth filed down, while also supplying them with a good source of minerals.
---
Hamster Wheel
If the cage you bought didn't come with an exercise wheel you will need to purchase one separately. Hamsters are a very active animal that need to burn off lots of energy. If they are not provided with a way to release that energy they can become stressed and bored. Getting a hamster an exercise wheel will ensure they stay physically and mentally healthy.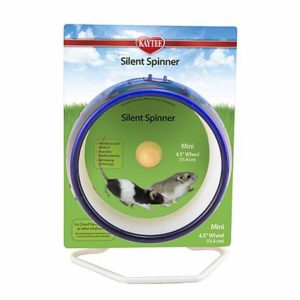 The Kaytee Silent Spinner Exercise wheel is one of the quietest wheels on the market. The wheel uses a dual bearing design that makes it nearly silent. This wheel is a godsend for anyone who has ever spent a sleepless night listening to a hamster running.
The Silent Spinner can easily be added to any cage. It can either be placed in a cage on the included base. Or it can be attached to the bars of a metal cage if you prefer a more secure mounting option.
---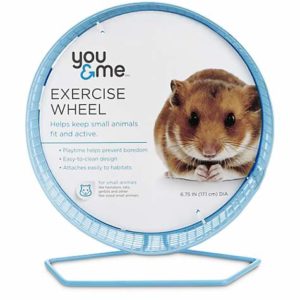 The You & Me Hamster Wheel is a classic hamster wheel that is a tried and true option. This metal wheel can be used free standing or it can be attached to the bars of a cage. And the powder coating will ensure the wheel lasts by limiting rust and any other deterioration.
---
Hamster Hideout
A hideaway may not be necessary at first, but you will eventually want to get one. A hamster hideaway will give your hamster somewhere to feel safe outside of their burrows. Hamsters like to spend a good portion of the day hiding. So getting a hideaway for your hamster is a good way to make them comfortable by providing them with some ready-made privacy.
A hamster that has a hiding place will feel less stressed and in most cases will be happier. A hideaway will also provide your hamster with a place to go if they don't feel safe. And a hideaway can brighten up a cage since they make a nice decoration.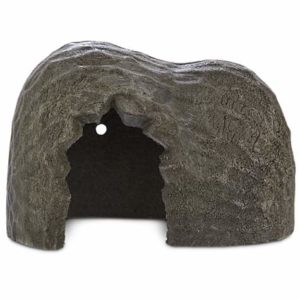 The You & Me Hideaway Chew is a nice little place for a hamster to hang out. This hideaway is compact so it won't take up much cage space. And it is made of a natural hamster safe chewable material. All in all this little hamster hideaway will give your hamster a fun place to play or just a safe spot to get away.
---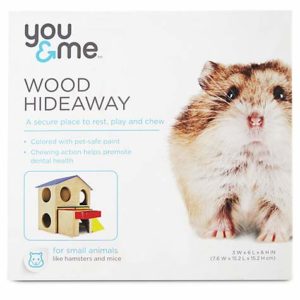 The You & Me Large Wood 2-Story Hamster House is a great little starter house for your new hamster family.. This hideaway offers more living space so it is suitable for use by multiple hamsters. And this hideaway will be the focus of attention since it will add a whimsical touch to a hamsters environment.
---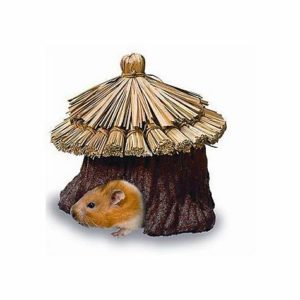 The eCOTRITION Snak Shak Small House is a fun little hideaway with a touch of tropical flare. This hideaway not only looks cute it is also fully edible. A hamster will love chewing on this hut since the hut is made of alfalfa and golden honey. And if you want to make a Hawaii themed cage this little house would fit in perfectly.
---
Hamster Bath



Hamsters like any animal want to stay clean and be well groomed. In nature, they will take dirt baths on occasion as a way of maintaining their hygiene. In a cage, they won't have access to dirt so it is up to us to provide them with another option.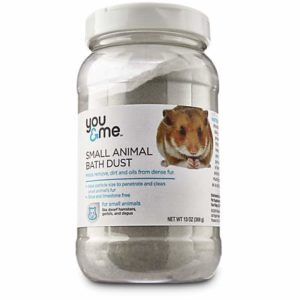 You & Me Small Animal Bath Dust is an all natural powder specifically designed for hamsters and gerbils. This dust helps remove urine and oils from a hamsters fur in order to reduce the risk of a hamster getting a rash or infection. After your hamster uses this dust it is fully biodegradable so it can be composted or responsibly disposed of.