Oscar fish are voracious eaters that can grow to be up to 14 inches long. They need a lot of space and a big tank, but they also need good filtration. This is because Oscars produce a large amount of waste for their size, which can quickly pollute the water if not managed properly. Read on to see the best filter for an Oscar fish tank.
Best Filter for an Oscar Fish Tank
Best Filter for an Oscar Fish Tank
OASE Indoor Aquatics Biomaster Thermo 600
The Aquatics Biomaster Thermo 600 Filter (Buy Online) has everything you need to keep the water clean and healthy for your fish, plus some cool extra features too. It comes with four different filtration stages that remove debris from the water so your tank stays clean and safe for your fish to live in. Plus, it has a built-in heater that keeps the temperature of your tank consistent so you don't have to worry about fluctuations or sudden changes affecting your fish.
The OASE Indoor Aquatics Biomaster Thermo 600 is a reliable and high-quality filter that will keep your water crystal clear. It has four stages of filtration, including a pre-filter module for particle removal, two main filters to clean detritus from the water before it reaches the pump area, an activated carbon stage with 45 PPI pores to trap organic chemicals and reduce odors, and finally a polishing cartridge which traps any particles left after the other three stages have removed most of the large debris.
Plus, it comes with Hel-X Biomedia that has an extremely large surface area for beneficial bacteria colonies that break down nitrogenous waste.
Overall, this filter can be used on 70 to 160-gallon tanks, and if you want peace of mind about how well your tank is being filtered and heated – this canister filter is perfect for an Oscar tank.
Polar Aurora 4-Stage External Canister Filter 525GPH with 9-watt UV Light
The Polar Aurora External Canister Filter (Buy Online) is an affordable yet high-quality canister filter and it has four stages of filtration (biological, mechanical, chemical, and UV) that keep your fish tank crystal clear without taking up much space.
If you have an Oscar Fish Tank, then you know that they are messy fish. They produce a lot of waste and your tank needs to be cleaned frequently.
That's where this filter comes in handy. It can handle tanks up to 200 gallons and has a maximum flow rate of 525GPH from the built-in pump. This is more than enough power for even the messiest Oscar Tanks.
This unit also comes with three different media trays so you can use any type of filtration media you want – bio balls, sponges, or ceramic rings. And not only does this filter provide excellent water filtration, but it also comes with a built-in 9 Watt UV Light that allows it to easily control algae spores/bacteria and maintain clear water in your aquarium at all times.
Fluval FX4 High Performance Canister Filter, External Aquarium Filter
The Fluval FX4 (Buy Online) is an external filter designed specifically for aquariums housing Oscars and other large tropical fish species like cichlids and catfish. There are also three different filtration stages included in this setup which will ensure that all the waste produced by your fish gets filtered out quickly leaving behind crystal clear water every time.
The Fluval FX4 is the best aquarium filter on the market because it has a patented self-priming pump that moves 700 US Gal of water per hour. It also comes with all of the media you need to get started filtering your tank immediately after installation – no extra purchases are necessary.
This external aquarium filter is easy to install, maintain, and clean. With its multi-stage filtration process, this canister filter removes harmful toxins from your water while providing superior mechanical filtration through three stages of bio-filtration using BioMax cartridges, activated carbon pads, and biological ceramic rings.
This powerful filter pumps out 700 US Gal (2650 L) of water per hour so it's perfect for even the largest freshwater or saltwater tanks up to 250 US Gal (900L)
Eheim Pro 4+ 600 Filter
The Eheim Pro 4+ 600 Filter (Buy Online) is the best filter for an oscar fish tank because it's easy to use and maintain while providing a high level of filtration. It has a self-priming pump that makes starting up very simple, plus its safety hose adapter means you won't have to worry about any accidents with this unit.
We recommend going with their Pro 4+ model which has been designed specifically for tanks containing Oscars and other larger species of fish. This filter comes with everything you need including extra media baskets, spray bars, adjustable flow control valves, and more.
Best Hang On Back Filter for an Oscar Fish Tank
AquaClear Fish Tank Filter, Aquarium Filter for 60- to 110-Gallon Aquariums
The AquaClear 110 (Buy Online) is a hang-on back filter that has an adjustable flow rate, and it'll last you for years. AquaClear filters make it easy, convenient, and affordable to keep your tank clean without all of the complexity and hassle of a canister filter.
The AquaClear 110 filter has been designed with the hobbyist in mind; and it provides superior mechanical, chemical as well as biological filtration media at an unbeatable price point.
It's ideal for aquariums up to 110 gallons (416 liters) in size and it has a flow rate of 500 U.S. gallons per hour (1,900 L/h).
SeaChem – Large Aquarium Fish Tank Filter, Tidal 110 Gallon
The SeaChem Tidal 110 Gallon Aquarium Filter (Buy Online) is one of the few hang-on back filters specifically designed for Oscars and other larger tropical fish tanks (up to 110 gallons). This means that it has more than twice the capacity of other hang-on back filters so there's no need to clean out debris as often. It also has an adjustable flow control valve – just set the dial where you want it and let the self-priming pump do its job. You can also use any kind of filtration media without worrying about clogging since the patented impeller design keeps everything running smoothly
Best Sponge Filter for an Oscar Fish Tank
Bacto-Surge Hikari Aquarium Solutions Foam Filter, 125 Gallons
Bacto-Surge Foam Filters (Buy Online) are made from a durable foam material that allows them to last much longer than traditional sponge filters. They also don't require any electricity or have any moving parts, so you can use these as a cheap and reliable way to supplement the filtration in your Oscar tank.
Best Under Gravel Filter for an Oscar Fish Tank
Lee's 125/135 Premium Undergravel Filter, 18-Inch by 72-Inch
Lee's 125/135 Premium Undergravel Filter (Buy Online) is the best you can get for an Oscar fish tank. It has a multi-level plate design made of high-quality plastic, so it lasts longer than standard models. And this under gravel filter can also be used to build an anoxic filter to lower nitrates, which improves overall water quality and it will also help keep your fish healthy and disease-free.
Best Filter Media for an Oscar Fish Tank
Premium Authentic Pinky Filter Floss for Fish Tanks
Premium Authentic Pinky Filter Floss for Fish Tanks (Buy Online) provides two layers of filtration to keep your tank cleaner & running more efficiently than ever before. It's made in the USA from high-quality materials that are safe for both fish and humans alike. It also reduces maintenance time because it lasts 2x as long as other brands on the market today.
AQUANEAT Aquarium Filter Sponge Open Cell Foam Sheet Bio Sponge Filter Media Pad
Aquaneat's Black Fine Filter Sponge (Buy Online) is made with natural materials that are non-toxic and safe for fish & plants. It provides mechanical filtration by trapping dirt particles in the pores of the sponge material so they do not get through into your aquarium water where they could cause harm to your aquatic pets.
The open cell structure of the Aquaneat Sponge means you can simply rinse it under running water when needed instead of having to replace expensive filters every few weeks. And we've tested these pads with many different types of tanks and they are one of the most durable and economical ways to keep the water in a fish tank free of debris.
Seachem Matrix, 4 L / 1 gal.
Seachem Matrix (Buy Online) removes ammonia, nitrite, and nitrate from the water column in freshwater tanks through a process called denitrification. It does this by providing an environment where beneficial bacteria thrive and convert harmful toxins into less harmful forms (even anoxic bacteria that break down nitrates). This process reduces stress on aquarium inhabitants by reducing their exposure to these toxins while also maintaining pristine water quality in your aquarium
Eheim AEH2507051 Mech Filter Media for Aquarium, 1-Liter
Eheim Ceramic Cylinders (Buy Online) are reusable so you don't have to waste money on disposable filter cartridges or sponges every time you clean your tank. Simply rinse them out in dechlorinated water when they get clogged, and you can reuse them indefinitely.
Oscar Fish Tank Size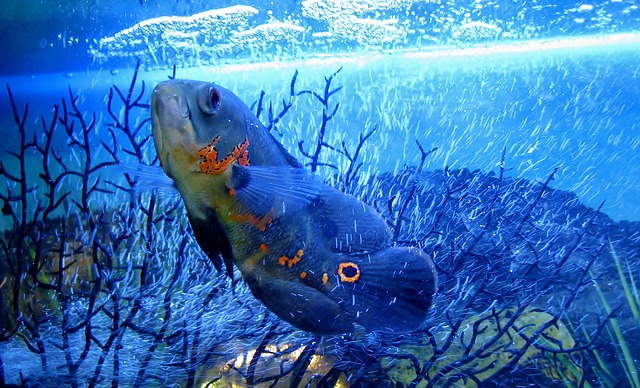 A 70-gallon tank will work for an Oscar, but it's better to keep them in a 100+ gallon tank. The bigger the better. More space promotes greater health while also keeping them happier which in turn reduces the risk of stress and disease.
You Might Be Interested In: Best Food for Oscar Fish Growth
Oscar Fish Water Parameters
Oscar Fish Water pH Level
Oscars prefer water with a pH between 6 and 8, but they prefer slightly acidic water and they can live in water that has a pH as low as 5.5 quite comfortably.
Oscar Fish Nitrite Level
The nitrite level in your tank should be at 0 ppm once your tank has cycled. Nevertheless, a weekly 10% water change with fresh water from the tap is always good early on in the cycle to reduce nitrite levels.
Oscar Fish Nitrate Level
To keep your Oscar healthy you want to keep your nitrate levels between 10-40 ppm. It's important that you test the water with a Nitrate Test Kit (Buy Online) to ensure the nitrate levels in your tank aren't reaching dangerous levels.
If the nitrates in your tank stay consistently over 40ppm, it's time to clean or replace old filters, clean out uneaten food, vacuum the gravel, and do at least a 25% water change.
Oscar Fish Water Temperature
The ideal water temperature for Oscars is 75-80 degrees Fahrenheit (23 – 27 Celcius). It's important to remember that Oscar Fish is from the Amazon Rainforest and they need a heater in their tank especially during the wintertime
If you want to know what size heater you need for your tank you can use our Aquarium Heater Calculator (Click Here)
Oscar Fish Water Change
Water changes are an essential part of fish keeping for any type of fish. This is especially true when you have larger fish like Oscars that produce more waste. Water changes, or partial water changes, should be done every 1-2 weeks depending on how many fish you keep in your tank
Why Is My Oscar Fish Tank Cloudy
Fish tank water can become cloudy for a few reasons. The most usual is that the aquarium is either experiencing a bacteria bloom or there are algae spores in the water column. If this is the case, you'll need to do a 50%-75% water change immediately. You can also use an inline UV filter if water changes and regular tank maintenance aren't getting control of your cloudy water problem.
How To Keep an Oscar Fish Tank Clean
Water Changes
Vacuum the Gravel Bed
Cleaning the Filter
Removing uneaten food from the tank
Check for any algae growth on plants or glass walls of aquarium and clean as needed
Test the water regularly
Do Oscar Fish Need a Filter
Yes, Oscar fish need a filter because they are messy eaters that produce a lot of waste. The filter helps with this issue and also improves the water quality by converting harmful ammonia into less toxic nitrates.