French Bulldogs are a unique breed with distinctive needs. Their short stature and flat face can make it difficult for them to comfortably eat out of a dog dish. That's why we've compiled this list of the best elevated dog bowls for French Bulldogs, so your little Frenchie will always have easy access to food and water.
Best Elevated Dog Bowls for French Bulldogs
Best Elevated Dog Bowls for French Bulldogs
AVERYDAY 4 in 1 Dog Food Bowls Elevated Dog Bowl Set, 4 Heights Adjustable Dog Bowl Stand
The AVERYDAY 4 in 1 Feeder (Buy Online) is the best elevated dog bowl set on the market. This adjustable pet feeder allows you to raise or lower your pet's food and water bowls depending on their needs. And it has silicone feet that keep everything steady while they eat, which helps reduce spills and messes. It even comes with an extra set of stainless steel bowls (4 total) with every purchase so that you can alternate bowls when you clean them, and the bowls are 100% dishwasher safe. Best of all, this elevated feeder has 4 height settings so you can raise the bowls up to the perfect level for both adult French Bulldogs and puppies.
URPOWER Elevated Dog Bowls Adjustable Raised Dog Bowl
The URPOWER Elevated Feeder (Buy Online) is perfect for small, medium, and large breeds. This raised dog bowl stand can be adjusted to 12-inch for large dogs, 8-inch for medium dogs, and 2.8-inch for small dogs.
The URPOWER Elevated Adjustable Feeder is great for dogs with arthritis or mobility issues because it makes them feel less stressed about eating their food by allowing them to eat in a comfortable position without having to bend down too low (which also helps promote healthy digestion).
This feeder even has rubber anti-skid pads at the bottom of each leg that prevent the stand from moving around while your dog is eating, which can reduce spills and messes on your floor or carpeting.
Plus, the bowls in this pet feeding station are made out of stainless steel which means that they are dishwasher safe and 100% BPA free.
Neater Feeder Express Elevated Dog and Cat Bowls – Gunmetal Grey
The Neater Feeder (Buy Online) is the only elevated dog bowl that keeps your floors clean and dry while making mealtime more comfortable for your pet. Its patented design also helps prevent gulping, vomiting, bloat, and excess weight gain in dogs by slowing them down while they eat.
If you're like most pet owners, then you've experienced the frustration of trying to clean up after your pooch at mealtime. Even if you use elevated dog bowls, they can still spill over onto your floor or carpet when your pup eats too fast or playfully paws at his bowl while eating or drinking.
The Neater Feeder Express has an innovative design that keeps messes contained within its basin area so that spills are easy to clean up. The top part of the feeder contains all of the spilled food or water, which makes it very simple to scoop out and clean. Plus, all parts of this feeder are dishwasher safe (Bowls and Stand), so you can easily keep this feeder clean without any elbow grease.
Pet Zone Designer Diner Adjustable Elevated Dog Bowls
The Pet Zone Designer Diner Adjustable Elevated Dog Bowl Set (Buy Online) is perfect because it grows with your pup from puppyhood up to adulthood. It can be adjusted from 2.75 inches; to 8 inches; to 12 inches high which means that no matter how tall they get as an adult, this feeder will work out just fine. When not in use, the legs can easily be removed and tucked under the feeding platform for easy storage, and it also makes a great French Bulldog Travel accessory – making life on the go even easier.
Emfogo Dog Cat Bowls Raised Dog Bowl Stand Feeder Adjustable Elevated 3 Heights
The Emfogo Raised Feeder (Buy Online) is one of the best elevated dog bowls for French Bulldogs. This high-quality metal and wood bowl stand can be adjusted to three different heights, which means it's perfect no matter what size your pup may be. We also love that this nifty contraption has a five-degree tilt forward design because it helps prevent gulping and choking at any height you set the bowls.
The Emfogo Raised Feeder has three height settings that can be adjusted from 5 inches up to 13.5 inches high, which should accommodate most breeds. The feeder itself even has a metal frame with antique wood on top for aesthetics and durability, so you know it is going to last.
Plus, this elevated feeder looks great, so it will fit seamlessly into any home decorating style without being an eyesore.
Vantic Elevated Dog Bowls – Adjustable Raised Dog Bowls
The Vantic Elevated Dog Feeder(Buy Online) allows you to raise your pup's food up between 2 inches and 7 inches high depending on his size, age, or medical condition (such as arthritis) which helps dogs eat with less strain on their neck and back. These raised feeders also help reduce bloating, which is especially useful for breeds like French Bulldogs who tend to get bloated easily after eating. This feeder set comes with one large stand measuring 17.09 x 7.8 x 3.82, and two stainless steel bowls.
PETKIT CYBERTAIL Elevated Dog Cat Bowls
PETKIT CYBERTAIL Raised Dog Bowls (Buy Online) elevate your pet's food or water off the floor, making it easier for them to eat and drink without straining their neck. The deep and wide shape prevents fatigue, and the tilted bowls with rounded edges make it easy for dogs to get food out of the bowl without struggling. And best of all it has a clean modern design that sets it apart from most standard elevated dog bowls that all seem to look the same.
OurPets Comfort Diner Elevated Dog Food Dish
The OurPets Comfort Diner Elevated Dog Bowls (Buy Online) help relieve stress on your dog's back, hips, and joints when eating. With this raised feeder from OurPets, you get both style and function in one product. These stainless steel dishwasher-safe bowls feature an ergonomic design that promotes digestion while reducing stress on bones and joints. Plus, the OurPets Comfort Diner will also serve as a constant source of water with its built-in reservoir which holds up to 16 oz of water that can be replenished with a standard water bottle.
Brave Bark Wood & Metal Feeder – Premium Mango Wood Feeder with Metal Stand
The Brave Bark Wood & Metal Feeder (Buy Online) is designed from mango wood and stainless steel, so it's strong enough to withstand even the most enthusiastic diners without sacrificing style or function.
The metal stand has rubber feet on its bottom so you can place it anywhere indoors with confidence knowing it won't scratch up your floors while still keeping dishes off the ground where they're more likely to get dirty and bacteria-filled.
Plus, the top collar keeps pets from pushing their dish around while eating, which means fewer messes for you to clean up after dinner time.
Super Design Mess Free 15° Slanted Tilted Angle Bulldog Bowl
The Super Design Mess-Free Tilted Dog Bowl (Buy Online) has a wider base than other elevated dog bowls so it is less likely to tip over when your Frenchie wants in on his dinner. This elevated tilted dog bowl is specially designed with a 15-degree tilt angle which makes it easier for your pet to eat. Plus, this bowls sturdy construction makes it more stable than other raised feeders out there, which means no tipping or spilling. Finally, this feeder makes cleaning up after Fido simple since it is made of dishwasher-safe materials (bowl and stand).
LIONWELI Ceramic Adjustable Elevated Raised Pet Bowl with Wood Stand
The LIONWELI Raised Feeder (Buy Online) has an elegant design with simple lines that will match any modern home or apartment décor without taking up too much space. It comes in three different colors (blue, orange, and white) so it will look great no matter what color scheme you choose for your kitchen decorating style. Plus, the bowls in this elevated feeder are made of ceramic and the stand is natural bamboo wood making it pet safe, eco-friendly, and easy to clean.
French Bulldog Elevated Dog Bowl Height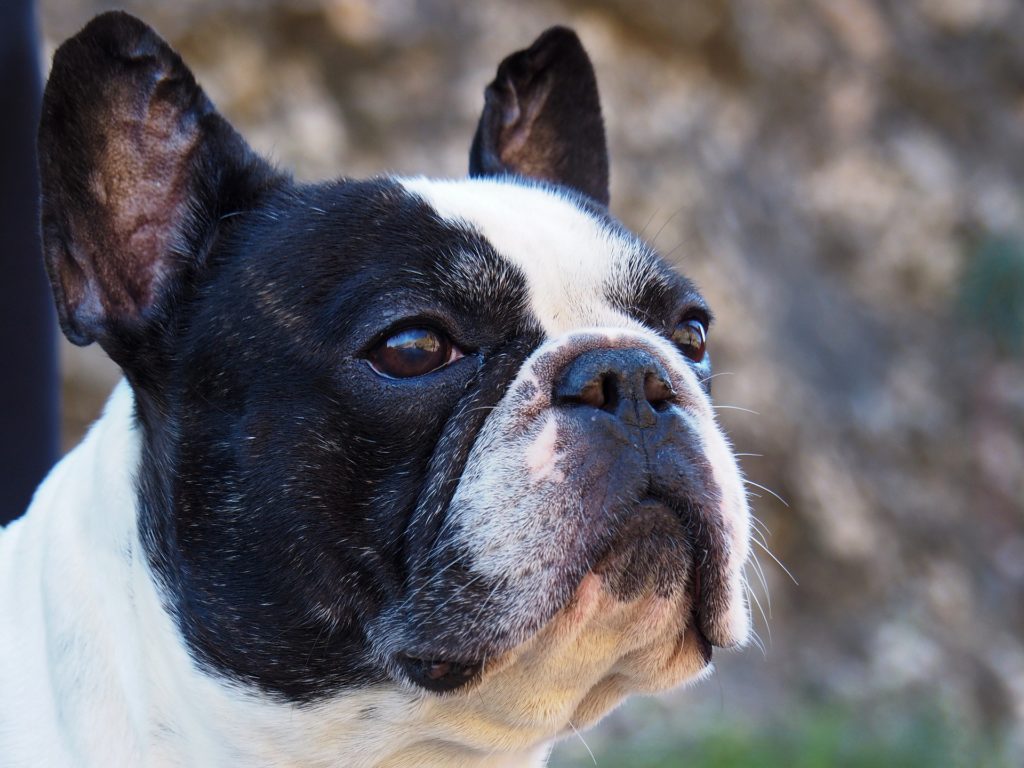 How high should elevated dog bowls be for a French Bulldog? French Bulldogs need at least a 6-inch elevated dog bowl since on average they stand 11.5-inches tall at the withers.
Tip: In most cases you want an elevated dog bowl to be half your dog's height (measured at the withers)
French Bulldog Height and Weight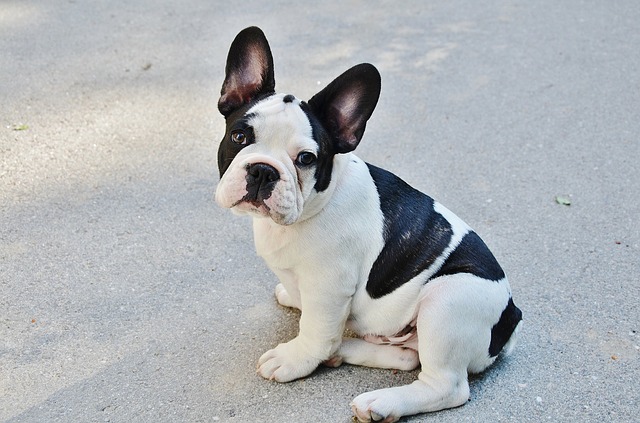 French Bulldogs measure 11"-13" at the withers and weigh 20-28 lbs.
Learn More: Best Food for a French Bulldog with a Sensitive Stomach
How To Choose The Best Elevated Dog Bowl for a French Bulldog
Elevated dog bowls can be a great way to prevent your French bulldog from gagging while they eat. It also can help promote healthy digestion, and elevated dog bowls will also alleviate any strain on your dog's body while they eat.
When picking an elevated dog bowl, there are many things you should consider such as: how high is it, does it tilt, and is it adjustable?
Height
Make sure the height of the elevated feeder matches up with your pet's size. And if you have two dogs, make sure they can both eat comfortably without getting in each other's space. In some cases, you may need to experiment with different feeders until you find one that works best for your dog(s)
Tilted/Slanted Dog Bowl
A tilted/slanted dog bowl is a great way to provide your bulldog with a comfortable eating experience. These bowls are designed to prevent bloating and vomiting that can occur when dogs eat from traditional dishes. The tilted design also helps promote healthy digestion by preventing gulping and rushed eating.
Adjustable Height Dog Bowl
One of the most important benefits of an adjustable height dog feeder is that it can be used for a variety of different breeds. Adjustable height dog bowls are also perfect for new dog owners since they can meet the needs of both adult dogs and puppies.
Why Does My French Bulldog Keep Choking When Eating
It's important to make sure that your french bulldog maintains a natural posture while eating. You want their neck and head parallel to the dish, not tilted too far downwards since this can cause them to gag and choke when they eat.
Do Elevated Dog Bowls Help French Bulldogs
Elevated dog bowls help if your dog is having trouble swallowing. Elevated food bowls also promote digestion and eating habits that could increase longevity for older dogs or those with limited mobility because they allow senior dogs to eat from a position where gravity isn't making it hard for them to chew and swallow their food properly.