Finding the best lighting for coral reef aquariums can sometimes feel like a bit of a challenge. With all the options available it can be hard to find the type of light that works well for your aquarium. After all, there are T5 fluorescent lights, LED's and hybrid systems. In this article we will go over our most highly rated reef lighting systems, so you can quickly make an informed decision.
If you just want to see a Full Selection of Aquarium Lights (Click Here) .
Best Lighting for Coral Reef Aquariums
Coral Reef Lighting Reviews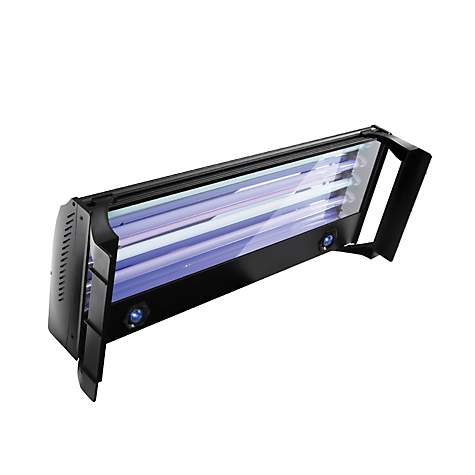 The Coralife Lunar Aqualight Quad T5 HO Aquarium Light Fixture (Buy Online) offers the benefits of T5 and LED lighting all in one convenient package. If you prefer the even diffuse light that fluorescent bulbs provide, but you still want the shimmering effect of a moonlight LED this reef tank lighting system has everything you want all in one affordable fixture.
The Coralife Lunar Aqualight Quad T5 HO reef tank lighting system uses four fluorescent bulbs that come included with the fixture. Two of the fluorescent bulbs are daylight lamps and the other two are actinic. And the two moonlight LED's are built into the fixture right behind the reflector where the four T5 fluorescent lights are situated.
The 30-inch version of this reef tank lighting fixture uses 31-watt bulbs. A 36-inch model is also available that uses 39-watt T5 fluorescents. Altogether the 30-inch model consumes about 125 watts of power while the 36-inch unit will require 156 watts while it is in operation. Of course, the LED's will also add to the power draw along with the ballast, but the T5 bulbs make up the bulk of this fixtures power consumption.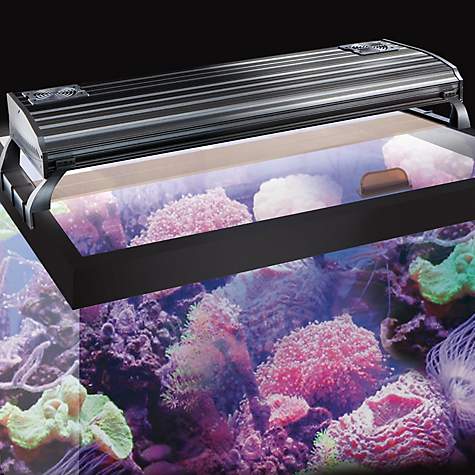 Cooling for this fixture is provided by a built-in fan that discharges heat from large vents on top of the unit. The 30-inch model only comes with one fan but still has two exhaust ports. While the larger models have two fans which take full advantage of this reef tank lighting fixtures superior ventilation. And each fan is fully user serviceable, so if a fan does eventually die it can be repaired or replaced with minimal effort.
This fixture has three power cords, one for the daylight bulbs another for the actinic and one for the LED moonlights. The three cord system makes controlling your reef tanks lighting schedule a whole lot easier. You can set each cord on its own individual timer which will allow you to run your daylight bulbs and actinic bulbs for different durations depending on the needs of your coral. And then at night, you can have the moonlight LED's run on their own independent schedule.
While some people think LED's are the be all and end all when it comes to modern aquarium lighting, T5 fluorescents still have their advantages in a reef aquarium. Fluorescent bulbs offer a more even light that won't produce optical "hot spots" that can overstimulate and damage coral. And they offer a more natural looking light that doesn't cast harsh shadows. When you put this together with the two blue moonlight LED's the Coralife Lunar Aqualight Quad T5 system offers a reef keeper the best of both worlds while avoiding the problems associated with single technology solutions.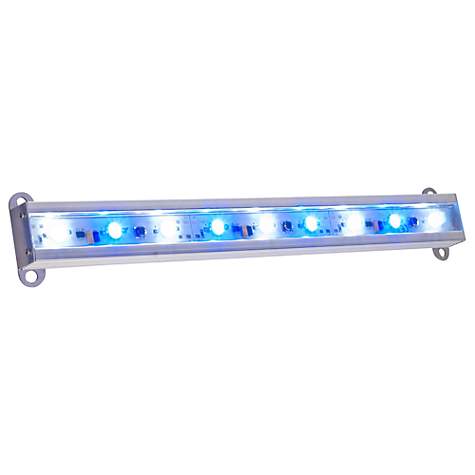 The Hamilton Technology 4 ft Kona Sun 20,000K LED (Buy Online) aquarium lighting fixture is a powerful LED light that is more affordable than some of the lower output systems. If you want an efficient LED reef aquarium lighting fixture that has excellent light distribution, then the Kona Sun is one of the best LED lights available.
The 20,000K 4ft Kona Sun has an even mix of blue and white LED's in order to provide the proper mix of wavelengths for optimal coral growth. The blue and white LED's are evenly spaced in this fixture, so the light is mixed properly once it reaches the water. This helps prevent optical "hot spots" from forming, which helps protect delicate corals from the effects of uneven lighting.
In total there are 36 x 1-watt LED bulbs in this fixture. Having such a low power draw of a mere 36 watts means you can run this fixture for much less money than T5 fluorescents or especially metal halides. And since it consumes such a small amount of power you can even use it as a source of supplemental lighting if you have another reef tank lighting system already up and running.
The Hamilton Technology 4 ft Kona Sun consumes such a small amount of power it doesn't need a fan to keep it cool while it's running. The aluminum housing of the fixture has enough surface area to act as a heat sink which completely obviates the need for an active cooling system. That means if you use this fixture alone you won't hear any noises except for the calming sound of your reef tanks flowing water.
The fixture comes with a remote power supply with a quick disconnect for added safety. The LED's are also protected from water damage since the whole fixture is sealed and it is rated to be water resistant. All you will need to do once you take this fixture out of the box is to hang it from the built-in brackets and then you will be ready to enjoy its vibrant lighting.
---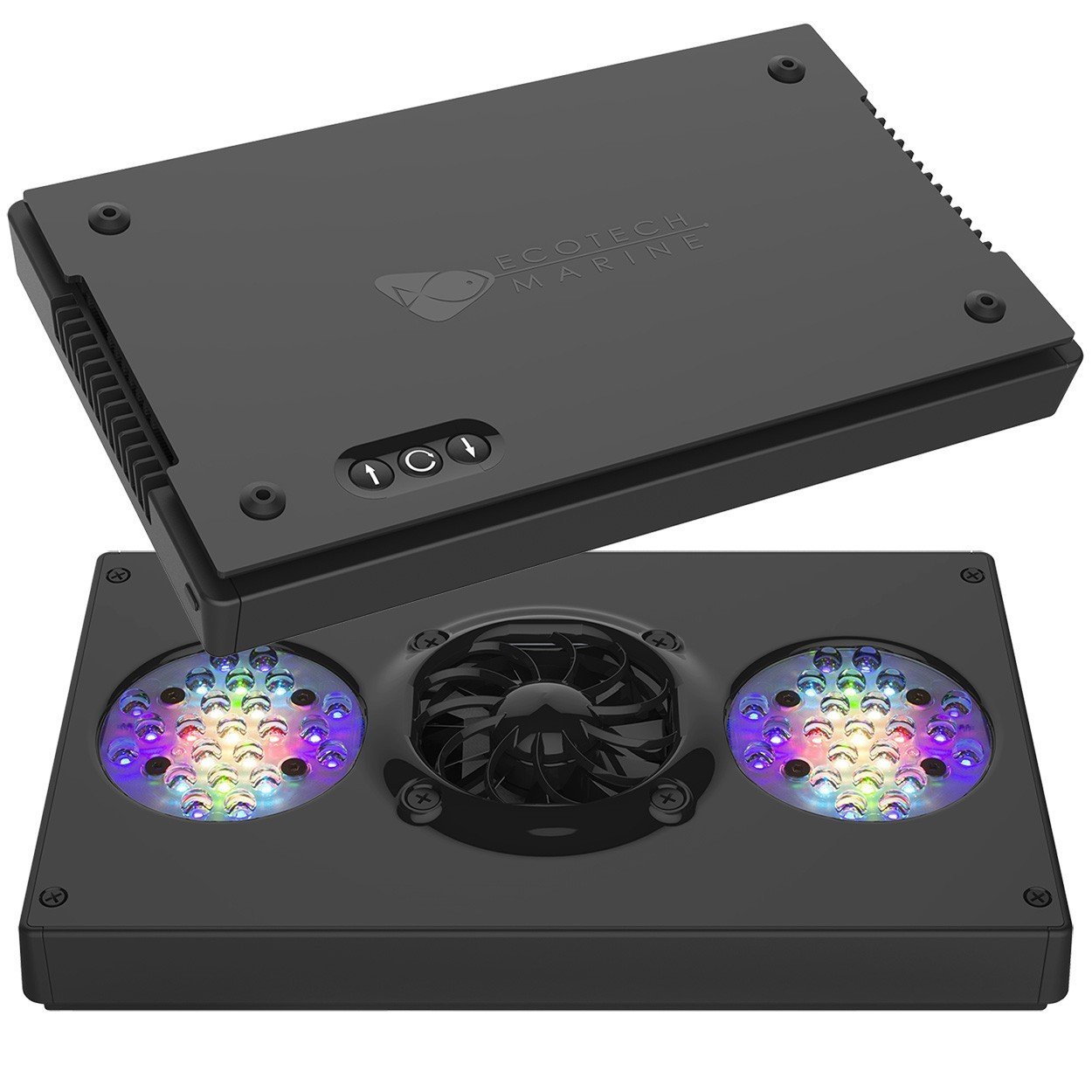 The EcoTech Marine Radion XR30w G4 LED (Buy Online) is considered by many people to be the best LED aquarium lighting for corals on the market. It uses a new hemispherical edge illumination technology to provide even illumination from its array of multi-spectral LED's. And to top it all off you can control this light from any PC or smartphone using a web-based control platform.
The EcoTech Marine Radion XR30w G4 has a total of 34 LED's with six different spectral outputs. There are 8 cool white LED's, 6 deep blue LED's, 8 blue LED's, 4 green LED's, 4 photo red LED's and 4 UV LED's. Having this mix of color balanced LED's will keep your coral healthy and make them appear more vibrant than ever.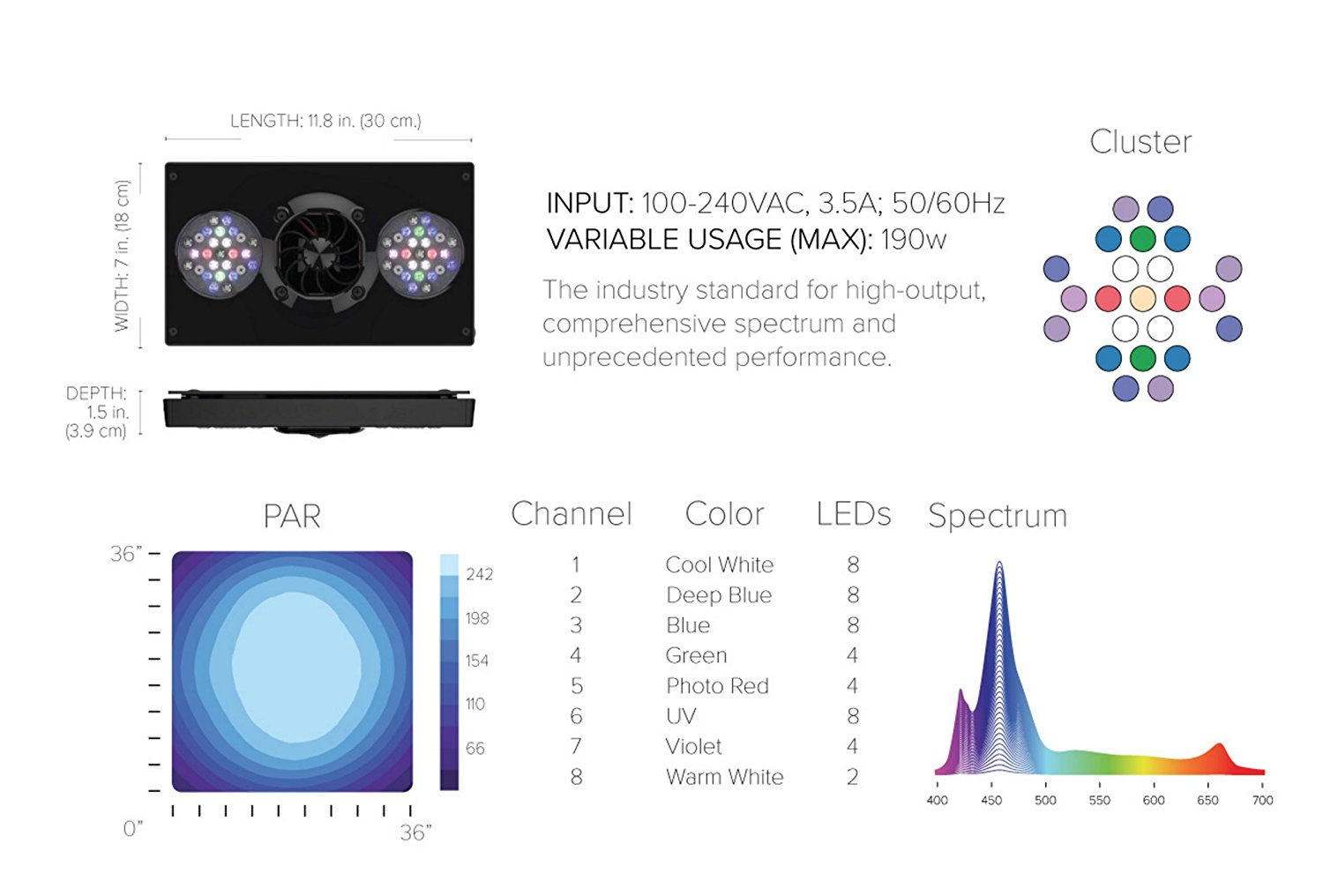 Even with its array of 34 individual lights, this LED reef aquarium lighting system will only consume 150 watts of power. It can also handle input voltages that range from 100-240 VAC so it will work whether it is connected to American or foreign power systems.
When it comes to cooling and ventilation this fixture uses a quiet active cooling system, so you won't have to worry about having to listen to a noisy fan when you are trying to enjoy your reef aquarium. The EcoTech Marine Radion XR30w G4 uses a high surface area heat sink which evenly dissipates heat. And the fixture's housing has multiple air vents that provide unrestricted airflow so heat buildup will never be a problem.
The EcoTech Marine Radion XR30w G4 can be controlled from anywhere in the world using the EcoSmart command center. All you will need is an internet connection and a web browser. Everything is managed from the cloud which means your lighting settings are always backed up so you will never lose them due to a power outage or any other unforeseen circumstance.
If you want one of the most technologically advanced reef lighting systems you won't find many alternatives that have more to offer than the EcoTech Marine Radion XR30w G4. With all its management options and color settings, you will be able to light your reef tank in a way that even rivals most professional systems.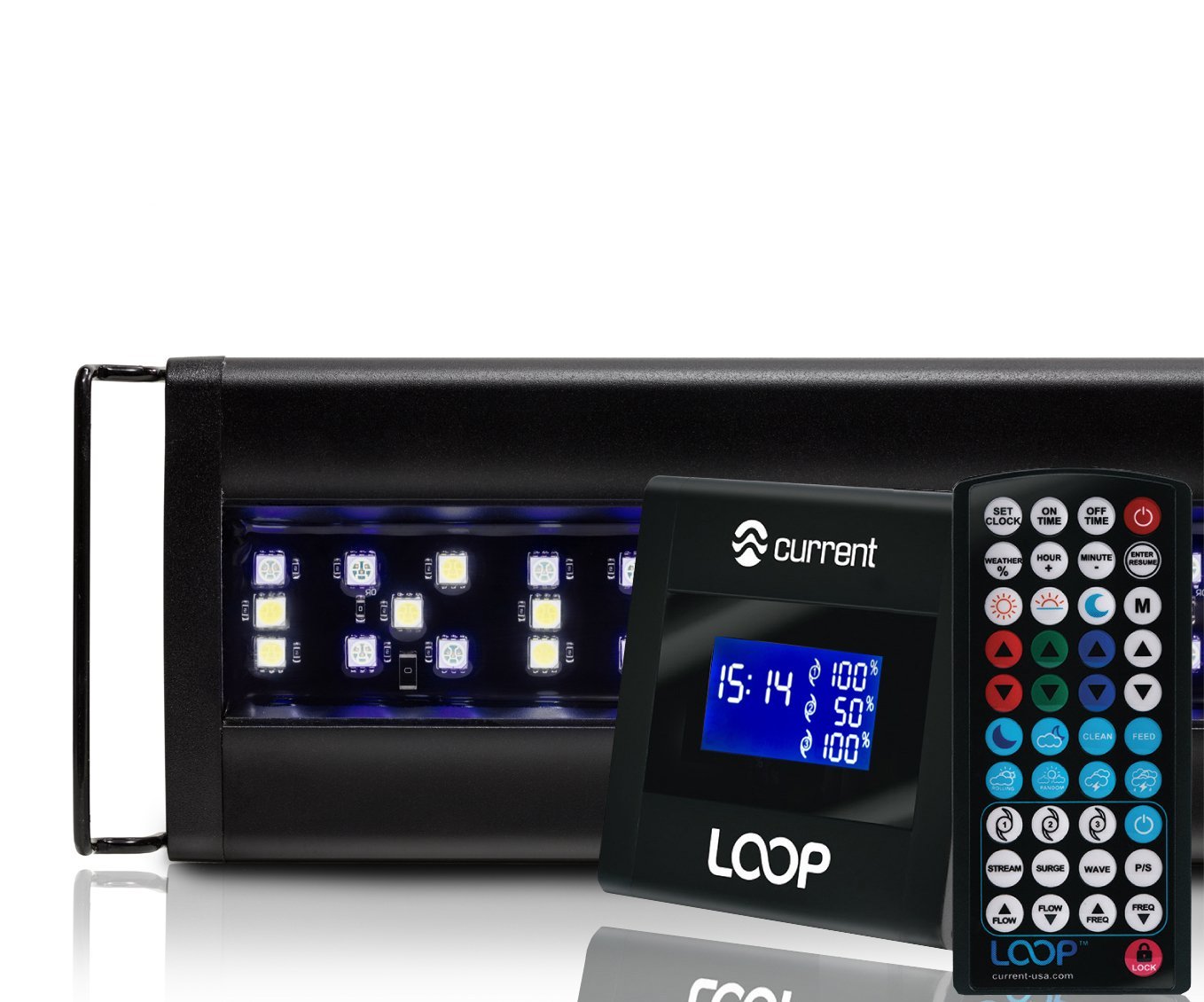 If you need ultra-bright LED aquarium lighting the Current USA Orbit Marine (Buy Online) is a very capable LED aquarium lighting system. With an included remote control you can program this light from anywhere in the room, so you can sit back and enjoy how much brighter your corals look under this lamps perfectly color balanced lighting.
The 36" – 48" fixture has a total of 155 LED's with 7 different color ranges. There are 38 6500K white LED's, 5 8000K white LED's, 20 10000K white LED's, 38 445nm Blue LED's, 36 460nm blue LED's and 1 RGB LED. This wide range of spectra allows this system to offer optimal lighting for any type of reef aquarium. And all of these LED bulbs combined consume a paltry 36 watts of power.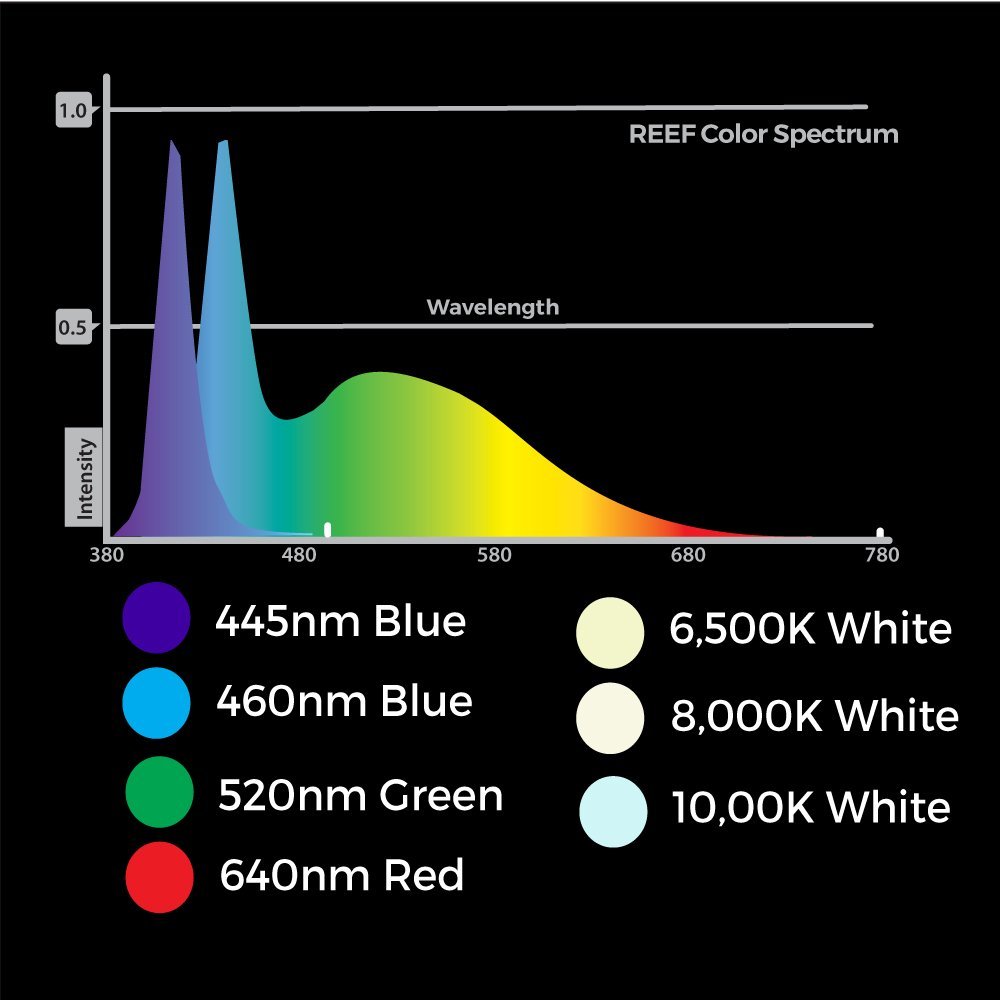 There are three four Current USA Orbit size options available. If the 36"-48" Orbit model doesn't suit your needs there is an 18"- 24" Orbit model that uses 18 watts of power and has a total of 82 LED's. There is also a 24"-36" Orbit model that consumes 27 watts of power and has 104 LED's. And if you have a large tank the 48"-60" Current USA Orbit has the highest light output with 215 LED's and a power consumption of 48-watts.
The Current USA Orbit doesn't use a fan or any other active cooling system in order to maintain its operating temperature. Instead, the large aluminum body acts as a very efficient heat sink which draws heat away from the light and passively dissipates it into the surrounding environment. The housing is also sealed and it has an IP65 water resistant rating which makes it very safe for use around marine reef aquariums.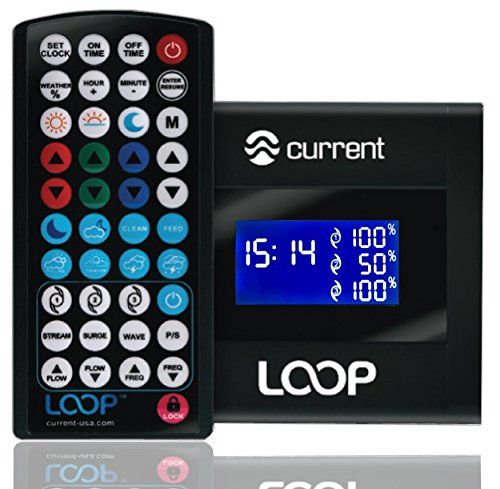 The 28 button IR remote that comes with this system can be used to program the lighting controller or it can be used to cycle through the lighting options. You can set the lights to slowly turn on and off over a 30 minute period to simulate sunrise and sunset. You can also switch to different weather modes like fog, cloud cover, fading moonlight and best of all thunderstorms. And that's just the tip of the iceberg, the remote can also control pumps and wavemakers or any other device that is plugged into the LOOP controller.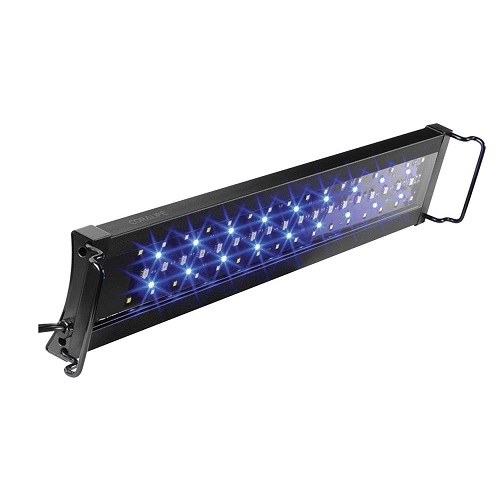 The Aqueon OptiBright Plus LED Lighting System (Buy Online) offers high-end features at a very affordable entry-level price point. If you have been looking at led aquarium lights for reef tanks you most likely have seen some with a lot of options but with an equally high price tag. The Aqueon OptiBright Plus LED has an impressive feature set like an included remote and multiple color presets all for a price that won't strain your budget.
The 48" Aqueon OptiBright Plus uses in total 96 LED's. There are 76 white LED's. 10 blue LED's and 10 red LED's. This light has a combined total output of 1125 Lumens and a PAR of 18 at a distance of 12 inches. These low light output numbers mean this light won't be the best when it comes to lighting coral from a distance. Though it is enough light for corals high up in the tank or for coral species with lower light requirements.
The Aqueon OptiBright Plus is passively cooled so it doesn't use any fans for cooling. That makes this light perfect for rooms where fan noises can cause a distraction. One downside to the housing is that it is not sealed so it has to be used on an aquarium with a cover to avoid the risk of water damage.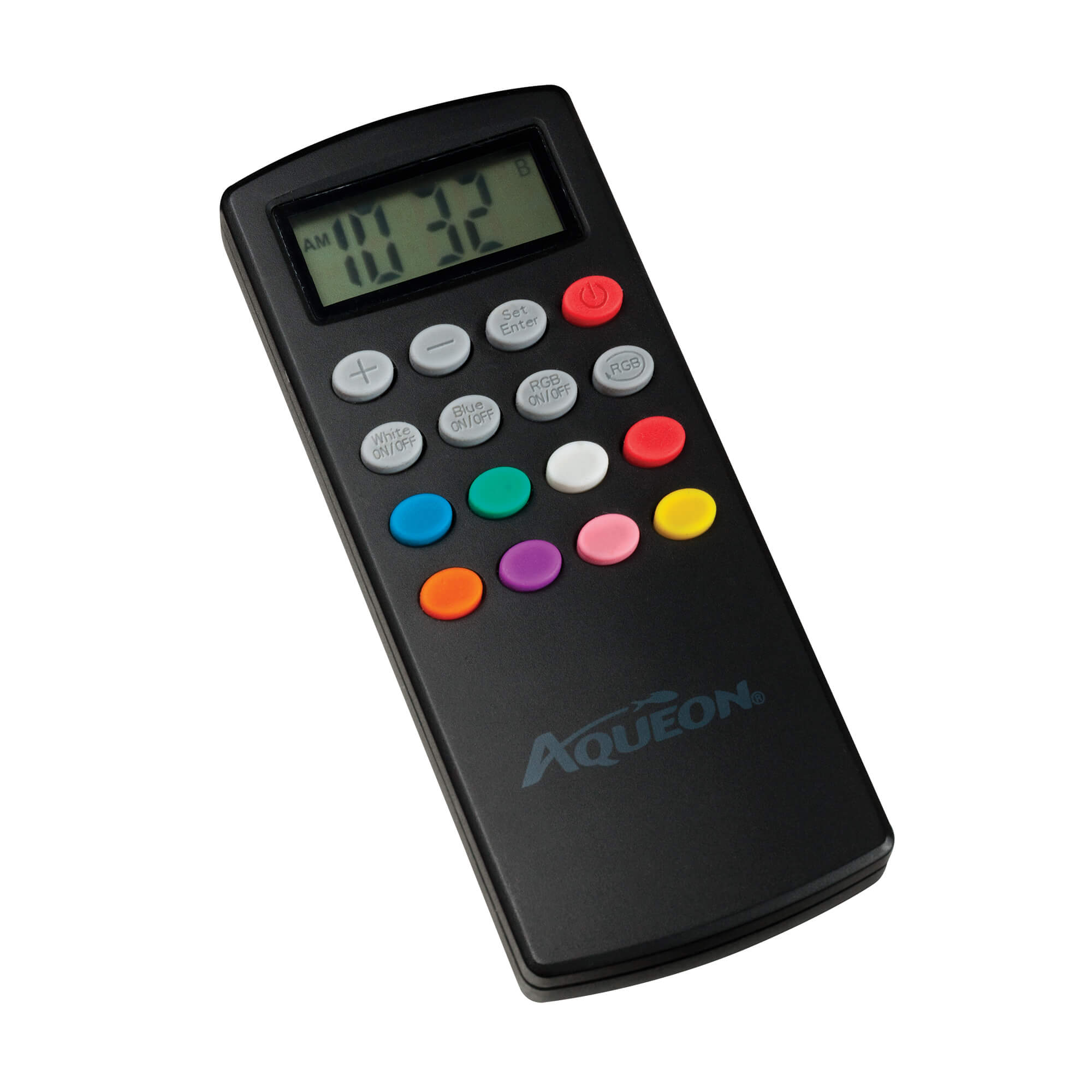 The real high point of the Aqueon OptiBright Plus is the RF remote control. This remote is actually better in some respects than the ones that come with much more expensive lighting fixtures. The remotes that come with other systems are usually infrared which means they require line of sight to operate. The RF remote that comes with the Aqueon OptiBright Plus will work from anywhere even through walls.
The remote can be used to cycle through 3 preset color options. It can also control the light levels and the speed at which the light turns on and off to mimic sunrise and sunset. And the built-in LCD will let you easily see and cycle through your timers and other lighting configurations.
---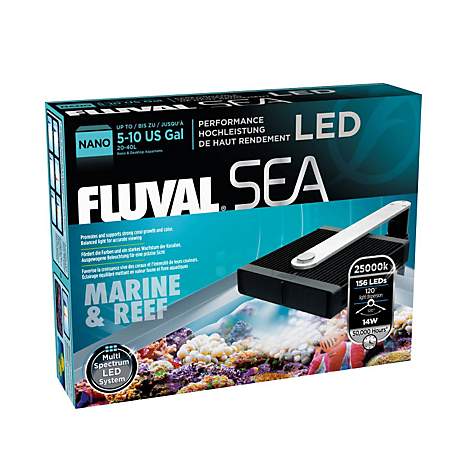 The Fluval Sea Marine & Reef LED Nano Aquarium Lamp (Buy Online) is tailor-made for small reef aquariums. This compact light can be mounted on almost any kind of open top nano reef so you can really show off its inhabitants.
This LED reef aquarium lighting fixture has a total of 156 LED's nicely arranged into its small form factor. The overall color temperature of this light is 25,000K, and it has an output of 565 Lumens, all while consuming only 14 watts of power.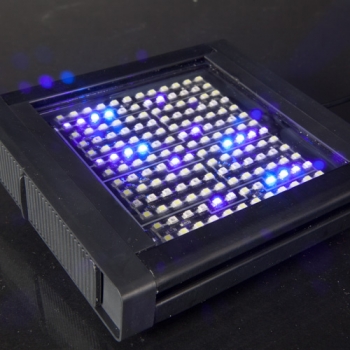 This fixture is passively cooled so it won't produce any fan noise or cause any unwanted vibrations in your aquarium. The fixture is also made to be used with open top aquariums so it is water resistant.
There are not many other bells and whistles that come with this tank like remotes or smart controllers. What you get is a very attractive LED lamp that is suitable for use on 5-10 gallon aquariums. If you want a light with more features consider checking out some of the reef lights mentioned above in this article.