So you have a mastiff that is destroying every toy you give them. And no matter what toy you find they just don't last, or the toys are made for regular sized dogs. If that sounds familiar and you have a mastiff that goes through their toys like other dogs go through their dog treats, there are still some excellent toys available you might want to check out. While finding indestructible dog toys for mastiffs can be a struggle, the following list of toys and reviews gives a good assortment of the best options available.
Best Indestructible Dog Toys
Indestructible Dog Toy Reviews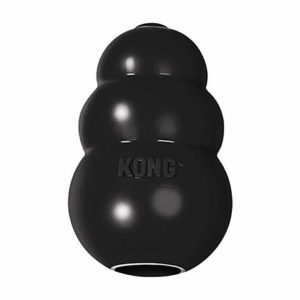 The Extra Large KONG Black Extreme Dog Toy (Buy Online) is one of the most popular indestructible dog toys for chewers. KONG dog toys are made with a special formula of all-natural rubber that is soft and flexible yet is highly resistant to ripping and tearing.
Another nice thing about KONG dog toys is their large internal cavity. This cavity can be stuffed with a soft sticky treat like KONG Easy Treat Bacon and Cheese, 8 Ounce spray can (Buy Online) that will allow you to easily fill the toy. Filling a KONG with a treat may also help prolong the life of the toy since the dog will be licking the treat instead of focusing on destroying the toy.
And when your mastiff is not chewing on the KONG they make a great toy for playing a fun game of fetch. Dogs love playing fetch with a KONG because the irregular shape makes them bounce randomly when they hit the ground. The random bouncing will keep a dog much more engaged during playtime since the bouncing more accurately simulates natural prey movements and behavior.
---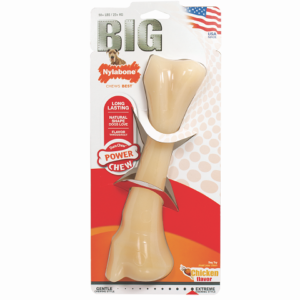 Nylabone Monster Dura Chew Dog Bones (Buy Online) are a top choice for those looking for indestructible dog toys for mastiffs. As the name suggests nylabones are made from extremely durable nylon. The dense nylon construction can withstand the extreme bite force of even the most determined mastiff. And even though the nylon is very strong it is still soft enough to not pose any risk of causing dental damage.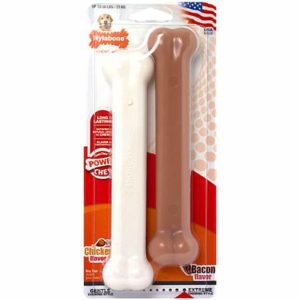 Another nice thing about nylabones is that they come in a wide range of flavors. The flavors are infused into the bones which makes them irresistible to most dogs. The monster nylabone shown above comes in chicken flavor. Or if your mastiff prefers a little variety you can get a twin pack of bacon and chicken flavored nylabones (Buy Online).
---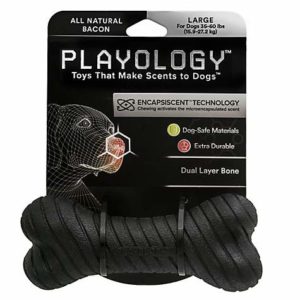 The Large Bacon Scented Playology Dual Layer Bone Dog Toy (Buy Online) is specially made to withstand even the most destructive chewers. The Playology Dog Bones two-layer design helps it stand up to the extreme bite force we all know mastiffs are famous for. The first layer of this bone is made of a durable rubber that still has some give. While the inner core of this bone is made of a hard inflexible rubber. This combination simulates the natural feel of a real hard bone surrounded by a thin outer flesh.
The Playology Dual Layer Bone is also infused with a rich aroma of bacon that will last for up to six months. And since the toy smells like bacon it can be used as an alternative to dog treats, which is especially helpful for anyone who is dealing with an overweight dog.
---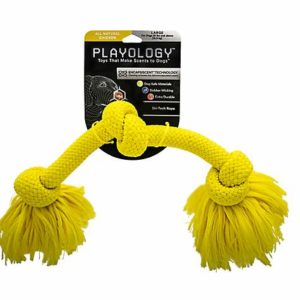 The Large Playology Dri-Tech Rope Dog Toy (Buy Online) is a great choice if you're looking for a durable tug toy for a mastiff or other large breed dog. This rope tug toy is made of extremely durable fibers that will easily withstand almost any amount of tugging and pulling. And if your mastiff does sit down and chew on this toy the fibers are made of dog-safe materials. So even if they do manage to tear a few fibers off, the fibers are designed to break off into smaller pieces so they will not cause any intestinal problems.
---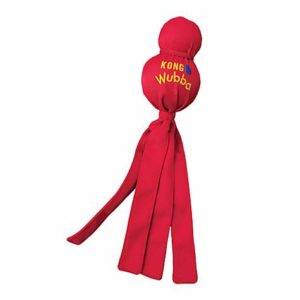 The KONG Extra-Large Wubba Dog Toy (Buy Online) is a great alternative if you have tried indestructible plush dog toys and they haven't worked out. Unlike plush dog toys, the KONG Wubba Toy is made from extremely durable nylon fabric. And if your mastiff loves to rip toys open at the seams the KONG Wubba has very durable double stitching.
The KONG Wubba is a perfect toy for playing a game of fetch or catch. The KONG Wubba has two rubber balls located on the top of the toy. The first ball under the protective nylon fabric is a tennis ball which makes throwing the toy around very fun and easy. And the second ball located under the tennis ball is a squeaker ball, that will keep your dog interested by stimulating their natural prey drive.
---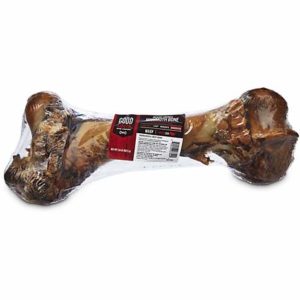 If you want a toy that is nearly indestructible the Good Lovin' Hickory Smoked Mammoth Bone (Buy Online) is the best option you are going to find. Unlike rubber bones or other so-called indestructible toys, a real bone is about as tough as your going to get. And what makes this bone even more durable is that it still has the joints attached. Having the joints attached will make fracturing this bone a much tougher task even for a mastiff.
The Good Lovin' Hickory Smoked Mammoth Bone is sourced from USA black Angus beef and is smoked with hickory wood which gives a very rich enticing flavor. You really can't get much more natural than providing a dog with a thick uncut beef bone. Just like a wolf your mastiff still has a deep primal desire to chew on a large animal bone. Unlike all those rubber and nylon bones, a real bone will not only satisfy your dog mentally it will maintain their oral health just as nature intended.
---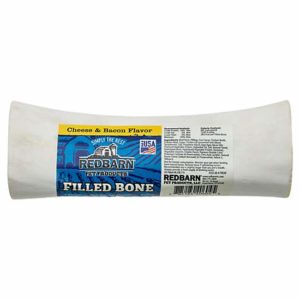 The Redbarn Large Cheese n' Bacon Filled Bone (Buy Online) is a nice natural bone for aggressive chewers. This bone is a nice alternative to those larger bones with the attached joints. Unlike the bones with attached joint, this bone has had the joints on each end cut off, making it smaller and much easier to manage. Cutting off the joints allows for this bone to be stuffed with cheese and bacon which is not possible in bones that still have their joints connected. And once your dog licks the included filling out of the bone you can refill it as many times as you want since this bone will likely last for quite a while.