So, you are looking for the best pet carrier for French Bulldogs, then you know how hard it can be to winnow down your options. We have searched far and wide for carriers that will work well in almost any situation.
Whether you need a pet carrier for air travel, or you just need one for taking your French Bulldog to the veterinarian. You are sure to find a carrier that will work well for you, and your dog in the following article.
Best Pet Carrier for French Bulldog
| Image | Name | Rating | Shop |
| --- | --- | --- | --- |
| | | | |
| | | | |
| | | | |
| | | | |
| | Pet Life Folding Zippered Lightweight Easy Folding Pet Crate | | |
| | | | |
French Bulldog Pet Carrier Reviews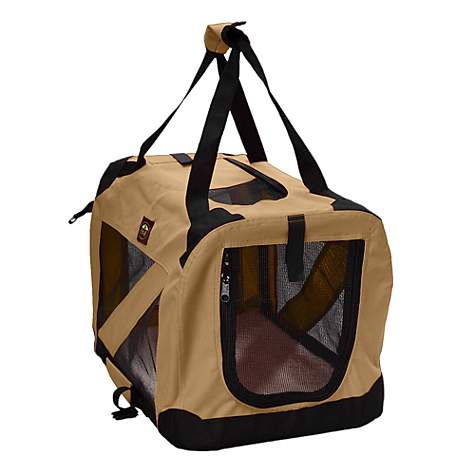 The Pet Life Folding Zippered 360 Degree Vista View House (Buy Online) is a portable carrier that will hold a French Bulldog in comfort and style. The Vista View House has a sturdy frame made of PVC for extra support and rigidity. And the walls of this carrier will withstand years of use since they are made of durable Ballistic Nylon.
The interior of this cage is also well apportioned. Inside this carrier, you will find a scratch resistant Sherpa pad lined with Thinsulate for your French Bulldogs comfort. There is also a leash attachment, so you can secure your dog to prevent any escape attempts.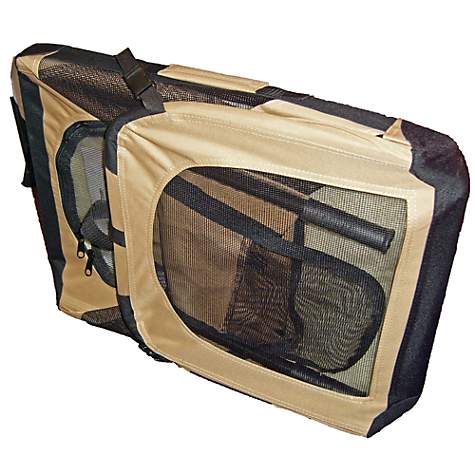 This carrier has hinges build into the frame, so it can be folded down to take up less than 4 inches of vertical space. When the carrier is fully collapsed you can slide it under a bed or put it in a closet so it is out of sight and not in the way.
Loading and unloading your French Bulldog into and out of this carrier will be quick and easy thanks to the two large doors. The front mesh door zips open wide so your dog can walk right in without feeling claustrophobic. And if you do have a dog that is reluctant to enter a carrier head first, you can use the top door to gently lower them in, so finding a way to load your dog into this carrier won't ever be a problem.
---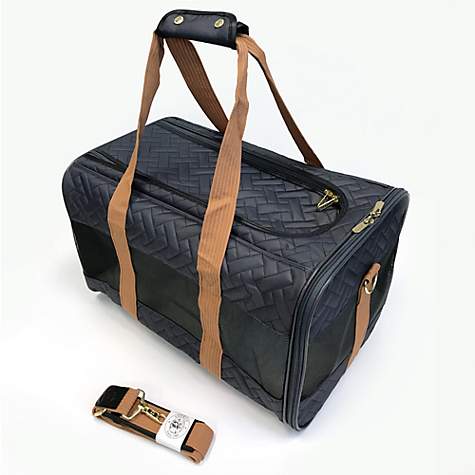 The Sherpa Original Deluxe Pet Carrier (Buy Online) is one of the most popular pet carriers on the market. Sherpa is known for their style and high-quality craftsmanship, and this carrier lives up to that tradition. If you want to travel in style this airline approved dog carrier will be your best option.
The exterior of this carrier has a very tasteful faux leather design that will fit right in with your regular luggage. The breathable mesh walls blend seamlessly into this carrier so at first glance most people won't even know it is a pet carrier. And the padded handle and removable shoulder strap will make transporting this carrier through an airport a pleasurable experience.
Once you have boarded your plane, stowing this carrier will be quick and easy, thanks to its patented spring wire frame. This frame will allow you to push down the carrier, so it can conform to the shape of most planes under-seat storage areas.
When it comes time to load and unload your dog in and out of this carrier, you will have the option of using the top door or side door. The top door is perfect if you want to get quick access to your dog, without taking the risk of them running out or becoming frightened. And once your dog is inside this carrier they will rest in comfort on the machine washable faux lambskin liner. This liner is so comfortable you might actually have to convince your dog to leave their new carrier once they have tried it.
---
Check Out: Gifts for French Bulldog Lovers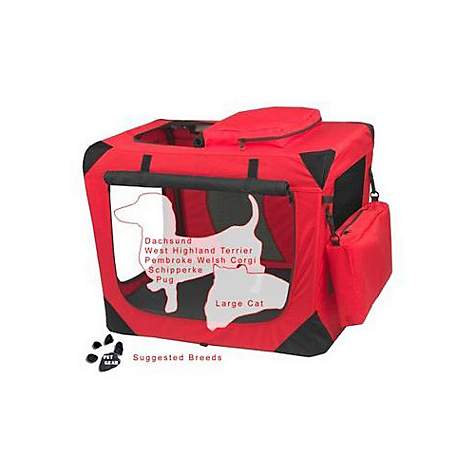 The Pet Gear Deluxe Red Poppy Generation II Soft Crate (Buy Online) is a crate that behaves more like a carrier. This crate is very easy to carry since it weighs only 11.5 pounds. And the soft exterior made of 600 count denier nylon puts this crate in the same class as other soft carriers.
Where the Pet Gear Soft Crate really stands out is its strong lightweight construction. The durable steel frame provides rigidity, while at the same time it can be folded down for easy storage. And the breathable mesh walls provide excellent visibility into and out of this crate, so you can easily keep an eye on your French Bulldog.
Inside this crate, you will find a soft fleece pad for your French Bulldog to lay on. This pad is removable so it can be cleaned, or it can be stowed in the included accessory pouch. And if your dog does have an accident while they are in this crate, the nylon fabric is very easy to clean since it is water and stain resistant.
Three of the mesh panels on this crate act as doors, so you will be able to easily access and load your dog from any angle. Like a lot of carriers this one has a top door and a small side door, but in addition to those two doors, this crate has a very large side mesh door panel. This large mesh side door can be used to load your dog into the crate, or it can be left open when the crate is on the floor to give your dog a place to relax and hideout.
---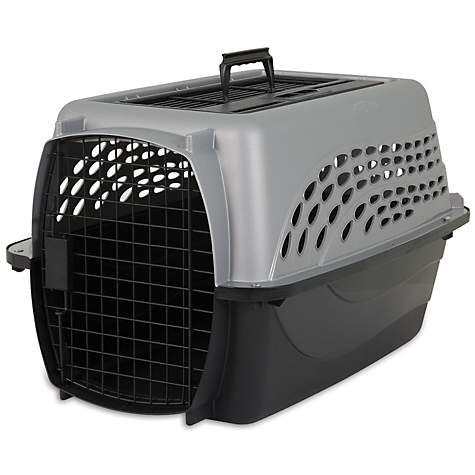 The Petmate 2 Door Top Load Kennel (Buy Online) is the go-to pet carrier for people who love to travel. This carrier meets most international and domestic air travel regulations, so it's the perfect french bulldog airline carrier. And this carrier will keep your dog safe and secure when they are on the plane thanks to its durable heavy-duty plastic construction.
There are air holes located all across this carrier, so when your French Bulldog is in this carrier they will have excellent ventilation. And if your dog has an accident in this carrier, it can simply be wiped right out since it is completely made of plastic.
This carrier is made up of three main components. The first component is the metal door, that has a spring-loaded locking mechanism. This strong metal door will hold up to the abuse of even the most fearful or aggressive French Bulldogs.
The other two components are the top and bottom plastic pieces that make up the body of this carrier. These two pieces can be stored inside each other when it is not in use so it will be much more compact when you need to store it.
When you need to put these two pieces together, the top and bottom can be quickly joined using the included bolts. And the bolts require no tools since they come with easy to turn wing-nuts, which makes setting up and tearing down this crate a simple.
---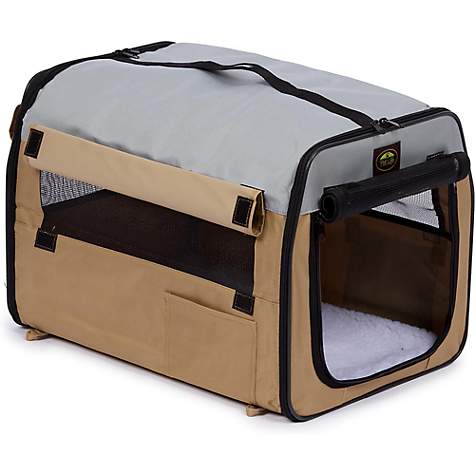 The Pet Life Folding Zippered Lightweight Easy Folding Pet Crate (Buy Online) is a quick grab and go carrier for a French Bulldog. Like All Pet Life carriers, this one is designed with portability in mind. Weighing in at just 4 pounds this is one of the lightest carriers in its class on the market
This carrier is made from durable Ballistic Nylon that is scratch and tear resistant, so it will withstand a lot of abuse. The support frame of this carrier is made of flexible wire which allows it to easily bend to fit in tight areas. And the wireframe also plays a role in this carriers extreme portability by minimizing its weight.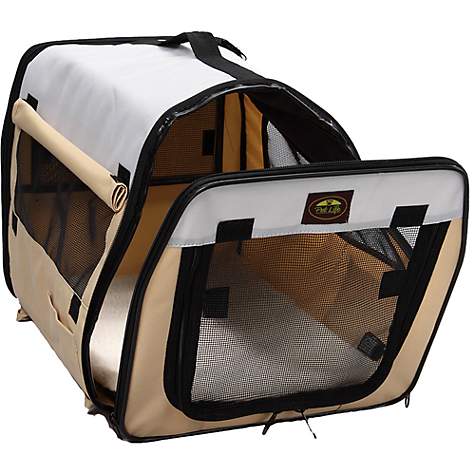 Your French Bulldog will appreciate the Sherpa lined mattress pad that is included with this carrier. This pad has very soft Sherpa lining on one side, and strong scratch resistant nylon on the other, so you can use either side depending on your dog's behavior in the carrier.
Inside this carrier you will find a leash attachment point, so you can secure your dog to reduce the risk of them running away when you open the carrier. And when this carrier is not in use it folds down to two inches in height, so it can easily be stored anywhere.
---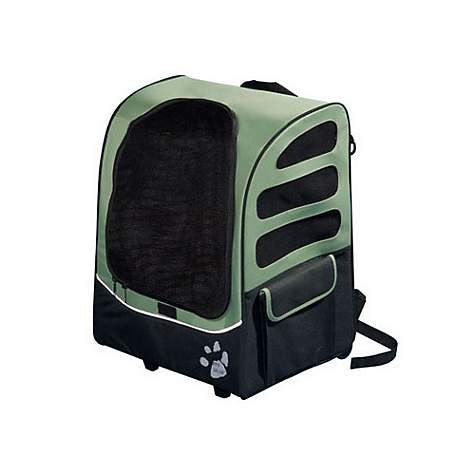 The Pet Gear I-GO2 Sage Traveler Plus (Buy Online) is designed for how people really travel with their dogs. The boxy design of most carriers is not the optimal shape for airline or car travel. The Pet Gear I-GO2 solves this problem, by having a form factor that conforms to the real space limits that are imposed on us when we travel with our furry companions.
If you have ever tried to put your average box-shaped crate on a car seat or under the seat of a plane you know it can be a bit of an ordeal. In a car, a regular carrier doesn't fit the contours of a seat, so it either hangs off one side or it is hard to get it level. On an airplane the under-seat area is not shaped like a perfect box, so you can't even bring a regular carrier if it is not flexible.
All of these issues have been addressed in the design of the I-GO2 carrier. This narrow yet high carrier will snugly fit in a car seat without hanging off the side or sitting unevenly on the seats bolsters. And it even comes with built-in tethers, so you can attach it to the seat, or you can even belt it in so your dog will be much safer when you travel.
The I-GO2 carriers shape also gives you an advantage when it comes time to load it on an airplane. The carrier can be placed on its side and then easily rolled under a seat. The curved top of this carrier helps if conform to the actual space under a planes seat, so you won't have to go through any struggle to safely stow it.
When you are walking through the airport the wheels on this carrier will make getting this carrier on board the plane easy for anyone. If you need an airline approved pet carrier with wheels you should give this carrier your consideration.
---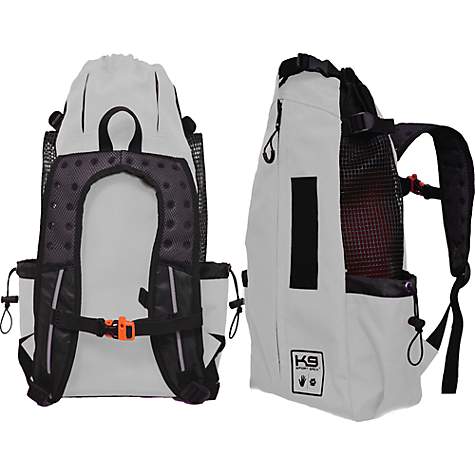 The K9 Sport Sack Air Forward Facing Backpack Dog Carrier (Buy Online) is perfect for someone who leads an active lifestyle and takes their dog everywhere. The unique backpack design means you can take your dog along with you on hikes or camping trips, or even for walks around an urban jungle.
This dog carrier is so well designed most people will think it is a hiking pack and not actually a dog carrier. It has the same padded shoulder straps and durable hardware that you would find in other high-price camping backpacks. It is also very lightweight and comfortable so you won't have any problem carrying your dog for hours and hours.
Your dog will be able to look out of the large mesh openings so they can see whats going on around them. And the mesh openings let in ample air so your dog will always be cool and comfortable. And for extra security there is a collar hook in this backpack, so you can rest assured your dog won't run away when you open this backpack carrier.