Guinea pigs require more space than other small pets like hamsters and gerbils. But in most cases, the cages people buy for them aren't much bigger than a hamster cage. Experts on guinea pigs recommend that in order to comfortably keep 1-2 guinea pigs, you will need to provide them with a cage that has at least 7.5 square feet of space. The following article will give you some cage ideas if you're looking for the best guinea pig cage for 2 guinea pigs.
Best Guinea Pig Cage for 2
Best Guinea Pig Cage Size Requirements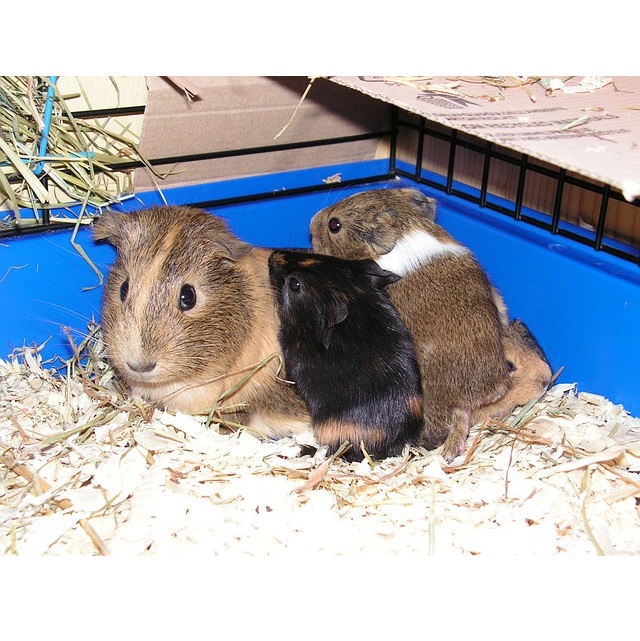 One reason guinea pigs need such a large cage, is in part due to the fact that they are one of the largest rodents we keep as pets. And secondly, unlike most other rodents Guinea pigs are not the strongest climbers. So they can't utilize their cages vertical space, which makes them have to rely on adequate floor space to get their exercise.
Cage Sizes for guinea pigs:
One guinea pig: 7.5 square feet

Two guinea pigs: 7.5 – 10.5 square feet

Three guinea pigs: 10.5 – 13 square feet

Four guinea pigs 13 square feet
READ MORE: Guinea Pig Cage Calculator
While cage size is important for exercise, it will also have other benefits. This will be especially true when two or more guinea pigs are housed together. Here are some important reasons to size your cage appropriately.
Cleaning
A large cage can be easier to clean, since the waste will be more evenly spread out. When the waste is spread out, it will also be less likely to stick to the floor of the cage. Another benefit of a large cage is that it will need to be cleaned less frequently compared to a smaller cage.
Health
A properly sized cage will also promote the health and wellness of your guinea pigs. Since they will not be living in a cramped cage they will be less stressed. By limiting stress your guinea pig will be less likely to suffer illnesses, or other behavioral problems. By providing your guinea pigs with a healthy environment, you will increase the chance they live a full and healthy life.
READ MORE: Best Water Bottle for Guinea Pigs
Reduce Conflicts
While guinea pigs are usually not aggressive, keeping more than one in a cage will increase the risk of fighting. With a cage that is large enough to house multiple guinea pigs, these territorial disputes will be lessened. By giving each guinea pig an area of it's own, the risk of conflict can be greatly reduced.
Choosing the Best Guinea Pig Cage for 2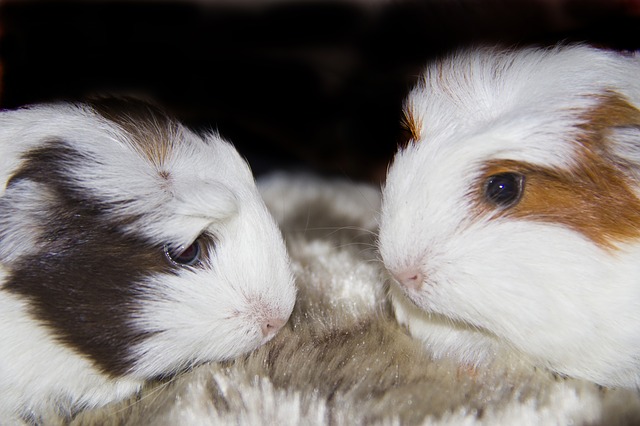 There are a few key decisions you will have to make before picking out the best cage for two guinea pigs. The first thing to consider is the overall size of the cage. Followed by how much room you have available in your house.
A very large cage will definitely make your guinea pigs happy, but it might not always be a good fit for certain homes. If overall floor space is limited, consider stackable guinea pig cages, which will utilize vertical space instead of valuable floor space.
Best Guinea Pig Cage Reviews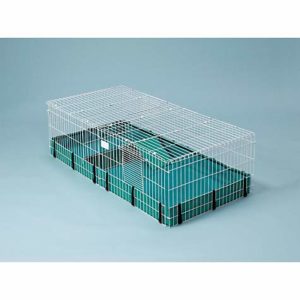 The Midwest Guinea Habitat Plus Guinea Pig Cage (Buy Online), is one of the most versatile guinea pig cages available. The habitat provides 7.83 square feet of space, which is perfect since it is slightly larger than the recommended amount of space for two guinea pigs. And even though it is one of the larger guinea pig cages available, it is very light weight and portable.
Lightweight & Portable
The portability of this cage is largely due to the fact that the bottom of this cage is made out of leak proof canvas that's suitable use outdoors since it is rustproof. Having a canvas bottom comes with some negatives and positives to consider.
The positive aspect of having a canvas bottom is that canvas is very light, which makes moving and cleaning the habitat very easy. Another good thing about the canvas bottom on this portable guinea pig cage is that the whole habitat can be folded down flat for easy storage and transport. One negative of the canvas bottom is that it can be chewed through buy a persistent guinea pig.
Added Features
Besides being very light weight and portable the Midwest Guinea Habitat comes with some nice internal features. A very nice feature to have especially when housing two guinea pigs is the internal divider. The internal divider is removable if you want to have the whole cage connected. The divider can also be put into place if conflicts arise or you just want each guinea pig to have their own space. The divider also has a door that when left open will act as a ramp, allowing the guinea pigs to move from one side of the habitat to the other.
And one more interesting thing about this habitat system is that multiple habitats can be connected together. You can connect the outside doors of two or more habitats. The included ramps will then allow the guinea pigs to move freely between all the connected habitats. That feature alone makes this one of the most extendable guinea pig cages available.
PROS
Large
Portable
Lightweight
Extendable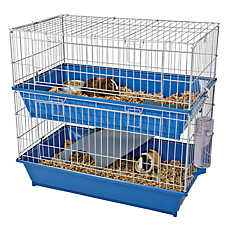 The All Living Things Duel Level Ramp Habitat (Buy Online), is one of the more interesting solutions for housing two guinea pigs. The dual level design makes this cage the best choice for people with limited space, but who really want to house two guinea pigs in the same cage. The cage has an overall living space of about 6.8 square feet with 3.4 square feet of living space on each level. While the total living space might be a little less than the ideal amount, this 2 level guinea pig cage has clearly been designed with two guinea pigs in mind.
Stackable Cages
The two cages are connected via a ramp through a hole in the floor of the top cages bedding pan. The hole is more than large enough to allow the two guinea pigs to move from one level to the next with ease. This setup will also allow the two guinea pigs to establish separate territories which can help reduce any conflicts. And unlike other enclosures that use dividers, this multi level guinea pig cage design will help keep your guinea pig's out of each others line of sight. Whch can go a long way towards further reducing their stress and anxiety levels.
Easy to Clean
The cage can be easily accessed using the two large doors with one on each level, allowing you to tend to your guinea pigs no matter what level they might be on. Another nice feature of this cage is that you can stack another dual level cage system on top of this one. That will give you enough space for up to four guinea pigs, in the same amount of floor space needed for just one cage (3.5 square feet).
Compact Design
This cage is perfect for people who live in apartments or those of us who can't dedicate a large area of our house to a guinea pig cage. So if you really want to house multiple guinea pigs comfortably, and you have limited space. You really can't go wrong with this cage system, especially if space is your main limiting factor.
PROS
Compact
Large Living Area
Multiple Levels
Durable
CONS
Ramps Reduce Living Space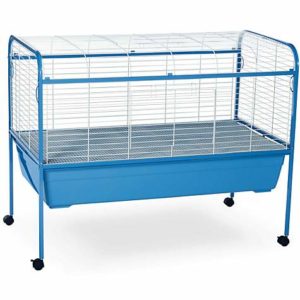 The Prevue Hendryx Blue & White Small Animal Cage (Buy Online), is a perfect fit for housing two guinea pigs. This spacious cage has over 8.3 square feet of living space which makes it larger than the recommended 7.5 square feet. The cage is built into a sturdy elevated steel stand, allowing for easy access without having to purchase a separate stand to hold the cage. The stand is also very easy to move thanks to the built in casters.
Easy to Clean
The cage comes with a wire mesh grate that is designed for rabbits, but it can easily be removed to house guinea pigs instead. Once the metal grate is removed, the extra deep plastic pan will keep any litter from flying out of the cage. The plastic pan is very durable and easy to clean, and since it is so deep it will be resistant to any chewing related damage.
Size Options
If this cage is a little too large for your house, Prevue makes a slightly smaller version the Prevue Hendryx Green & White Small Animal Cage with Stand. The smaller version has 6.6 square feet of living space. If you are cramped for space, and you need a sturdy cage for two guinea pigs the slightly smaller version would be a good alternative.
PROS
Large
Durable
Moveable
Easy to Clean
Two Sizes Available