Do Jack Russells need a coat in winter? In most cases, a Jack Russell Terrier will need an insulated winter jacket since they don't have a thick undercoat to protect them from freezing conditions.
This is especially true if you have a short-haired Jack Russell Terrier. And even if you have a rough coat Jack Russell it's a good idea to get them a dog winter coat or a sweater when the temperature drops below 32 Degrees Fahrenheit (0 Degrees Celsius).
When the temperature drops below freezing it's a good idea to protect your dog from the elements with a weatherproof insulated dog winter coat. We recommend Ruffwear Dog Coats (Buy Online) if you're looking for the best winter coats for Jack Russell Terriers.
Best Winter Coats for Jack Russell Terriers
The RUFFWEAR Powder Hound Insulated Coat (Buy Online) is one of the best winter coats for Jack Russell Terriers. This coat contains 250 grams of high loft polyester insulation to protect your dog from cold winter weather. It's also weather-resistant, and it won't restrict your dog's movement since it's made of flexible stretch fabric.
The outer layer of this coat will repel water and wind in cold winter conditions, however, this coat isn't waterproof. This coat is more suited for snow as the Powder Hound name implies and it does a great job of keeping a dog warm in freezing temperatures.
If you live in an area that experiences wet or rainy winters, then the Aira Rain Jacket by Ruffwear (Buy Online) might be a better fit for your climatic conditions. However, it's not made to handle cold temperatures as well as the RUFFWEAR Powder Hound Jacket. But you can still use it as an additional waterproof layer if your dog is out in cold wet weather.
The sleeves on the Powder Hound Insulated Coat will also keep the upper part of your dog's legs warm and protected. The Powder Hound Coat also provides full chest and stomach coverage, so your dog will be protected from deep snow and blustery winds.
This coat also has reflective piping that makes your dog visible at night or in low light conditions, and it even has a built-in light loop that you can hook an LED light on to, which is helpful in those dark winter nights.
The Kurgo Waterproof Dog Jacket (Buy Online) is made for active dogs that need to be protected from cold wet winter weather. This jacket is very lightweight and flexible and it's made from durable waterproof 1200 denier nylon. This waterproof dog coat is also windproof and it has a soft fleece lining that will keep your dog warm in cold weather.
This jacket is great for areas that hover just above freezing for most of the winter, and where it rains more than it snows. It's lightweight and flexible enough not to cause your dog to overheat on warmer winter days, and it still has more than enough insulation to handle cold days that drop below 32 Degrees Fahrenheit (0 Celsius).
The Kurgo Waterproof Dog Jacket is available in several different sizes and colors, so you're sure to find one that's a perfect fit for your Jack Russell Terrier. It also has a built-in LED light strip and reflective piping to help improve nighttime visibility, so your dog will be safe when you walk them.
This jacket is also very easy to put on your dog, and it will stay on your Jack Russell even if they try to shake it off since it uses a buckle latch instead of Velcro.
This coat only has limited coverage for your dog's legs and their chest which might leave them a little unprotected. However, that makes this coat easier to move around in so the tradeoff might be worth it.
The DogHelios 'Thunder-Crackle' Full-Body Dog Coat (Buy Online) will keep your Jack Russell warm in the harshest winter weather. This coat is waterproof and windproof, and it's made from 3M materials that make the whole outer shell of the coat reflective. It also comes in four different colors Blue, Red, Grey, and Orange.
If you like to go outside with your Jack Russell Terrier in subzero temperatures then you'll want to make sure your dog is well protected from the elements. The DogHelios Waterproof/Windproof Pet Jacket is made to protect your dog's body, chest and legs from ice and snow and anything else mother nature can muster.
This jacket has a special inner liner that reflects heat back onto your dog's body even in extremely cold windy weather. That makes this coat much more effective than coats that use nylon or fleece insulation to trap a dog's body heat. And the leg protection and it's overall form-fitting design will ensure no drafts leak into the coat even in blizzard conditions.
The Canada Pooch Everest Explorer Dog Jacket (Buy Online) is a stylish dog coat that offers plenty of protection from cold weather. This coat comes in 16 different sizes and you can get it in a wide range of colors like black, red, green, and camo.
This winter dog coat is made from water-resistant material and it comes with a removable hood that offers added protection in wet winter weather. The Canada Pooch Everest Explorer Dog Jacket uses faux down for insulation and it's very easy to clean since it's machine washable.
This jacket even has four cargo pockets so your dog can carry some treats, toys, or bags on their back. And the jacket seals up securely with a dual Velcro closure, and it also has a leash harness slit that's very easy to access.
The Kurgo Reversible Winter Coat for Dogs (Buy Online) is perfect for active dogs that love taking walks and playing outside in cold weather. This jacket is lightweight and flexible and it won't inhibit your dog's movement, and it's wind and water-resistant.
The Kurgo Winter Coat for Dogs is reversible and it has a different color on each side, so it's almost like having two different style jackets. Also, it has reflective piping on both sides for improved visibility in low light conditions. It's also very easy to use a leash with this coat since it has a leash portal.
This coat won't protect your dog's legs though, but it does offer a good amount of chest protection. It is very easy to clean though since it's machine washable. And it's built to last since it's made from very durable synthetic materials, and it comes with a Full Lifetime Warranty from the manufacturer.
Why Do Jack Russells Need Winter Coats?
A Jack Russell's cold tolerance is generally determined by several factors. First, Jack Russell Terriers can either have short hair or long hair which can play a strong role in their overall ability to handle cold temperatures. Long-haired jack Russell's tend to do better in cold conditions, but they still lack an undercoat so they still need some protection from the elements.
A short-haired Jack Russell will usually need a coat or sweater even when the temperature is hovering slightly above freezing. A rough coat Jack Russell, on the other hand, will have a little more fur to protect them, but it won't offer as much insulation as a long-haired Jack Russell Terrier
Why Dogs Need Winter Coats
Fur Length & Thickness
Unlike most dog breeds, Jack Russell Terriers have three types of coats. The smooth-coat is the short-haired type, while the broken-coat and rough coat Jack Russell's have longer hair that provides them with a little more protection from cold weather.
The long-haired Jack Russell's will sometimes still need a winter coat as much as the short-haired ones. Especially when the wind blows, the long hairs can flatten out and create a part that can expose their skin to the harsh winter weather.
Age
As your Jack Russell ages, you might notice that they don't jump as high and they need more time to stretch before a walk. A dog winter coat will help protect their joints from getting stiff outside. And an all-season winter jacket will also help keep them from catching a chill and getting sick since an older dog can have a harder time regulating their body temperature.
Jack Russell Coat Types
Smooth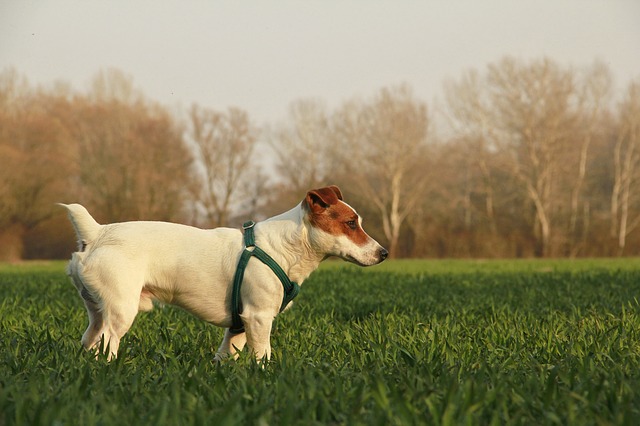 The short-haired Jack Russell's coat is very dense. The white surface hairs almost look translucent, and they seem to glow when the light hits them from the right angle. The short dense fur does make it difficult to dry your Jack Russell if they get wet. Their natural coat does add a little insulation near their body, and the tight fur helps to prevent wind from getting to their skin. This can help on a windy day, but their hair doesn't provide that much insulation so a jacket is still necessary at low temperatures.
Broken Coat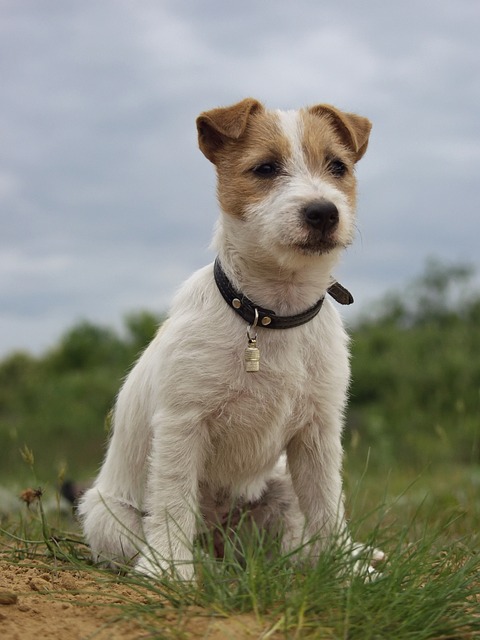 The broken-coated Jack Russell has the best of both worlds when it comes to cold weather protection. Their dense short fur protects and insulates them, and the longer surface hairs add to the volume and length of their coat. In some cases, the longer hairs can look spiky and/or add wavy texture to the coat. This added volume of hair may necessitate a larger winter jacket than you would get for a similarly sized smooth-coated Jack Russell Terrier.
Rough Coat– Long Hair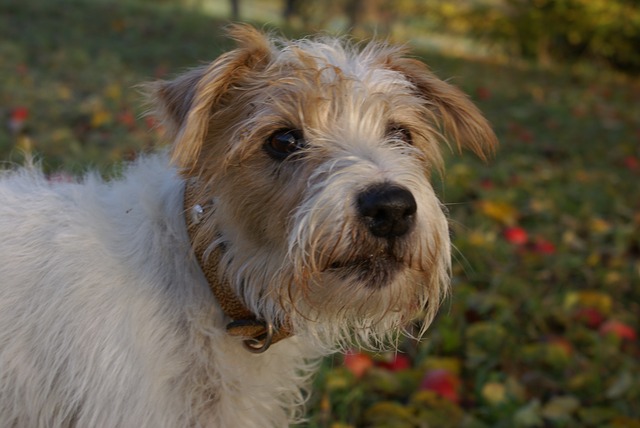 Believe it or not, the rough-coated Jack Russell can have s soft wavy texture of long soft hair. For this reason, they are considered to be less likely to cause allergic issues. There is no real undercoat and their skin can easily be exposed in cold windy weather. However, after they get wet the coat dry quicker than short-haired Jack Russell's.
What To Look for in a Winter Coat for Jack Russell's
Size
It's important that a dog winter coat fit's right to provide protection from the elements. Jack Russell's are a breed of dog that comes in a wide range of different shapes and sizes, so it's important that you measure your Jack Russell's height, length, girth, and their weight, in order to figure out the right size dog winter coat that will fit them.
There are lots of dog coat brands out there and they all can fit differently. That's why it's important to read the manufacturer's sizing guidelines in order to ensure that your dog's coat fits properly. This is important since you don't wan to get a coat that limits their movement or makes them uncomfortable in any way.
Some dogs might not like wearing a coat at all so it's important to get a coat that suits your dog's natural temperament. If your dog doesn't like to wear a heavy restrictive coat you might need to get a light weight dog winter coat or sweater.
Style
There are few different styles of dog winter coats that you can use to keep your Jack Russell warm in the winter. Some coats are made to cover their whole body along with their chest and belly, while others are more lightweight and less restrictive and just protect their back from the elements. There are even some dog winter coats that have sleeves or hoods which are great for extremely cold areas that frequently experience sub-zero temperatures.
Material – Waterproof
A waterproof dog winter coat will protect your Jack Russell from sleet and freezing rain. This can help keep your dog from getting hypothermia since any moisture that gets on your dog's body can rapidly lower their core body temperature. The most common Waterproof materials are Gortex and 1200 denier nylon, and these materials will usually be listed in the manufacturer's product description
Machine Washable
Jack Russell's are a very active and rambunctious dog that always loves to play and sometimes they will get messy even in cold snowy weather. That's why it's a good idea to get a dog winter coat that's machine washable so you can easily clean it when it gets dirty.
Leash Port
It's a good idea to get a dog winter coat that allows you to walk your dog on a leash. You should look for a coat that makes it easy to attach a leash to a harness or a collar underneath your Jack Russel's jacket. Most high-quality dog winter coats will have a small leash port that you can pass a leash through without compromising the insulation of the coat.
Easy to Get On and Off
Getting a coat on your dog can be a challenge, some dogs hate wearing a jacket, and Jack Russell's are no exception. That's why you want to get a dog winter coat that's easy to get your Jack Russell into, so you can get them dressed quickly without having them put up a fight or a struggle.
How to Measure Dogs for Coats
Jack Russell Size and Weight
A Jack Russell Terrier has a broad body, and they range in size from 10–15 in (25–38 cm) at the withers, and they weigh between 14-18 pounds (6-8 kg). Their body length is usually in proportion to their height, and in most cases, they have a square compact well-balanced body.