Which Breed of Rabbit is Most Child Friendly? There are a number of different pet rabbit breeds that get along well with children. Some of the best child-friendly breeds of rabbit for a first time owner include Lionhead Rabbits, Harlequin Rabbits, Dutch Rabbits, Himalayan Rabbits, Chinchilla Rabbits, and Sussex Rabbits.
The following rabbit breed list with pictures contains more information about each type of child-friendly pet rabbit breed.
Which Breed of Rabbit is Most Child Friendly
Lionhead Rabbit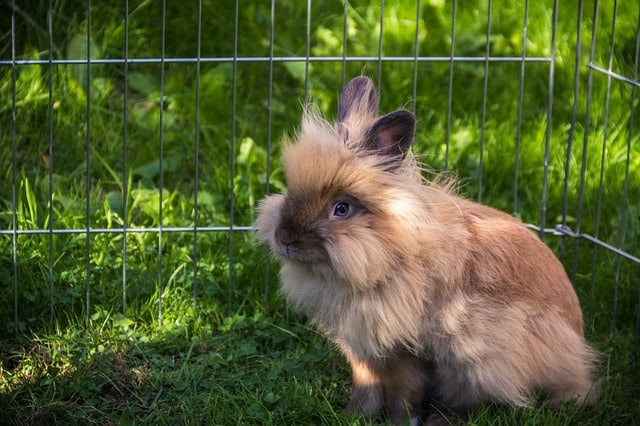 Lionhead Rabbits are dwarf rabbits that have little round bodies, and they are considered to be a fancy rabbit breed. Their distinguishing feature is the fluffy hair around their head that looks like a lions mane, hence their name. Their "mane" will reach a length of 2 inches (5cm), and the extra hair will take a little bit of extra effort to groom and maintain.
Lionheads are extremely mild-mannered rabbits who will get along well with children. They also make excellent pets for older kids, and they are so adorable most adults can't resist their cute little face. They are very well-mannered and they get along well with other rabbits, and they can even be kept indoors since they can easily be house trained.
Harlequin Rabbit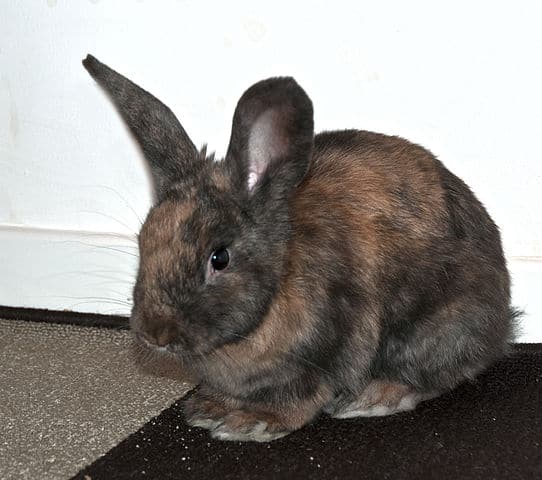 Harlequin Rabbits are a very popular pet rabbit that has a very unique color pattern. These patterns are usually made up of at least two or three different colors that form stripes across their whole body.
Harlequins are a very energetic and playful pet rabbit breed, and they love exploring their environment since they have a very curious nature. They also enjoy human contact and they love being pet and nuzzling their owners. They are also easy to train, and some harlequins can even be taught to do simple tricks.
Dutch Rabbit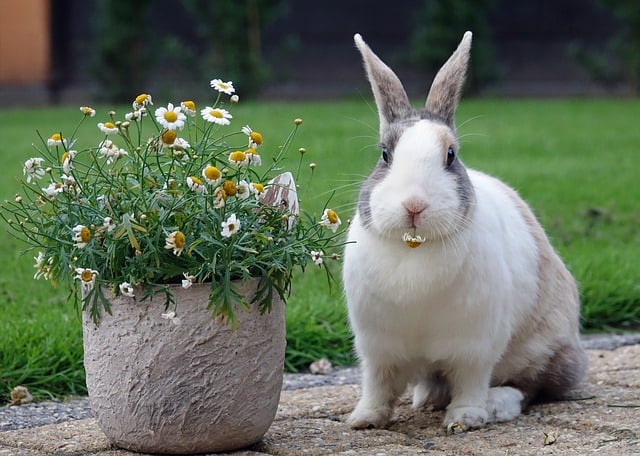 Dutch Rabbits are one of the most popular pet rabbit breeds, and they are what most people end up getting when they buy their child a new bunny. In addition, they are also a calm and easy-going rabbit, and they are very child-friendly.
Dutch rabbits also love to be around people, which makes them one of the best rabbit breeds for a child since they like lots of attention. Most dutch rabbits also remain small throughout their lives, so they won't get too big for a child to handle
Dutch rabbits have also been cross-bred with other rabbit breeds and there are lots of unique dutch rabbit varieties. Some of the most popular Dutch rabbit breeds include the lilac dutch rabbit, gold dutch rabbit, chinchilla dutch rabbit, and the American dutch rabbit just to name a few dutch rabbit breeds.
Himalayan Rabbit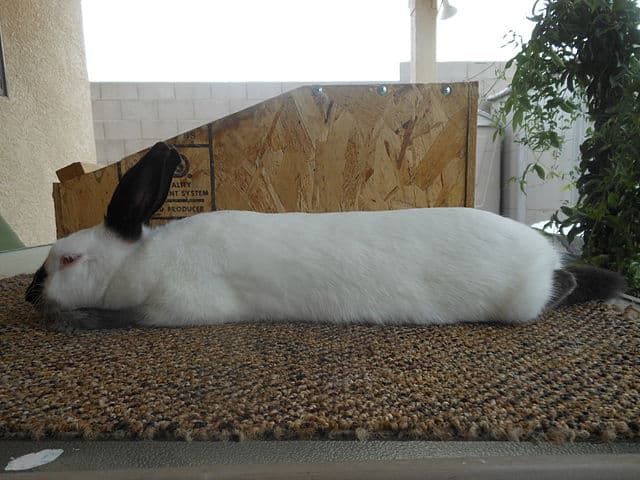 Himalayan Rabbits are one of the calmest pet rabbits that you can keep. They are relatively rare rabbits, which means it can be hard to find a Himalayan rabbit for sale. However, they are worth looking into if you want a child-friendly rabbit.
Himalayan Rabbits are very gentle, patient, intelligent, and playful, and they don't get stressed easily, so they won't be bothered by a child's boundless energy. They also form strong bonds with their family, and they enjoy hopping around and playing fun games outside of their hutch or cage.
Chinchilla Rabbit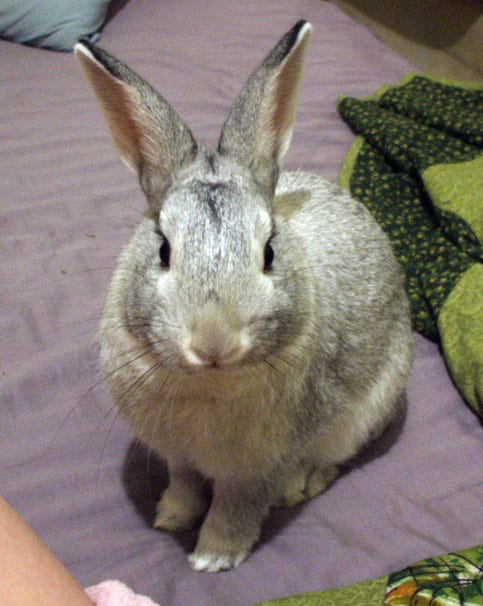 Chinchilla Rabbits get their name from their soft silky coat that makes them look and feel like a chinchilla. Their fur makes them a favorite with children since they are very soft and cuddly, and chinchilla rabbits are very affectionate.
Chinchilla rabbits are a very docile pet rabbit breed, and they will adapt to most environments. They can easily live indoors with humans or they can be kept outdoors in a hutch in most climates.
Chinchilla rabbits even get along well with other small pets and other rabbit breeds.
Sussex Rabbit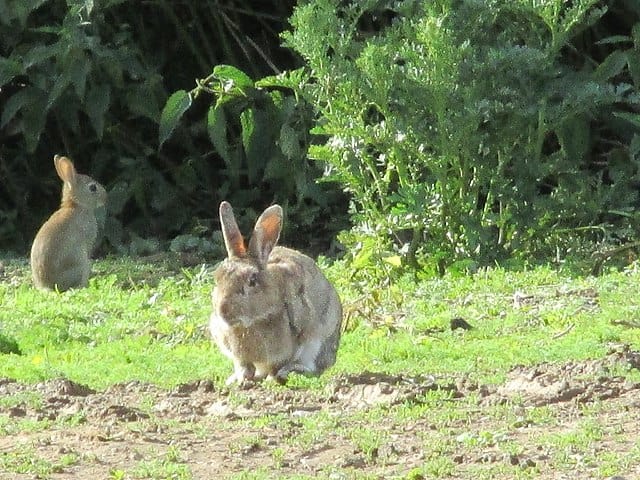 The Sussex rabbit is a new type of pet rabbit, and they are quickly becoming popular since they are a breed of rabbit that's very child-friendly. They are very docile and they have a very curious nature, and they are easy to train since they are very intelligent. Sussex rabbits are also very eager to please and they have even been compared to Labradors since they have a very calm disposition and an even temperament.
Mini Lop Rabbit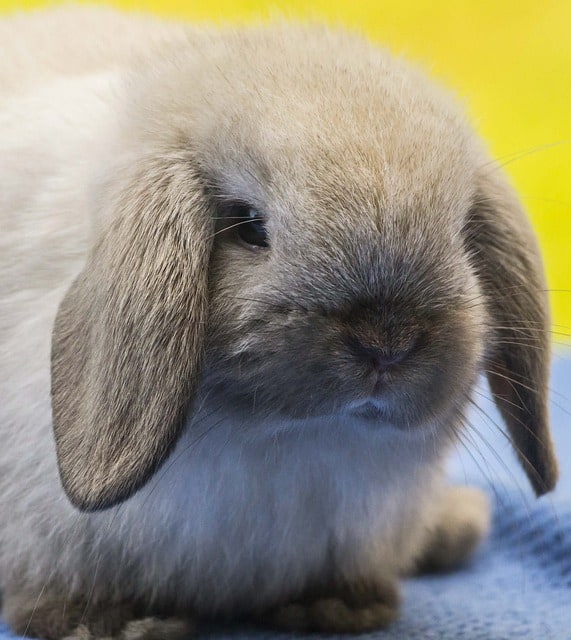 Mini Lop Rabbits are known for their floppy ears and their easy-going nature. Their floppy ears make them a popular pet rabbit for children, and they come in a wide range of colors from fawn to black.
Mini Lops are also a dwarf rabbit breed, so they will remain small throughout their lives. That makes them one of the best pet rabbits if you have limited space in your house for a rabbit cage.
Mini Lops are friendly, playful, and intelligent which makes it easy to teach them new tricks. They also enjoy having lots of things to play with like chew toys, hideouts, and bunny tunnels.
Californian Rabbit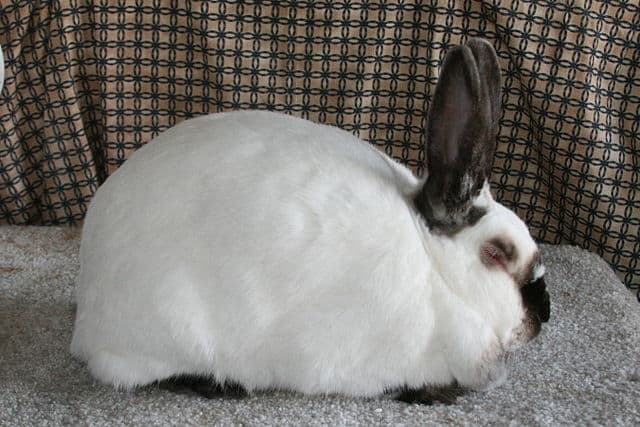 Californian rabbits look a lot like Himalayan rabbits, but they grow to be much larger, and they can reach a maximum adult weight of 12lbs. That means they should be kept in a large rabbit hutch since they can get too big for a rabbit cage. However, if you have space Californian rabbits have a very calm even temperament, and they are very child-friendly.
Thrianta Rabbit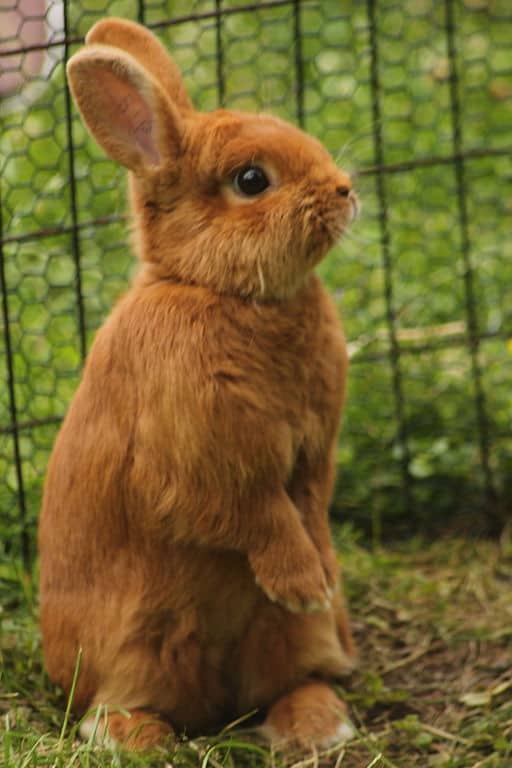 Thrianta rabbits have the appearance of a stuffed rabbit, and they are a relatively small rabbit breed. They have a dense reddish-brown coat that's soft to the touch, and they only reach 5-6lbs as a full-grown adult. Thrianta Rabbits are very gentle and they are a highly sociable rabbit. They also aren't very skittish, which makes them great pets for families with young children.
French Lop Rabbit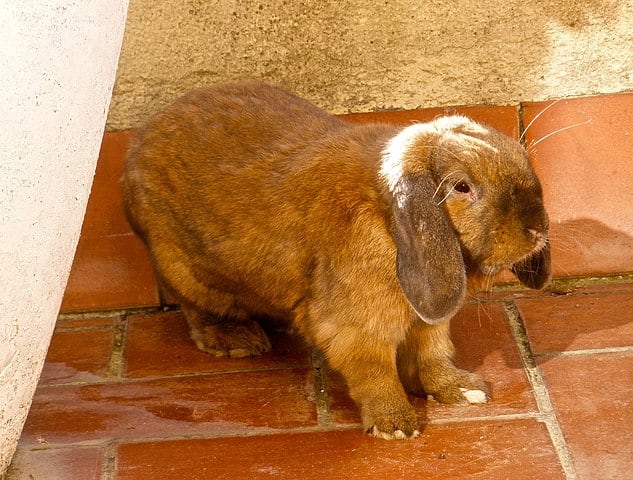 The French Lop is one of the biggest lop rabbit breeds, and they can weigh 14lbs at full maturity. They make great family pets, and most kids absolutely love their large floppy ears.
French lops can be very loving rabbits and they are always ready to cuddle or nuzzle your hand. They are also quick to learn new tricks and you can even train them to come when you call their name.
Havana Rabbit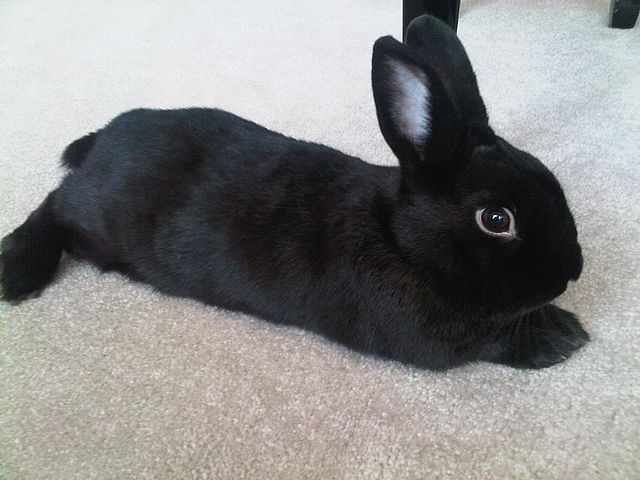 Havana rabbits are one of the most popular show rabbits. Their silky black fur and short ears and large eyes make them very popular in the show circuit. Those traits also make them a favorite with children since even adult Havana rabbits look like bunnies. They are also a very playful and social pet rabbit breed. However, they can be a little frenetic so don't expect them to sit still for long since they can be little bundles of energy.
Florida White Rabbit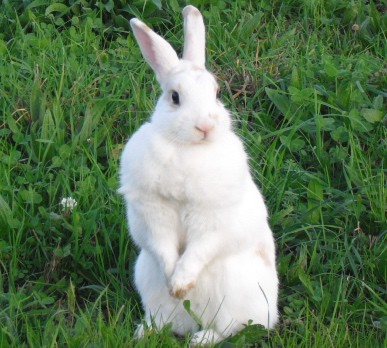 The Florida White rabbit is a classic rabbit that will remind most kids of the Easter bunny. They are extremely popular for this reason and they often are sold in most pet stores during the spring holidays. They stay relatively small, and they are very docile, and they are one of the most popular breeds of rabbit that is child-friendly.
Are Rabbits Good Pets for a Child?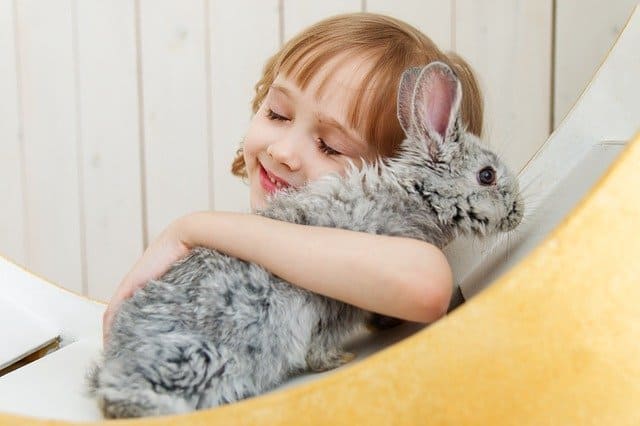 Rabbits are a popular pet for kids since they are relatively low maintenance pets. However, caring for rabbits will take some effort, and they aren't as easy to maintain as a guinea pig or a hamster.
Rabbits are one of the larger pet rodents, and they can range in weight from 4 to 20 pounds. That means they will need a good amount of food and water each day, and they also will produce more waste.
A rabbit can be a good pet for a child, but you need to make sure they are ready for the extra responsibilities. Rabbits are also easily stressed, so you want to make sure your child can be calm and respect the fact that sometimes rabbits need their own space.
Children can also quickly lose interest in a pet rabbit, which is sad since rabbits can live for many years. When that happens most people end up giving their rabbits away, or the rabbit will just languish away in their cage.
Still, rabbits can make good pets for kids. However, you want to make sure you consider both the advantages and disadvantages of getting a pet rabbit.
Pros and Cons of Owning a Rabbit
Advantages of Owning a Rabbit
There are quite a few advantages of getting a pet rabbit for a kid
Rabbits can teach a child responsibility since they will have to feed them and clean their cage

Rabbits are calm animals with a friendly disposition which makes them a great pet for kids

Most rabbits are very energetic and they love playing with kids

Rabbits are a good alternative to dogs since they remain small and they can be trained
Disadvantages of Owning a Rabbit
There are disadvantages to getting a pet rabbit for kids:
Rabbits don't like loud noises, and they can be very skittish

A Rabbit can bite and kick when they are startled

Some rabbits don't like being held

Pet Rabbits like routines, which can be hard for a child to understand

Hutches and cages must be cleaned regularly

Rabbits can get sick if their bedding isn't changed

Keeping a rabbit can be costly (bedding, food, water, medical bills, grooming)
What Makes a Calm Rabbit Breed Child-Friendly?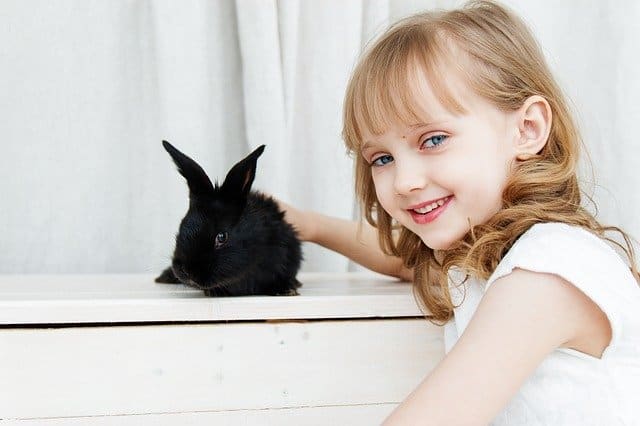 If you're ready to get a rabbit for a child then there are a number of factors to consider before selecting the most child-friendly rabbit
Size: Small rabbits are better for children since they are easier to pick up and handle.
Temperament: A child-friendly rabbit should be calm and docile when handled, and they should have a high tolerance for noise and erratic behavior
Grooming: Long-haired rabbits will require frequent grooming to keep their hair from becoming matted and tangled. In most cases, it's best to get a child a rabbit with short hair since they won't need as much attention.
Maintenance: Larger rabbits will require more maintenance since they will eat more food and produce more waste on a daily basis. Smaller rabbits, on the other hand, will need less food and their cage will be easier to clean.
What is the Best Rabbit for Kids?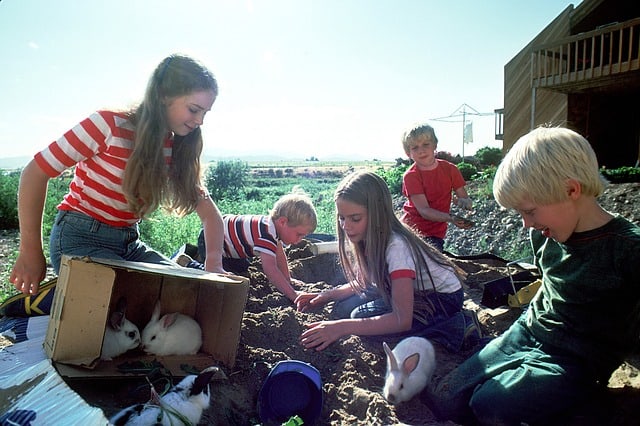 The following list of rabbits contains the most child-friendly pet rabbit breeds. If you're looking to get a bunny here are the best rabbit breeds for kids of all ages:
Lionhead Rabbit

Harlequin Rabbits

Dutch Rabbits

Mini Lop Rabbits

Chinchilla Rabbits

Himalayan Rabbits

Sussex Rabbit

Havana Rabbit

French Lop Rabbit

Californian Rabbit

Thrianta Rabbit

Florida Rabbit
Teaching a Child How To Handle a Rabbit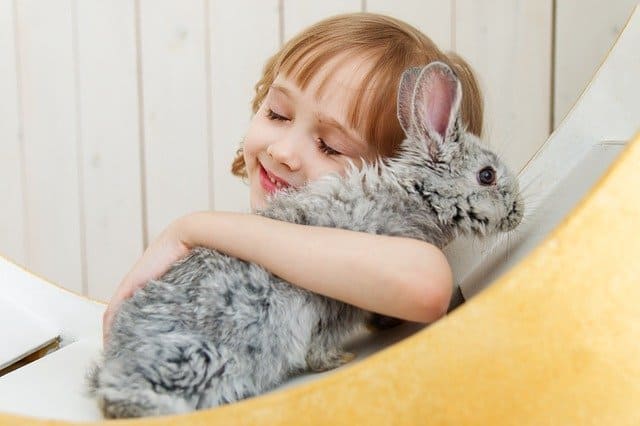 If you decide to get a rabbit for your child you'll need to teach them how to properly handle a rabbit. The following list contains the most important things you'll need to teach a child to safely handle a rabbit.
Never pick a rabbit up by their ears.

A rabbit should always be pet very gently and they don't like to be patted.

Rabbit tails are delicate and a child should not tug, grab, or poke a rabbits tail

A rabbit has very sensitive skin on their underside and they don't like when people rub their belly

Rabbits don't like to be confined or have their movements restricted