Are Corn Snakes Nocturnal? Corn snakes are actually crepuscular, which means they are typically active around dusk and dawn.
Keep reading to learn more about when corn snakes are most active, and what's the optimal corn snake day-night cycle.
Are Corn Snakes Nocturnal
Are Corn Snakes Nocturnal or Diurnal
Corn snakes are crepuscular reptiles, and they are most active in low light conditions around dawn and twilight. Corn snakes in their natural habitat primarily come out in the early morning and late evening to avoid potential predators and to more easily hunt prey.
During the day corn snakes take refuge in a burrow or hide under loose tree bark. They tend to emerge from their burrows in the early morning and at night, but they are generally more active once it starts to get dark in the evening.
Nocturnal: Mostly Active During the Night

Diurnal: Mostly Active During the Day

Crepuscular: Most Active at Dawn and Dusk
When are Corn Snakes Most Active – Corn Snake Active Hours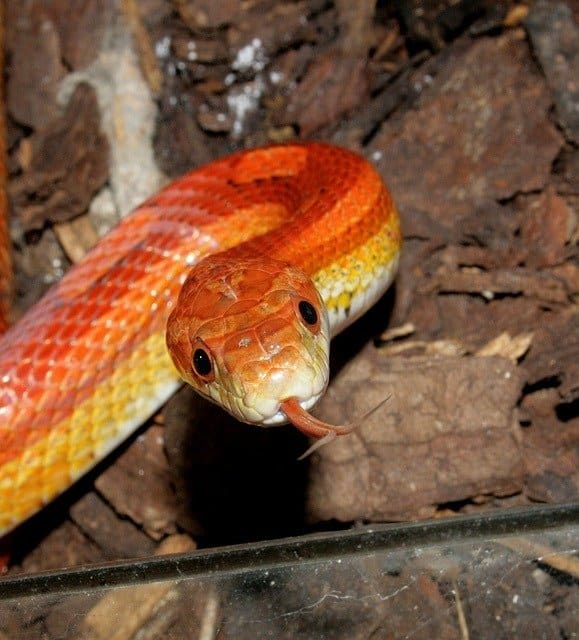 Corn snakes are most active in the early morning and at sunset at the beginning of the night. It's possible to mimic these conditions in captivity by dimming the lights in and around your corn snake's enclosure.
Keeping the light level low on a corn snake enclosure during the day is a good way to encourage a corn snake to be less fearful so they will come out from hiding.
In some cases, corn snakes will also remain active late into the night, and if a corn snake feels comfortable in their environment they might even be active during the daytime.
Corn Snake Lighting Time
To match a corn snakes day-night cycle in the wild you should keep the lights on 12-14 hours/day during the summer, and slowly reduce that down to 8 hours/day in the fall and winter.
Corn snakes also need UVB lighting (Learn More during the day to aid in calcium absorption and Vitamin D production.
Corn Snake Sleep Cycle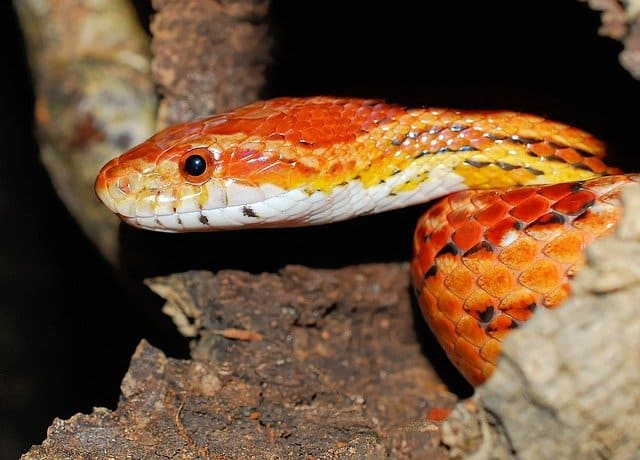 Since corn snakes are crepuscular they generally sleep during the day and at night. Corn snakes tend to wake up when the sun starts to rise in the early morning, and then after another sleep cycle, they will wake up again at twilight.
In some cases, a corn snake will stay awake during the day in their burrow if they feel unsafe or threatened. It's also not uncommon to see a corn snake active for a good portion of the night when they are kept as pets in captivity.
Corn Snake Day and Night Temperatures
A corn snake needs to be kept at 80 F (27 C) during the day, and the temperature in their enclosure should drop to 70 F (21 C) at night. It's also important to provide a corn snake with a basking area that reaches 90 F (32 C).
Since corn snakes don't like bright light the best way to heat a corn snake enclosure is to use an Zilla Under Tank Heater (Buy Online). An under tank heat mat will ensure your corn snake is able to properly thermoregulate both during the day and at night.
Corn Snake Best Time to Feed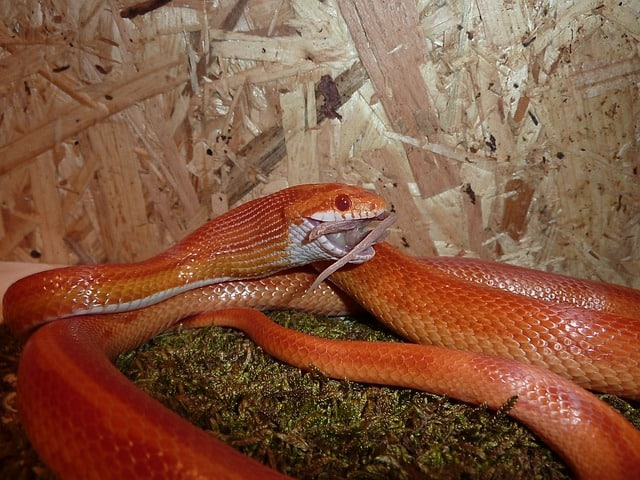 The best time to feed a corn snake is in the early evening when they are most active. Some people also feed their corn snakes at night when it's darker if they can't get them to come out while it is still too bright.
It's also possible to feed a corn snake early in the morning. However, a corn snake might be less likely to eat in their morning since their body hasn't warmed up, which can make them sluggish and less likely to take an interest in a prey animal.
Resources: