We all know that shedding is a fact of life when you own a dog. But it can't hurt to try and limit the amount of hair that ends up all over your clothes and home. If you are already brushing your dog on a regular basis. Adding a deshedding shampoo to your grooming regimen can further reduce any unwanted shedding. While you can never stop shedding completely. Choosing The best deshedding shampoo for dogs will not only help strengthen your dogs hair it can even help heal their skin.
Best Deshedding Shampoo for Dogs
How Deshedding Shampoos Work
The way most deshedding shampoos work is by providing nutrients to your dogs hair and skin. One of the most common ingredients found in the best deshedding shampoos is Omega 3 & 6 fatty acids. These essential fats will help heal a dogs skin, and will also add a healthy layer of oil to a dogs coat.
The essential fats can help heal dry flaky skin by enhancing elasticity. Which can strengthen and rebuild any damage to a dogs skin. The essential fats will also provide a protective layer of oil to the skin to help lock in moisture, which is very important especially in winter. The oil that remains on their coat can also keep their hair from drying out, when a dogs hair is no longer dry and brittle it is less likely to break and fall off.
Another useful ingredient found in some shampoos designed to stop shedding is oatmeal. Oatmeal is well known for it's ability to stop itching and scratching in dogs. By calming a dogs skin any shedding brought on by excessive scratching can also be minimized.
Why Dogs Shed
While shedding is a normal thing for a dog, it's good to know the reasons why a dog might be shedding in the first place. In some cases excessive shedding can be a sign of a underlying medical condition, in those cases your dog should be taken to a veterinarian to treat the root cause of that problem. Here are some of the main reasons why a dog may be shedding more than usual.
Seasonal Shedding
Seasonal shedding is natural especially in double-coated breeds, they usually shed their undercoats in the spring and fall. The breeds where this is most common include Labradors, Collies, German Shepard's and other breeds with a thick undercoat. While this amount of shedding might seem excessive, it is completely normal and will usually subside once the undercoat is fully released. If you want to try to keep the shedding under control, regular brushing will help free the hair and trap it in the brush, so the hair end up all over the place.
Diet
A dogs diet can play a significant role in the health of their skin and coat, therefore their diet will also influence how much hair they shed. If a dog is deficient in protein or other key nutrients they will be much more susceptible to shedding. Biotin is one nutrient that plays a very important role in skin and hair health. If a dog is not eating a diet rich in biotin or is malnourished in any other way, it can lead to a host of health problems with shedding being one of them. To prevent any nutrient deficiencies from causing excessive shedding, make sure you give your dog a high protein dog food to avoid shedding and dry skin, along with a well balanced assortment of nutrients.
Skin Problems
Certain skin disorders can cause a dog to shed more than normal. While some of these problems like dry skin and hair are easily remedied with a good diet and a deshedding shampoo. Some problems like lice, mites or ringworm will require the services of a veterinarian. If you notice any insects or lesions on your dog, it may be an indication that the excessive shedding is related to a medical condition that may require an appropriate medication or other treatment.
Stress
A less common but possible cause of abnormal shedding is stress. If a dog has been exposed to any stressful experiences. Like a move or big change in their daily routine, they may start to lose some hair. This is a normal process that occurs to some degree in all dogs. And can be more pronounced in certain individuals. If you have a dog that is experiencing shedding due to stress the best course of action is to make them as comfortable as possible. Once the dog has had some time to calm down the shedding should begin to subside.
Deshedding Shampoo Reviews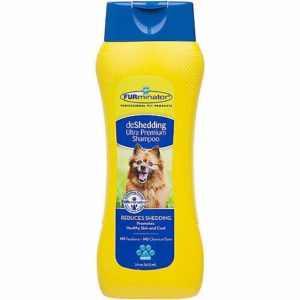 The FURminator deShedding Ultra Premium Dog Shampoo is one of the best deshedding shampoos on the market. This shampoo contains Omega 3 & 6 fatty acids along with other plant based calming agents. While other shampoos may claim to control shedding FURminator deShedding delivers.
We have tried some of other deshedding shampoos and this one really does work the best. I have dogs that would shed all over the place. Once I started using this shampoo and the conditioner the shedding really slowed down. Now when I hold and play with my dogs they don't leave me covered in dog hair. If your looking to get control of shedding, this product along with the conditioner mentioned below can really be a big help.
PROS
Very Effective
Omega 3 & 6 Fatty Acids
Aloe
Papaya Extract
CONS
Works Best with Conditioner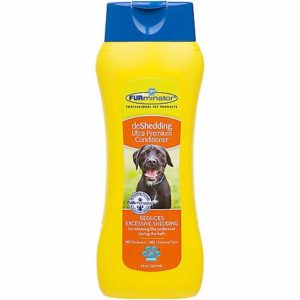 The FURminator deShedding Ultra Premium Dog Conditioner is the perfect addition to the FURminator shampoo above. When you use these two in concert you get the best shedding control combo available. The conditioner is especially helpful if you have dogs with an undercoat. The conditioner will make the undercoat hair very easy to remove when bathing your dog. And long hair dogs will also get the added benefit of smooth tangle free hair as an added bonus.
PROS
Great for Dogs with a Undercoat
Omega 3 & 6 Fatty Acids
Aloe Vera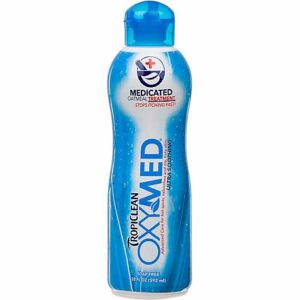 TropiClean Oxy-Med Medicated Oatmeal Rinse is helpful for dogs that are experiencing shedding which is related to scratching brought on by irritated skin. The best thing about this shampoo is the added oatmeal which can really help calm and sooth a dogs skin. And with Omega 3 & 6 fatty acids this shampoo will help heal their skin which can help reduce shedding even further. If you have a dog that is itching a scratching and losing a lot of hair in the process, this shampoo is definitely one if the best.
PROS
Omega 3 & 6 Fatty Acids
Contains Oats
Itch Control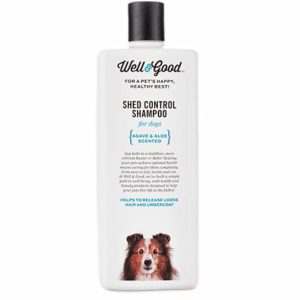 The Well & Good Shed Control Dog Shampoo is formulated to work for seasonal and non-seasonal shedding. This shampoo contains oatmeal and aloe to help calm and heal damaged skin. The aloe is a very nice addition to this shampoo, since aloe is well know for it's healing properties. The shampoo also has vitamin B5 which can help restore a dogs hair and skin . The Well & Good shampoo is very gentle, since it uses coconut derived cleansers, instead of regular soap or detergents found in other shampoos.
PROS
Gentle on Skin
Aloe Vera
oat protein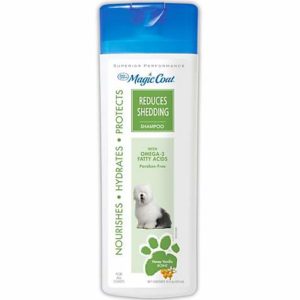 The Magic Coat Reduces Shedding Dog Shampoo is another shedding shampoo that primarily contains Omega 3 & 6 fatty acids. While it doesn't contain any other calming ingredients it does have a nice honey vanilla scent. This shampoo is good if your looking for a shampoo that has the essential ingredients to control shedding, and you also want your dog to smell really good.
PROS
Nice Scent
Omega 3 & 6 Fatty Acids