Can You Use Regular Clippers on a Dog? It's possible to use regular clippers on a dog, but human clippers aren't made for that purpose.
If you have a long-haired dog regular clippers are much more likely to pull on your dog's fur, and they can get so jammed full of hair that they will frequently stop and lock up.
Professional dog clippers are a better option since they have more power to cut through thick hair, so they will provide a more comfortable grooming experience for both you and your dog.
Best Cordless Dog Clipper Wahl Professional Animal Bravura Cordless Clippers (Buy Now)
Dog Clippers vs Human Clippers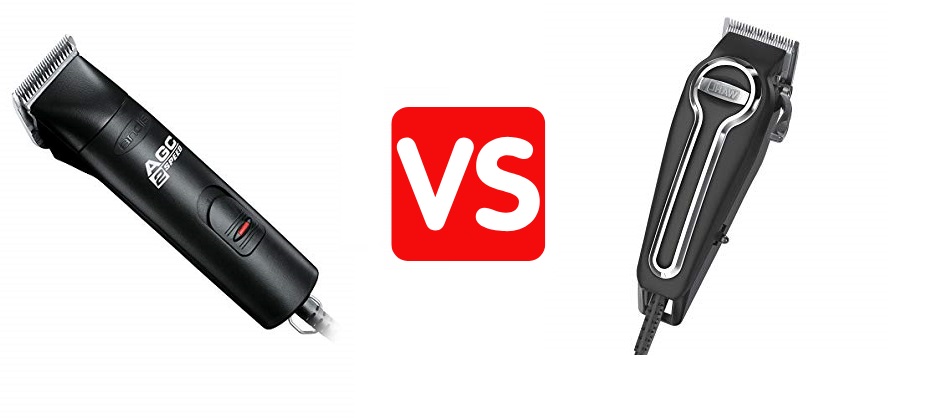 Most people know that you can save money by grooming your dog at home. The average cost of a trip to the dog groomer can cost anywhere from $30 to $90. That doesn't even include your dog groomers tip, let alone the costs and stress associated with loading your dog into your car and driving them to their appointment.
In order to avoid the hassle and cost of going to a dog groomer, you'll need a good pair of dog clippers. Dog clippers and human clippers might look similar but there are key differences that allow dog clippers to deal with thick dog fur without jamming or causing any discomfort to your dog. In the following sections, we'll go over the key features that differentiate dog clippers from regular clippers.
If you want the best cordless dog trimmer for your dog we recommend the Andis Pulse Li 5 Cordless Clipper (Buy Online). You can get it for a fraction of the Amazon price at CherryBrook.com where they specialize in selling dog grooming supplies to professional dog groomers and to people who cut their dogs hair at home.
Motor
The main difference between a dog clipper and a human clipper is the motor. A dog clipper will have a much more powerful motor than a regular clipper. This makes it possible for a dog clipper to cut through thick dog hair without getting bogged down even if you have a long-haired dog with a thick undercoat.
Regular clipper motors also tend to be very noisy which can easily frighten a nervous dog. In order to avoid this problem dog clipper motors have built-in baffles that help reduce the amount of noise emanating from the clipper which can help keep a scared dog calm.
Professional dog clippers (Buy Online) are also able to run for a longer period of time without heating up. Human clippers are usually only expected to run for a limited amount of time, but dog clippers are specially designed to dissipate heat more effectively, so you can run them for hours without causing the motor to overheat or the blade to become too hot.
Speed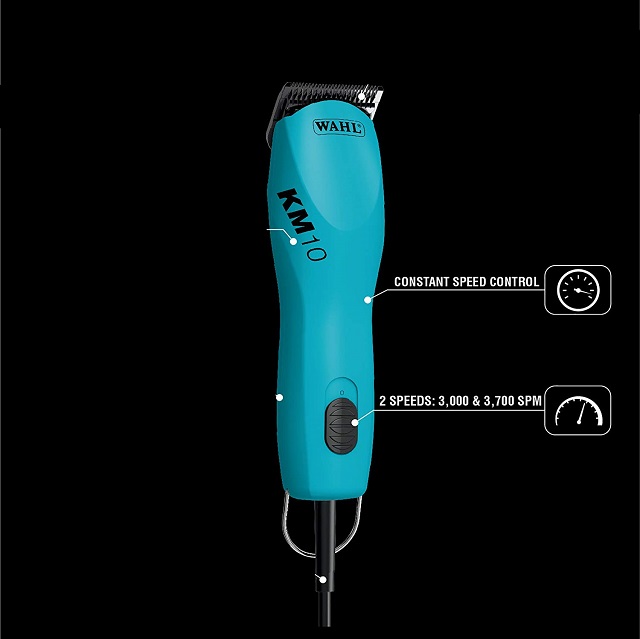 Dog clippers usually allow you to adjust the speed of the blade to accommodate different hair types. The highest speed setting makes it easy to give your dog a quick clean cut even on long-haired dogs with matted fur. While the lower speed settings are gentle enough to work on more delicate areas like a dogs face, tail, legs, and stomach.
Human clippers usually don't offer variable speed settings, and they don't run anywhere near 4,000 to 5,000 strokes a minute. That means a regular clipper would have a hard time with thick matted hair, and you'd definitely struggle to give your dog a comfortable hair cut.
Blades
The blades on regular clippers usually have smaller gaps between the blade's teeth since human hair is much thinner than a dogs fur. Dog clippers, on the other hand, have wider gaps between every other tooth (skip tooth blade) which makes it possible to push through thick hair without pulling or jamming, so your dog will get a much smoother less painful cut.
Clipper Accessories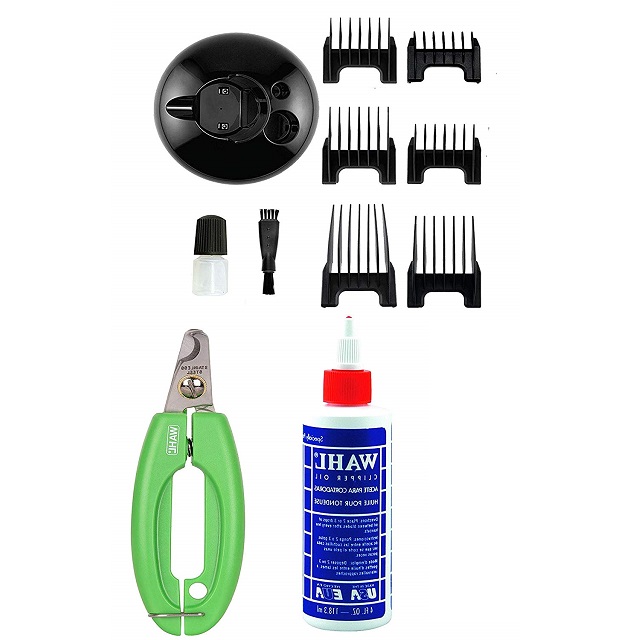 Dog clippers also tend to have a wide range of accessories like different guide combs that range from 1/16-inch all the way up to 2-inches for longer cuts. In most cases, human clipper guards max out at about 1-inch which can be a little too short, especially if you want to keep your dog warm in the winter months.
Intended Use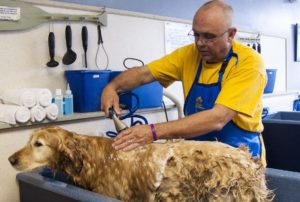 Regular clippers are great at cutting human hair since people only have one type of hair on their head that's very easy to cut. Dogs, on the other hand, have bristle hair that makes up their exterior coat, and some dogs even have a wool-like layer that makes up their undercoat. They also have whisker hairs known as vibrissa that are extremely coarse. That's why it's always a good idea to use a professional dog clipper since they are specially designed to handle any type of hair you might find on any kind of dog.
Best Dog Clippers
The Wahl Professional Animal KM10 2-Speed Dog Clipper Kit (Buy Online) is one of the best dog clippers for a long hair dog. This dog clipper offers superior performance thanks to its extremely powerful and quiet motor.
The Wahl Professional Animal KM10 is very lightweight since it only weighs 12.3 ounces, which means your wrist and arm won't ever get tired if you need to spend extra time grooming your dog.
The Wahl professional dog clipper has two-speed settings, and it also has a constant speed control feature that will automatically deliver more power to the motor if it runs into thick fur patches. The front housing of the clipper also has a smooth rounded shape that will prevent hair from jamming up the clipper blade.
It's also very easy to service the Wahl professional dog clipper since replacement Wahl dog clipper blades (Buy Online) are readily available at an affordable price.
The Wahl Professional Animal Clipper is built to last since it's made to handle constant use by professional groomers, and to top it all off it's backed by an industry-leading 5-year professional warranty.
The Andis ProClip 2-Speed Detachable Blade Clipper (Buy Online) is one of the most popular dog clippers on the market. Most professional dog groomers swear by these clippers since they cut through hair like a hot knife through butter.
The motor speed on the Andis Dog Clipper can be adjusted from 3,400 to 4,200 strokes per minute (SPM). That makes these clippers perfect for dog breeds with any length coat. Where they really shine though is if you have a dog with a thick coat since the strong rotary motor will make short work of a dog with a thick matted coat.
The UltraEdge blades on the Andis dog clipper are also extremely durable since they have been treated with a coating that helps protect them from rust. That means you can use these clippers while your dog is still slightly damp without causing any damage to the blades in the process.
The Andis ProClip also runs much quieter than other professional dog clippers so it won't alarm a nervous dog. The clippers also don't heat up as quickly as other clippers, and the blade will never get hot to the touch.
Another great feature we really like about the Andis dog clipper is the power switch lock. This lock will keep the clipper from turning off if it accidentally gets bumped by your dog, which can be a real big help if you have a nervous or fidgety dog.
Overall, Andis dog clippers are a very powerful set of clippers and they come with a great set of features at a very affordable price.
The Oster Professional Care A5 2-Speed Super Duty Clipper Kit (Buy Online) is the number one dog clipper brand used in veterinarian offices. This clipper has a motor that has two-speed settings 3,000 SPM / 4,000 SPM. This kit also comes with a pair of scissors and a cleaning/ maintenance kit along with a DVD that contains a helpful dog grooming tutorial.
Best Cordless Dog Clippers
The Wahl Professional Animal Bravura Corded / Cordless Clipper (Buy Online) is one of the best cordless dog clippers on the market. It's powered by a rechargeable lithium-ion battery that has up to a 90-minute run time. It also comes with an adjustable 5-in-1 blade that easily adjusts between sizes #9, 10, 15, 30, and 40.
The battery on the Wahl Professional Animal Bravura only takes 60 minutes to fully charge, and the motor won't slow down when you're using it until the battery is completely depleted. You also have the option of using the clipper when it's plugged into an outlet while the battery continues to charge.
The Wahl Professional Animal Bravura has a very quiet motor that creates minimal vibration so it won't scare a nervous dog. In addition, you'll be able to use the clipper anywhere your dog feels comfortable since it's cordless, and you won't ever have to spend time struggling with an annoying cord.
This clipper kit also comes with a carrying case that fits all the accessories that come with the Wahl Professional Animal Bravura. The accessories include a charging stand, power adapter, a cleaning brush, and 6 guide combs. In addition, you can also get a free nail clipper with this kit if you order it from this link.
The Oster Volt Cordless Pet Clippers (Buy Online) is a great cordless dog clipper if you have to groom multiple long hair dogs. This cordless dog clipper has a very strong motor that's powered by a lithium-ion battery that can run for up to 2-hours on a single charge, and when the battery is fully discharged you can easily swap it out and replace it with one that's fully charged.
The Oster Volt Cordless Pet Clipper is also compatible with all the Oster A5 detachable blades and accessories including the Wide Blade which is great for grooming large dogs. It also comes with a charging stand that can charge the clippers and another lithium-ion battery (sold separately) at the same time.
The Oster Volt Cordless Pet Clippers also have a very quiet motor that runs at 2400 strokes per minute (SPM). That might seem a little slow but the motor has a high torque design that makes short work of long hair, and the slower speed keeps the amount of noise to a minimum, and it helps keep the blade and motor cool.
Overall, this is an excellent cordless trimmer if you have multiple dogs, or if your grooming sessions tend to run a little long. The detachable batteries mean you'll never run out of power, and the great thing is you'll never have to deal with a pesky cord.
The IWEEL Dog Clippers, 2-Speed Professional Cordless Dog Trimmer (Buy Online) is an excellent clipper if you like to groom your dog before they have totally dried off. This trimmer is 100% Waterproof and it has an IPX4 rating, which means it can be rinsed off in the sink, and it's completely safe to use on a wet dog.
This trimmer has 2 speed settings so it can easily power through thick fur on a wet dog. It also comes with 6 guide combs that range from 3mm all the way up to 12mm. In addition, this trimmer is covered by a 2-year warranty and a 30-day money-back guarantee.
Can You Cut Dog Hair with Human Clippers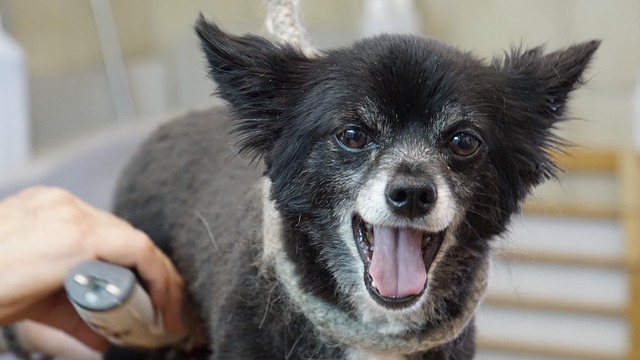 If you already have a set of regular clippers you might be able to save a little money by using them on your dog. As was previously mentioned this might not be the best choice since human clippers usually don't have enough power to trim most long and medium-haired dogs.
Where human clippers might work is on a dog like a Yorkshire Terrier that has thin human-like hair that's easy enough for a regular clipper to trim without getting bogged down. It's also relatively easy to trim a short-haired breed with a human clipper, but most short-haired dogs don't even need to be trimmed at all.
If you're dead set on using a human clipper there are a few tricks you can use to make the whole process easier on both you and your dog. The video in the following section will give you some helpful tips on how to shave a dog with human clippers.
How to Shave a Dog with Human Clippers