With plastic bag bans in states like New York and California, many people are looking for a good alternative to plastic bags for dog poop. Luckily there are several biodegradable and flushable dog poop bags made specifically for dog waste disposal.
My AlphaPet Dog Poop Bags (Buy Online) is a good alternative since they are fully biodegradable and compostable.
Alternative To Plastic Bags for Dog Poop
Biodegradable Dog Waste Disposal
My AlphaPet Dog Poop Bags (Buy Online) is the best biodegradable dog waste disposal bags on the market. They come in three different colors (red, pink and green), and they available in scented and unscented.
These dog poop bags are made from cornstarch so the fully biodegradable. They are ASTM D6400 Rated, which means they are designed to be aerobically composted at home or in municipal facilities.
These bags are also leak proof and they are large enough to accommodate dog waste of all sizes. Also, the scented red and pink bags have a pleasant floral scent that isn't overpowering. Overall, if you're looking for an alternative to plastic bags for dog poop then My AlphaPet Dog Poop Bags are your best option.
Pet N Pet Poop Bags (Buy Online) is an affordable alternative to plastic grocery bags for dog waste disposal. You get 60 rolls of bags that each contain 18 bags, so you'll get 1,080 bags in total. They also fit perfectly in most dog waste bag dispensers.
These bags are rated as OXO-biodegradable (ASTM D695-04), which means they will degrade into small pieces in the environment by a combination of oxidation and biodegradation.
You can also get Scented Pet N Pet Waste Bags (Buy Online) in variety packs that include pink and blue bags in addition to the standard green color.
Non-Biodegradable Dog Waste Disposal
The Dispoz-a-Scoop (Buy Online) is a unique way to avoid having to feel dog poop through a plastic bag. You can even use it with a biodegradable dog poop bag. All you have to do is slip a bag over the frame and use the Dispoz-a-Scoop like a shovel.
The Dispoz-a-Scoop is perfect for someone who hates the feel of picking up dog poop with a bag as your only barrier. All you'll come in contact with when you use the Dispoz-a-Scoop is the handle, and the entire scooper can be quickly and easily disposed of in the garbage.
The Mutt Mitt (Buy Online) is one of the easiest to use dog-poop bags on the market. The bag is double-lined, and it's simple to flip inside out and seal off the dog waste odor. The Mutt Mitt is also puncture resistant and they are manufactured in the USA with high-quality earth-friendly plastic.
Flushable Dog Poop Bags
Pet Soft Poop Bags (Buy Online) makes it easy to flush your dog waste problem down the toilet. They come in packs of 30 or 100, and they are perfect for people who live in apartments, or for anyone who doesn't want to dispose of their pet waste in the garbage.
The way they work is that they have a flushable inner lining that sits inside a leak-proof outer bag. The inner lining is made of soft absorbent paper that's safe to flush since it disintegrates in water just like toilet paper.
The outer bag acts as a barrier for your hand, and it's made from much thicker plastic than most disposable plastic dog poop bags. The outer bag is also reusable, so you won't be adding to the ever-growing plastic waste problem.
Reusable Dog Poop Bags
The Poof Reusable Dog Poop Bag (Buy Online) is a Frisbee sized nylon fabric disc that you can fold up and carry in your pocket. The nylon material is easy to clean, and any residue can be rinsed off before it's ready for another use.
You're supposed to throw the Poof under your dog's butt right when they start to pop a squat. Then hopefully if you don't spook your dog they should do their business right on the nylon fabric.
Then you can pick up the Poof Dog Waste Bag, and pull the drawstring and carry it home and dispose of the waste and rinse off the fabric.
Whether or not you think this is a good idea we thought we should offer it as an alternative to plastic bags for dog poop for the truly dedicated Eco-conscious dog lovers.
Best Way to Dispose of Dog Poop at Home
The Dog Buddy Pooper Scooper (Buy Online) makes it easy to pick up after your dog on a walk or at home. It has an extendable backside that's adjustable for both large and small dog waste disposal.
The DogBuddy works just like a large jaw scooper, but it isn't as cumbersome to carry. It even comes with a hook that you can attach to your belt, so you can easily walk around with it and have your hands free at all times.
Nature's Miracle Non-Stick Jaw Scoop (Buy Online) will make quick work of dog poop on all surfaces. It has a strong hand-lever actuated jaw with teeth that will pick up dog waste from grass, asphalt, or gravel.
It also has a non-stick surface and an antimicrobial coating, so it won't have to be cleaned that often. If you have a backyard filled with dog landmines then Nature's Miracle Non-Stick Advanced Jaw Scoop will help you get control of your dog poop problem.
Poop Cleanup Service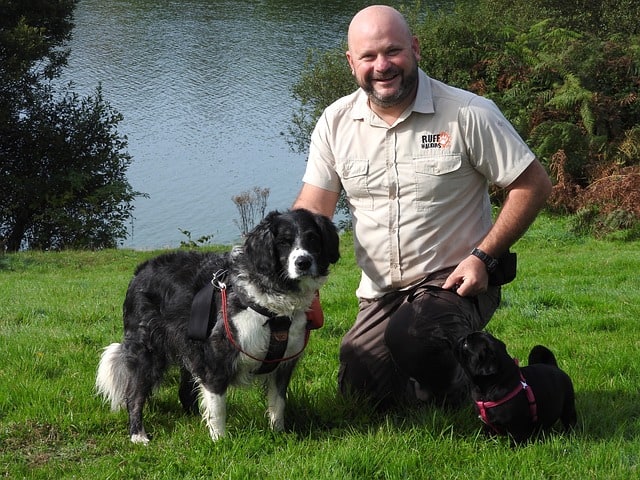 If you don't want to pick up dog poop yourself there are professionals who will come to your house and pick up the dog poop for you!
These poop cleanup services are available in most major metropolitan and suburban areas and they are usually quite affordable.
Check for Dog Poop Cleanup Services in Your Area

Why Do We Still Pick Up Dog Poop With Plastic Bags?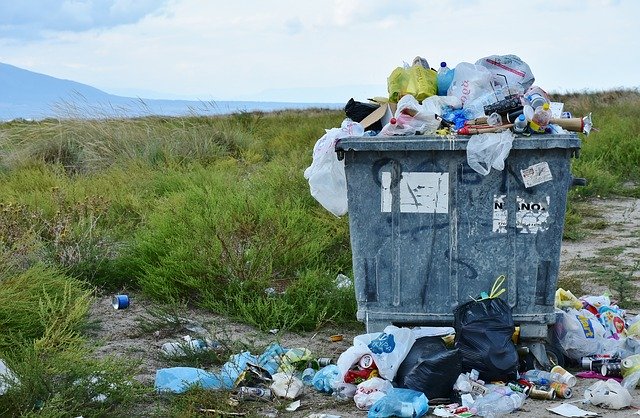 Reusing plastic grocery bags to pick up dog poop seems like a cheap and practical solution to a messy problem.
Most dog owners do it so what's the big deal? Well first off it's getting harder to use plastic bags to pick up dog poop since plastic bag bans are being passed by legislative bodies across the country.
You might think that re-purposing a grocery bag for dog poop is a good way to recycle. But that bag will still end up in the trash where it will sit forever in our maxed out landfills. In addition, plastic grocery bags can escape into the environment where they can wreak havoc with wildlife.
So are there better dog poop bag options? Sure, there biodegradable bags available for dog waste disposal ― but most people are resistant to spending money on bags that they see as a throwaway product.
Overtime as social norms change, and legislation forces the issue we'll start to see more dog waste disposal options. For now, the best thing you can do is use biodegradable dog poop bags, or try using one of the green alternatives in the following sections of this article.
How To Dispose of Dog Poop The Green Way
Newspaper
If you want an Eco-friendly alternative to plastic bags for dog poop then newspaper can be a viable option. Newspaper is already made using non-toxic soy-based inks, and it's usually printed on recycled paper.
You can watch the YouTube video tutorial for instructions on how to make a "bag" out of newspaper that you can use to pick up dog poop.
Compost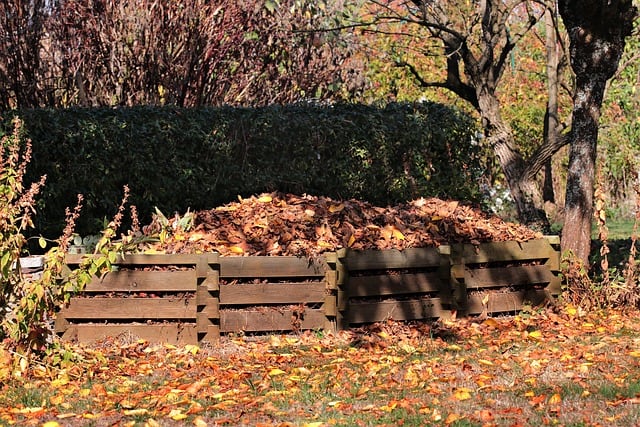 You can compost dog poop if you have a large yard with enough room for a compost bin. Dog poop can be mixed with grass clippings and dead branches to produce a fertile garden soil.
This rich organic soil can be used around your yard on ornamental plants and flowers.
Just be sure that you never use composted dog poop on food crops since some bacteria and viruses can survive the composting process.
Is Dog Poop Biodegradable?
Yes, dog poop is biodegradable and it can be turned into compost. It will slowly break down if it's left out in the open, but it will decompose much faster if it's buried or aerobically composted.
Dog feces also attracts insects like flies which help speed up decomposition. Worms can also help break down dog poop, and there are a whole host of bacteria, fungi, and nematodes that also play a role in the process.
Sources:
https://www.ncsl.org/research/environment-and-natural-resources/plastic-bag-legislation.aspx
https://www.dec.ny.gov/chemical/50034.html
https://www.calrecycle.ca.gov/Plastics/CarryOutBags/