If you're looking for great Gift Ideas for Guinea Pig Lovers then you've come to the right place. If you know a guinea pig lover then you already know how passionate they can be about their little piggies.
However, it can be hard to find a unique gift for a guinea pig lover since there aren't many items that incorporate guinea pigs into their design. That's why we put together this list of guinea pig lover gift ideas, so you can get some inspiration and save a little time.
Gift Ideas for Guinea Pig Lovers
This is the perfect gift for a child or any guinea pig lover who's young at heart. This little Guinea Pig Plush Toy (Buy Online) is perfect for someone who wants to cuddle with a cute cavy while they sleep. The Gigi Guinea Plush Toy is recommended for ages 3+, and it's made with a durable polyester lining along with a soft polypropylene filling.
This T-Shirt (Buy Online) is great for anyone who knows what it's like to be the resident guinea pig expert: Anytime a guinea pig makes a noise or vibrates people ask you what it means. The T-shirt says "Guinea Pig Whisperer". This funny T-Shirt will let everyone know that the wearer speaks guinea pig.
Available in men, women, and youth sizes in the colors black, navy, asphalt, slate, and dark heather.
The MONGAS Sterling Silver Hugging Guinea Pig Necklace (Buy Online) will be an excellent addition to any jewelry collection, and since it comes in a gift box, it makes an ideal present for family members or friends who are also fans of these little critters!
This is a fun gift for guinea pig owners. This guinea pig pillow cover fits most throw pillows that measure 18" x 18". The cover will easily slip over most pillows, and it has a hidden zipper that will keep it securely in place. The pillow case is also machine washable so you can make sure that cute little guinea pig face stays squeaky clean.
These cute and comfortable socks from Socksmith feature little cartoon guinea pigs that are dreaming of eating treats. These guinea pig socks (Buy Online) are well designed with toe and heel reinforcements, and they come in sock sizes 9-10 that will fit women that have size 6-10 feet, The socks are also mostly cotton and they are machine washable. This is not only a perfect guinea pig gift, it's a great stocking stuffer for anyone who loves cute guinea pig accessories! Available in pink and turquoise.
One of the best parts of being a guinea pig owner is showing everyone how much you love your little cavies. This T-Shirt (Buy Online) lets everyone know that the wearer is "Just a Girl Who Loves Guinea Pigs".
Available in women's and youth sizes in White, Baby Blue, Silver, Heather Grey, and Pink
When you shop for gifts for most guinea pig lovers, you'll see a lot of mugs, but this one will speak to anyone who has more than 2 guinea pigs. This mug lets everyone know that keeping a "muddle" of guinea pigs isn't a normal thing, but a real guinea pig lover wouldn't have it any other way.
This is the perfect T-shirt (Buy Online) for a pet parent who loves their guinea pigs. It says "Guinea Pig MOM" in bold lettering, and it makes it clear that the wearer is the matriarch of a blended human and guinea pig family
Available in Women's and Youth sizes in Black, Navy, Dark Heather, Pink, and Purple.
This Guinea Pig Salt and Pepper Shaker Set (Buy Online) is a fun way to incorporate guinea pigs into a kitchens design motif. This guinea pig salt and pepper set is a great gift for anyone who absolutely loves guinea pigs.
The salt and pepper shakers are also made from porcelain and they are beautifully painted, with a brown and white guinea pig serving as the salt shaker, and a black and white guinea pig as the pepper shaker.
This Guinea Pig Salt and Pepper Shaker Set is also very affordable, and it comes in a cute little gift box that makes it a perfect gift for any occasion.
This is a great T-Shirt (Buy Online) for someone who appreciates tasteful guinea pig clothing. This shirt has a classy design, and it doesn't look like a novelty shirt, but it still lets the wearer display their guinea pig pride for the world to see.
Available in Women's and youth sizes in Black, Navy, Royal Blue, Dark Heather, and Heather Blue.
If you're looking for a cute little piece of jewelry for a guinea pig lover this charm necklace would make a great gift. This 18 inch necklace has a cute little guinea pig face in the center of the charm that's surrounded by cubic zirconium diamonds. This necklace is definitely adorable and it's sure to make any guinea pig owner squeak.
The best guinea pig gift is one that's both cute and practical! This Guinea Pig Canvas Eco-Tote (Buy Online) is surely one of those rare gifts. This canvas tote will not only help the environment, it will also bring a smile to everyone's face. This tote is one of the best gifts for a guinea pig lover who loves the environment as much as they love their little piggies.
The two guinea pigs on the side of this tote bag are also embroidered with care in the USA so they won't chip or fade. The bag is also machine washable and it can be air dried, so it's easy to keep squeaky clean.
What's the best gift for a guinea pig lover? A gift for their pet guinea pig obviously:) This Guinea Pig Bed (Buy Online) is perfect for the person who needs to have the cutest guinea pig accessories. The bed is shaped like a little pig, and its made of soft stripped velvet with a cotton filling.
This Mug (Buy Online) makes a great gift for guinea pig lovers who love to drink coffee or a spot of afternoon tea. This mug has a cute little guinea pig painted on the base of the cup on both sides so you can always see the little piggy. It's also 100% machine washable and it's printed in the USA.
Popsockets (Buy Online) are a hot must-have smartphone accessory. They are a grip that makes holding onto your phone easier, and they can also serve as a stand if you want to watch videos more comfortably. This Popsockets grip has a cute little graphic of a guinea pig climbing on a peach.
If you want to see Popsocket grips with different guinea pig graphics click on the link below.
This gift is so unique! Collage Orama takes old dictionary pages and turns them into something absolutely beautiful. This print features a lovely illustration of a guinea pig with a butterfly perched on its nose. This print measures 8.5" x 11" and no two pages are the same. **Frame Not Included**
This is a great gift for a young guinea pig lover who loves fun guinea pig memes. The sign says "Beware of the Guinea Pig – Not Responsible for Injury or Death – You Have Been Warned."
The sign is printed on rigid corrugated plastic and it uses bright colors and bold fonts that pop against any background. This sign is also a fun gag gift if you want to prank someone who doesn't know guinea pigs are harmless and tame.
Guinea Pig Books
What's the one thing that can make Oliver Twist relatable and fun for kids to read? Why Guinea pigs, of course! This hardcover picture book features photos of real guinea pigs playing the roles of all the characters in Oliver Twist, and they are even dressed in cute little period costumes that you have to see to believe.
This book is great if you're looking for a fun children's book that centers around a guinea pig. Marshmellow is a cute little guinea pig who has a big imagination, and his little piggy mind is full of elaborate tales and journeys. This cute little tome will take the reader along with Marshmellow on his many adventures, and it's filled with pictures that are sure to capture any child's attention.
I Love Guinea Pigs: Read and Wonder (Buy Online) is a great book to introduce someone to the joys of keeping a guinea pig. This book serves as a great way to introduce a to child guinea pigs in an interesting and thoughtful way. It's also full of useful tips like how to properly hold a guinea pig along with information about what it takes to care for and maintain a little cavy.
What would make the classic Nutcracker ballet even better? I'm sure you already know, Guinea pigs!! This 56-page picture book features full-color images of real guinea pigs acting out the scenes of the Nutcracker in all its glory. This book is sure to whisk a young mind through the magical story of The Nutcracker ballet in a fun and whimsical way.
Guinea pig Christmas Gifts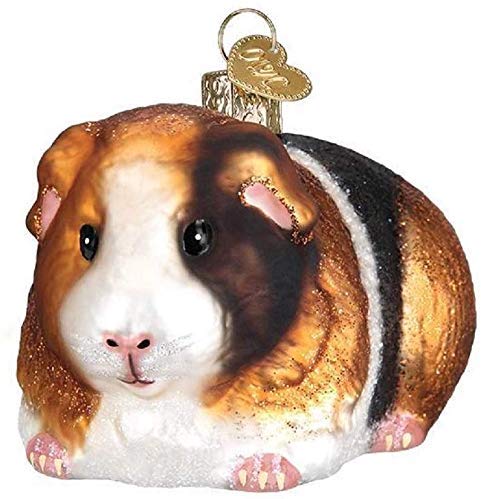 This Old World Christmas Guinea Pig Ornament (Buy Online) is made from hand-blown glass and it measures 3.5" x 2.5". The guinea pig ornament is also hand-painted so no two ornaments are the same. It also has a light dusting of glitter that will make this cute little cavy stand out on any Christmas tree.