If you are looking for the best basking light for bearded dragon, then you are either the lucky owner of a new bearded dragon. Or you mightt be having some trouble finding a basking light that fits your bearded dragon lighting setup. No matter what situation you might find yourself in, the following list of basking light reviews can help point you in the right direction.
Best Basking Light for Bearded Dragons
Types of Basking Lights
Visible Light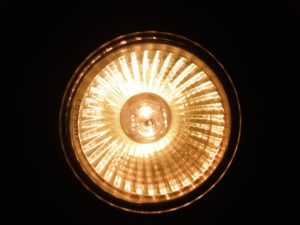 Basking lights that emit visible light are perfect for use during the day to keep a bearded dragon warm and active. A daytime basking light combines two needed light sources in a single bulb. First, off they will provide a good source of heat. And secondly, they emit a bright warm light that will fill your bearded dragons habitat.
Basking lights that emit visible light should not be used during the night. The visible light will disrupt a bearded dragons natural sleep cycle. And the lack of sleep can lead to a wide range of health and behavioral problems.
Infrared Light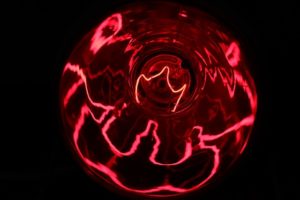 An infrared basking light emits most of its radiation in the infrared spectrum. Infrared basking lights are very efficient since they transfer heat directly into a reptile's body. And they provide more heat per watt since they don't emit any other wasteful radiation.
Infrared basking lights can be used 24 hours a day or just at night depending on your preference. Using an infrared basking light during the night will not disrupt a bearded dragons natural sleep cycle. That makes an infrared basking light perfect for those cold nights where using a visible light is just not an option.
Basking Light Reviews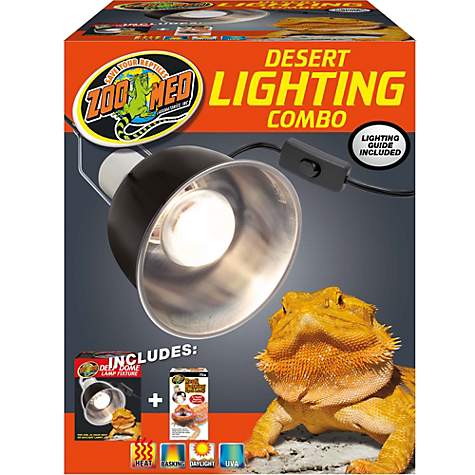 The Zoo Med Desert Lighting Combo Pack (Buy Online) is perfect for anyone who is just starting up a new bearded dragon habitat. The Desert Lighting Combo Pack comes with a 75-watt bulb and a reflector in a convenient affordable package.
If you are buying your first basking light getting a combo pack will help save you some money. If you had to buy the bulb and reflector separately, you would end up spending twenty percent more versus getting this package.
The basking light bulb included in this combo pack is the 75-watt Zoo Med Repti Basking Spot Lamp. This bulb is one of the most popular basking lights for bearded dragons and other desert reptiles. The Basking Spot Lamp emits infrared light and it even produces a significant amount of UVA radiation.
The reflector in this package can be used with the included bulb, or you can use it with your choice of infrared, UVB or daylight bulbs. The reflector is made of polished aluminum and has a heat-resistant ceramic socket that is rated for bulbs up to 100 watts.
---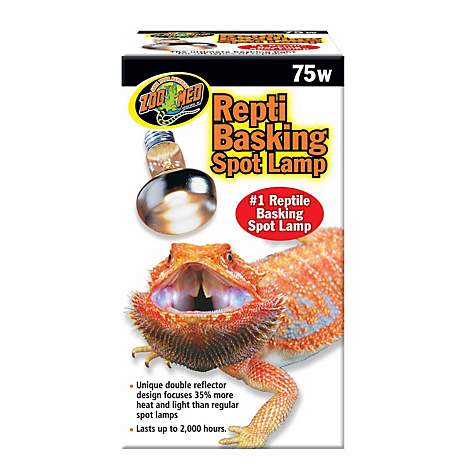 The Zoo Med Repti Basking Spot Lamp is one of the most popular basking lights on the market. If you need a light that offers visible, infrared and UVA in a single package this bulb has you covered.
The Repti Basking Spot Lamp consumes 75 Watts of power and is designed to last for up to 2,000 hours. The Spot Lamp will keep your bearded dragon basking area warmer since it has an internal reflector to help concentrate heat and light into a more focused area.
This bulb works perfectly as a daytime light and heat source. Since this bulb emits visible light, it should not be used as a night time heat source. If you need to provide heat at night an infrared emitter is a better option.
---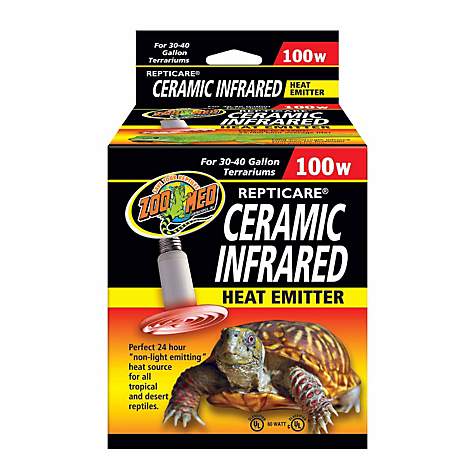 The Zoo Med Repticare 100 Watt Ceramic Infrared Heat Emitter is one of the best bearded dragon heat lamp alternatives. Since it emits no visible light it can be used 24 hours a day without disrupting your bearded dragons normal behaviors.
This emitter will produce a deep penetrating heat that is capable of warming up a bearded dragons habitat by 10-20 F. This ceramic infrared emitter will last for up to 25,000 hours which is almost 3 years of continuous use. Or if you use this emitter in conjunction with a daylight bulb it should last for up to 5 years in a best-case scenario.
---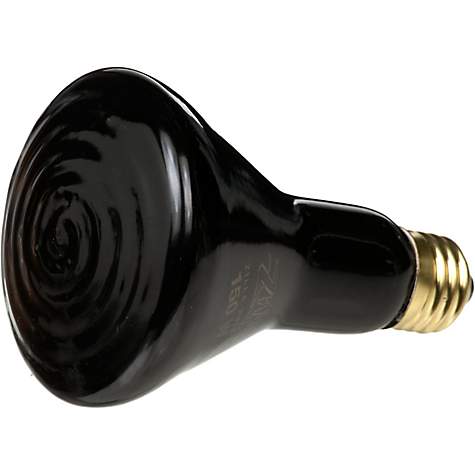 The Zilla Ceramic Heat Emitter, 150 Watts is a very powerful infrared basking light for bearded dragons. If you have trouble providing enough heat to a large bearded dragon habitat this emitter should help solve your problem.
At 150 Watts this is one of the most powerful infrared emitters available. A powerful infrared heat emitter is perfect for tall tanks where heat penetration can be a problem. The added power of this emitter is also perfect for someone who lives in a cold environment.
If you have ever tried to adjust your lamps or even the bearded dragons habitat. And you just can't seem to deliver enough heat to your bearded dragon. Then the best option is just to go for raw power. With this emitter, you should be able to keep your bearded dragon comfortable, without having to go through all of that hassle.
---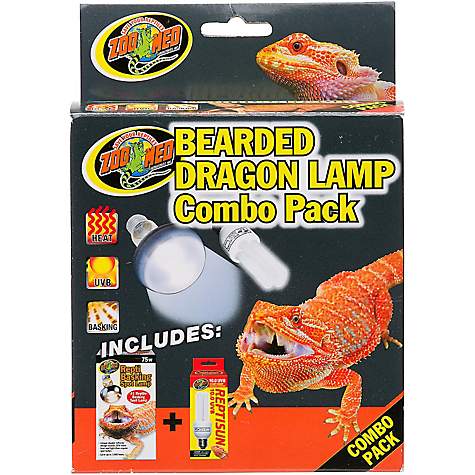 The Zoo Med Bearded Dragon Lamp Combo Pack comes with a basking light and a UVA/UVB compact fluorescent. This combo pack is perfect for someone who already has a pair of reflectors and is looking for better bulbs or to have a pair of replacements on hand.
The basking light that is included in this package is the 75 Watt Zoo Med Repti Basking Lamp. And the UVA/UVB bulb is the 13 Watt Zoo Med ReptiSun 10.0 Mini Compact Fluorescent. Buying these lights as a package will save you 15% versus buying them separately.
---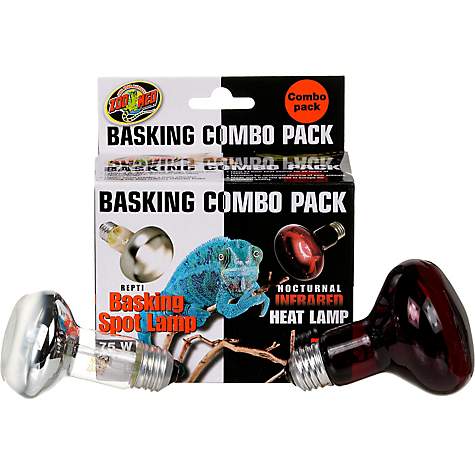 The Zoo Med Basking Combo Pack comes with one daytime and one nighttime basking light. Getting a daytime and a nighttime bulb is a good idea in order to keep your bearded dragon warm throughout the day.
The daytime bulb will provide heat and visible light so your bearded dragon will be alert and active throughout the day. And the nighttime bulb will emit heat and a very dim red glow that will not disrupt their normal nocturnal behaviors.
The two bulbs that come in this package are the 75 Watt Zoo Med Repti Basking Spot Lamp and the 75 Watt Zoo Med Nocturnal Infrared Heat Lamp. The Basking spot lamp outputs a bright visible light along with infrared and UVA radiation. While the Zoo Med Nocturnal Infrared Heat Lamp emits only a subtle red glow with most of its emissions falling in the infrared spectrum.
Another nice thing about this package is that you are saving some money when you buy these bulbs together. The two bulbs would cost 15% more if they were purchased separately.
Basking Light Fixture Reviews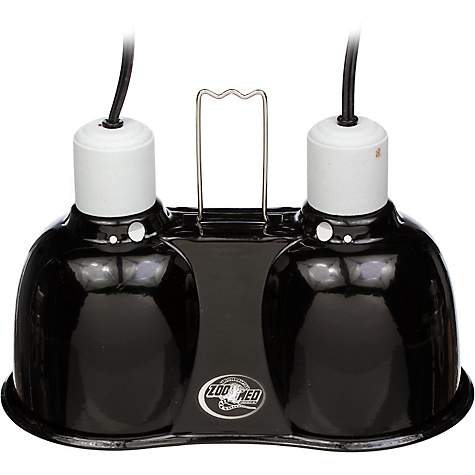 The Zoo Med Mini Combo Deep Dome Lamp Fixture is perfect if you want to keep the number of light fixtures you need to a minimum. With the two sockets and reflectors combined in one convenient package, you will be able to have a more organized and attractive bearded dragon setup.
The two sockets in this fixture are made of durable heat-resistant ceramic. Each socket can handle a bulb that uses up to 100 Watts of power. Each socket can be individually controlled using separate on/off switches. That makes this fixture ideal for running a daytime bulb in one socket and a nighttime bulb in the other.
Each reflector has a highly polished aluminum interior for optimal light dispersal. The reflectors are also deeper than normal, which protects the basking light bulbs from suffering any accidental damage.
---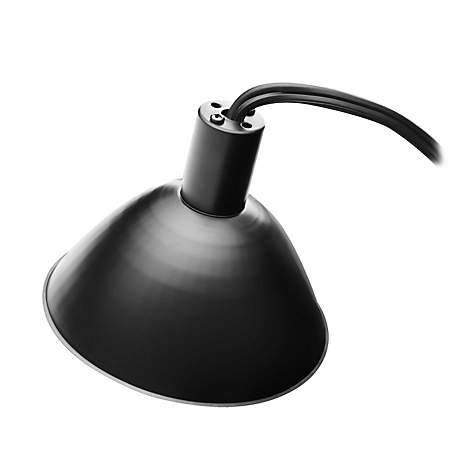 The Zilla Mini Halogen Reptile Dome Heat Lamp is a good reflector for small to medium sized habitats. This fixture can be used with infrared, UV and daytime basking lights. No bulbs are included with this reflector so you can choose what brand and type you prefer.
This reflector has spring tensioned safety clips that can be used to securely attach this unit to the top of a metal mesh screen. The safety clips will ensure the reflector and bulb stay in place when you have to remove the lid from your bearded dragons habitat.
If you want to run multiple types of basking lights you will need to buy at least a set of these reflectors. Having two or more of these fixtures will allow you to run a daytime bulb while your bearded dragon is awake and active. And then you can use an infrared nighttime bulb in the second one in order to give your bearded dragon lighting at night.
---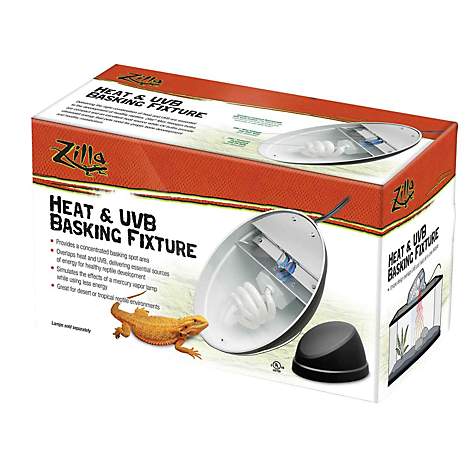 The Zilla Heat & UVB Basking Fixture is one of the more compact dual use fixtures available. This fixture holds two bulbs a UVA/UVB compact fluorescent and a mini 50-watt halogen. These two bulbs in combination will provide all the wavelengths of light a bearded dragon needs.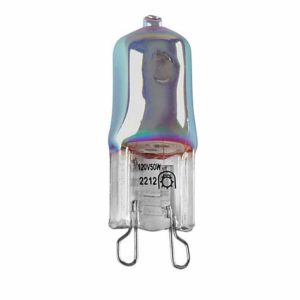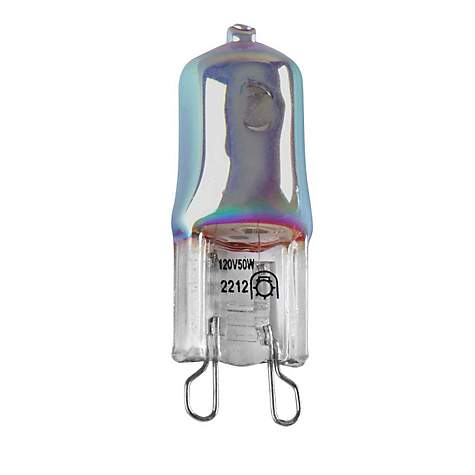 This fixture uses the Zilla Mini Halogen bulbs and the Zills UVA/UVB compact fluorescent. These bulbs are the only bulbs that can be used in this fixture so that will lock you into this manufacturer. If you don't mind that tradeoff then this fixture is a great option if you need a compact basking and UV in a nice compact package.