Do Corn Snakes Need UVB? Corn snakes don't need a lot of UVB light to utilize calcium in their diet. However, it's still a good idea to have a UVB light in a corn snakes enclosure for their overall health and well being and to mimic their natural environment.
Keep reading this article to learn more about a corn snakes UVB requirements, and to find out what is the best UVB light for a corn snake.
Do Corn Snakes Need UVB
Yes, corn snakes need UVB to properly utilize the calcium they get from their diet. However, corn snakes need less UVB exposure than most tropical and desert reptiles since they are naturally shade dwellers.
In the wild corn snakes are generally exposed to sunlight that falls within a range of 0.5 to 1.5 UVI (Ultraviolet Index).
Corn Snake UVB Requirements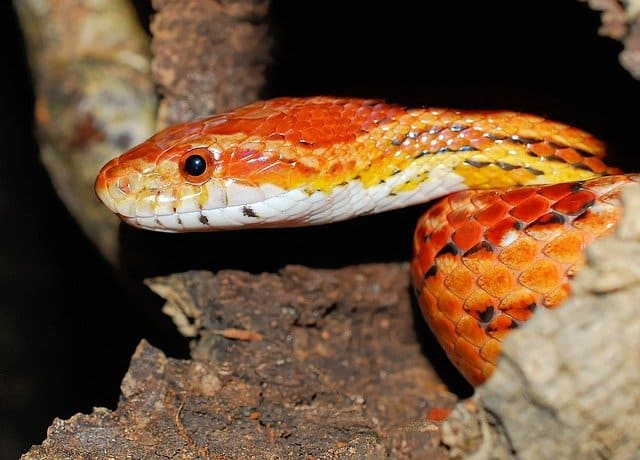 A 5% UVB Bulb (Buy Online) will provide more than enough UVB light for a corn snake, and the light should be placed high up towards the back of a corn snakes enclosure to minimize overexposure.
A UVB light bulb should also be situated alongside a basking light to ensure your snake gets UVB exposure every time they seek to regulate their body temperature.
You also want to provide a corn snake with plenty of shade and hiding places so they aren't constantly exposed to ultraviolet radiation. This will allow a corn snake to actively control the amount of UV light they get each day just like they would in the wild.
It's also a good idea to have a UVB light bulb plugged into a timer. The timer should be set to provide up to 10-hours of UVB light exposure every day. This will be more than enough time for a corn snake to meet its daily UVB requirements.
Corn Snakes UVB & Vitamin D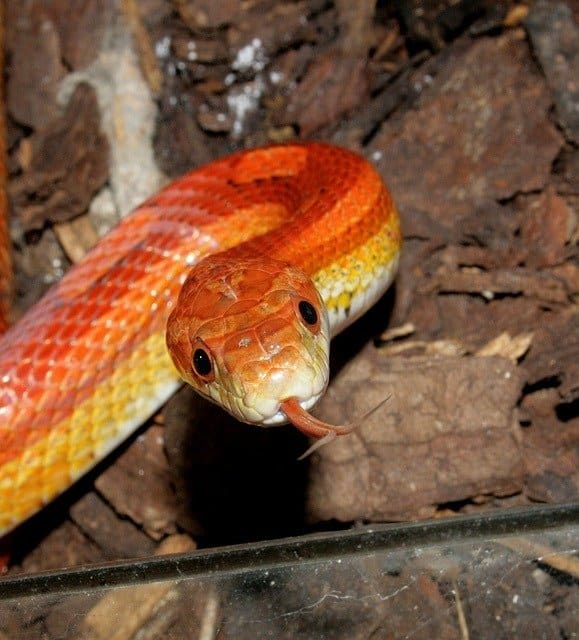 Recent studies[1] have shown that corn snakes that are exposed to UVB light have significantly more Vitamin D in their bloodstream. The 25-hydroxyvitamin D levels in corn snakes exposed to UVB light can be 3.5x higher than in corn snakes that don't have any supplemental UVB lighting in their enclosure.
Vitamin D Benefits

Vitamin D is well known for its role in bone formation, and it also plays a major part in many other metabolic processes.
Corn snakes don't suffer from metabolic bone disease as often as bearded dragons or geckos, but they still need Vitamin D to properly utilize the calcium from a well-balanced corn snake diet.
Vitamin D also helps promote a healthy immune system, and it's also important for cardiac health and nervous system function.
Also, corn snakes that have an adequate Vitamin D status will be more active, and they will be less likely to suffer from diseases or infections.
Best UVB Bulb for Corn Snakes
Carolina Custom Cages Reptile 34″ T5HO UVB Light (Buy Online) is the best UVB light for corn snakes that are kept in a large enclosure. This 34-inch light will provide enough UVB light for a 4-foot enclosure, and the smaller 22-inch model is made for 3-foot long snake enclosures
The Carolina Custom Cages Reptile 34″ T5HO UVB Light Fixture has a low profile design that makes it easy to mount.
You can either mount this light underneath the habitats screen mesh lid, or you can hang it above the enclosure. It also comes with all the Clips and brackets you'll need to mount or hang the fixture on any type of surface.
This light will fit most types of reptile enclosures, but it works best with snake habitats made by Carolina Custom Cages (Learn More).
Honpal LED Reptile Light, LED UVA + UVB Sun Lamp (Buy Online) is a high-efficiency UV lamp that you can use in a corn snake enclosure. This LED light only consumes 3-watts of power, but it has the equivalent output of a 26-watt UVB light bulb.
This bulb outputs 60,000 microwatts of UVA and 8,000 microwatts of UVB, and it doesn't produce any harmful UVC radiation. It also has a 30,000 hour lifetime, which means it will last 15x longer than a conventional UVB compact florescent.
The Evergreen Pet Supplies 100 Watt UVA UVB Mercury Vapor Bulb (Buy Online) is a high powered UVB light source. Mercury vapor bulbs output most of their light in the UV spectrum, which makes them more efficient than halogens or compact florescent bulbs.
The Evergreen Pet Supplies 100 Watt UVA UVB Mercury Vapor Bulb produces a focused beam of UV light that can penetrate deep into a reptile enclosure.
That makes a mercury vapor bulb a good choice for tall snake habitats, or it can be used to create a small area of intense UV light in a corn snakes basking area.
The CalPalmy Reptile UVA/UVB Lamp (Buy Online) makes it easy to add UVB light to a reptile enclosure. This set of UV lamps comes with two 50-watt halogen bulbs that are attached to an adjustable stand.
You can use these lights in a small snake enclosure.. They are also useful as a source of supplemental UVB lighting. And you can use them when you take your corn snake out of their habitat and give them a dose of UVB light on a table or anywhere else you can clip the lamp.
UVB Meter for Reptiles
The Reptile UVB Lamp Meter (Buy Online) is a high precision UVB light detector. It has a sensor that can measure UV light wavelengths from 240 to 320 nm, and it has a peak spectrum response at 305 nm.
The Reptile UVB Lamp Meter is perfect for anyone who needs to measure the UV light level in multiple reptile enclosures. It also can be used to test a UVB bulbs output to see if the ultraviolet light output has degraded.
The Gallium Nitride Sensor in the UVB light meter is able to make fast UV measurements, so you can quickly test the UV light level throughout a corn snakes enclosure.
This UVB light meter also won't lose its effectiveness over time like UVB tester cards since it isn't reliant on a photochemical reaction. And it's also a low power device that only uses two AAA batteries.
The REPTI ZOO UVB Tester Card (Buy Online) makes it easy to measure the UVB & UVA light in a corn snakes enclosure. These reusable cards measure 3.4 inches x 2.1 inches, and they come with a sleeve to protect the card from UV light when they are not in use.
The REPTIZOO UV Sensor card makes use of a Non-Toxic environmentally-friendly UV detection material that changes color when it's exposed to ultraviolet light. The UV light sensing material changes colors from white to purple based on the strength of the UVB & UVA radiation.
You can use the REPTIZOO UV Sensor card to quickly test the UVB light strength in your corn snakes enclosure. This will help make it easy to provide your corn snake with the right amount of UV light in their enclosure while helping to reduce the risk of overexposure.