Providing a Chameleon with adequate UVB light is vital to their overall health and well being. Since most captive Chameleons rarely get any exposure to sunlight they will be totally dependent on artificial light for their UV exposure. That's why it is extremely important the choose the best UVB bulb for chameleons, in order to protect them from metabolic bone disease (MBD) and other developmental disorders.
Best UVB Bulb for Chameleons
Chameleon UV Requirements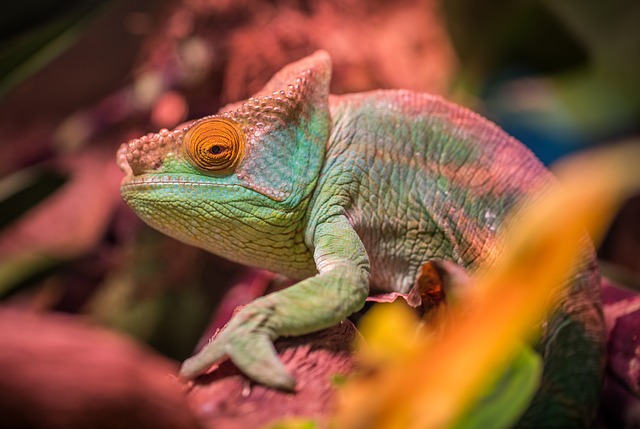 Due to the fact that Chameleons mostly live in trees in a tropical environment, their UV light needs are not as extreme as desert reptiles. In the wild Chameleons spend most of their day hunting for bugs on branches and leaves deep in the canopy. Since Chameleons spend a good portion of their day in dappled shade surrounded by leaves, they only get full UV exposure when they are basking or if there are breaks in the canopy.
Because of this Chameleons only need a light that outputs a moderate amount of UV radiation. The best UVB bulbs for Chameleons output 5 percent of their total light in the UV spectrum. These lights are generally labeled as "5.0" lights and they will sometimes clearly state on their packaging that they are for tropical reptiles.
If you have a particularly tall Chameleon habitat you might want to purchase a more powerful UV bulb in that situation. The reason for this is that the farther away your Chameleon is from the bulb the less UV light will reach them.
In order to overcome the reduction of UV light that occurs over greater distances, you might want to get a UV bulb that is made for desert reptiles. These bulbs emit 10 percent of their light in the UV spectrum. Just be sure to keep your Chameleon a safe distance away from the UV bulb in order to protect them from excessive UV exposure.
Chameleon UVB Lights
The Exo Terra Repti-Glo 5.0 Compact Fluorescent Bulb (Buy online) is one of the best UV lights for a small to medium sized Chameleon habitat. The Exo Terra Repti-Glo 5.0 Compact Fluorescent light outputs 5% UVB and 30% UVA radiation. In addition, the compact design of this bulb makes it the perfect fit for tight spaces.
If you use this light with a reflector this light will be able to reach deeper into your Chameleons habitat. In most cases, this light will provide sufficient UV radiation for your Chameleon as long as they are within 12 inches of the bulb.
This bulb is also perfect for use in a domed reflector since it doesn't produce much heat, and it has a concentrated light output. This bulb can also be used in a large habitat where there might be some gaps in your UV lighting coverage. Overall the versatility and efficiency of this low power bulb means you can provide UVB light to your Chameleon in a wide range of situations.
The Zoo Med ReptiSun 5.0 UVB Mini Compact Fluorescent (Buy Online ) is a great bulb if you need to increase the amount of UV light in your chameleon lighting setup. This bulb emits both UVA and UVB light, while at the same time it produces little to no heat in the process. It has a UVA output of 30% and a UVB output of 5%.
This light is well suited for small to medium sized Chameleon habitats. This bulb has a maximum effective range of 6 to 9 inches. If the bulb is placed further away there will be a gradual reduction in the amount of UV light that reaches your Chameleon.
These mini bulbs only consume 13 watts of power, but they emit almost the same amount of light as a 60-watt incandescent. That means you can run this bulb for longer periods of time without having to worry about running up your electric bill in the process. Low power compact fluorescent lights like this one also produce very little heat, so you won't need to worry about the temperature increasing by that much in your Chameleons habitat.
The 100 Watt UVA UVB Mercury Vapor Bulb (Buy Online ) is one of the more powerful UVB lights you can get for your Chameleon. This 100 Watt mercury vapor bulb outputs both UVA, UVB and significant amounts of IR radiation.
Mercury Vapor Bulbs are great if you need a UVB light that can penetrate deep into the foliage in a tall Chameleon habitat. This powerful 100 watt Mercury Vapor Bulb will provide adequate UVB light at a range of 18 to 36 inches. That means even if your Chameleon likes to hang out lower down in their habitat this light will still provide them with enough UVB radiation.
This 100 watt UVB Mercury Vapor Bulb has a lifespan of 10,000 hours under normal operating conditions. Since mercury vapor bulbs produce a good deal of heat they will need to be used in a light fixture with a ceramic socket. The added heat does come with its benefits though since this bulb can act as both a heat lamp and a UVB source all in one convenient package.
The Exo Terra Repti-Glo 5.0 Fluorescent Lamp (Buy Online) is a T8 fluorescent UV tube that is perfect for medium to large  Chameleon habitats. This fluorescent tube outputs 5% UVB and 30% UVA radiation. This light bulb comes in two sizes, you can either get a 15 watt 18-inch bulb or if you need a more powerful light there is a 20 watt 24-inch option.
The nice thing about fluorescent tubes is that they can cover a wide area. Unlike compact fluorescents, T8 bulbs provide a more even source of UV light in most situations. They also tend to produce fewer "hot spots", and they also run a little cooler due to their larger surface area.
If you currently house your chameleon in a wide habitat then a T8 fluorescent bulb is your best option. In most cases, one 20 watt 24-inch T8 fluorescent bulb will cover about the same amount of area as two compact fluorescents. These bulbs can also be mounted vertically to provide supplemental side lighting, which will allow you to light up any of those hard to reach areas in your Chameleons habitat.
The Exo Terra Compact Fluorescent Fixture (Buy Online) is one of the best fixtures available for use with compact fluorescent UVB bulbs. This fixture comes in multiple sizes, with the nano and mini fixtures offering a single socket. The small fixture has a total of two sockets, and the medium fixture comes with three sockets, while the large fixture has an impressive 4 socket configuration.
This fixture can be used with either 13 watt or 26-watt compact fluorescents. While the manufacturer recommends Exo Terra brand compact fluorescents, any spiral design compact fluorescent will fit in this fixtures socket. The maximum rated capacity of each socket is 26 watts if you plan on using compact fluorescents, or if you choose to use incandescent bulbs then the maximum rated capacity is 40 watts per socket.
If you already keep your Chameleon in an Exo Terra Natural Terrarium these fixtures are custom made to fit perfectly on top of them. Otherwise, if you have any other type of terrarium make sure to measure it before you choose the right size fixture for your habitat.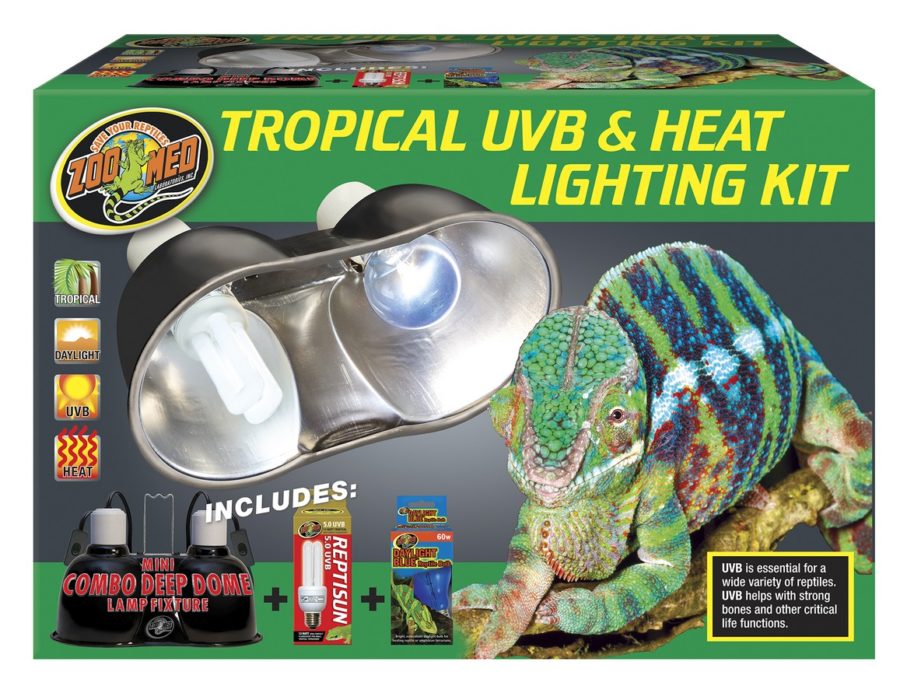 The Zoo Med Tropical UVB and Heat Lighting Kit (Buy Online) is great if you are looking for a fixture that offers both a heat lamp and UV bulb in a single package. This kit comes with a deep dome dual light fixture and a 60-watt daylight blue heat lamp along with a 13-watt ReptiSun 5.0 Mini Compact fluorescent.
The deep dome dual light fixture is rated for lights that consume up to 100 watts of power. Each socket sits in its own polished dome reflector for maximum light transmission. The deep dome also helps prevent the tip of your bulb from sticking out of the fixture, this extra depth will help keep the bulb safe from breakage, and it will reduce the risk of burns from the heat lamp when it is in operation.
The two bulbs included with this kit are well suited for a small to medium sized chameleon habitat. The 60-watt daylight blue heat lamp will provide a good source of heat at ranges of 8 to 12 inches. While the ReptiSun Mini will provide adequate UVB radiation up to a distance of 6 to 9 inches. Since this fixture is rated to handle 100-watt bulbs you can upgrade either one of the bulbs later if you have a taller habitat, or you can get multiple fixtures if you need more coverage.
The Zilla Mini Heat UVB Reptile Fixture (Buy Online) has both a heat lamp and a UV light all incorporated in a compact design. Since this fixture uses Mini Halogen Technology it is much smaller than other UV/IR combo fixtures on the market. The Mini Halogen Heat lamps produce the same amount of heat as an ordinary heat lamp, yet they are only a fraction of the size of a heat lamp or an IR emitter.
The main source of UV light in a Zilla Mini Heat UVB Reptile Fixture comes from a standard mini compact fluorescent. While the manufacturer suggests that you use a Zilla compact fluorescent bulb with this fixture, you can use any similarly sized compact fluorescent UV bulb and it will work just as expected.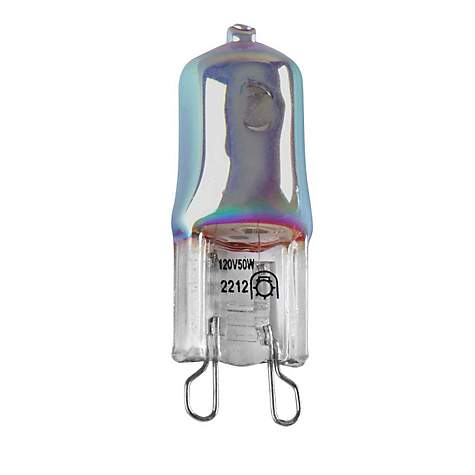 The one thing to keep in mind if you purchase this fixture is that the mini halogen bulbs are more proprietary than heat lamps with standard Edison sockets. You can either purchase the mini halogen bulbs that are manufactured by Zilla in 25 or 50-watt variants, or you can try to find them from specialty lighting retailers. The mini halogen bulbs come in either "day white", "day blue" or "night red", so no matter what type of light you and your Chameleon prefer you will have your choice of spectra.