Adding a filter to your tank will allow you to maintain a clean and healthy environment for your turtle. Even though you might be able to get away with keeping a turtle in a tank without a filter, doing so will require frequent water changes. In order to avoid the extra maintenance work, it's a smart idea to select the best filter for aquatic turtles.
Best Turtle Filter for Aquatic Turtles
Benefits of a Turtle Filter for Aquatic Turtles

By adding a filter to a turtle tank you will only need to do a complete water change about once a month. And besides saving you time and effort, the water will also be less cloudy and have less of an odor when fitted with a properly sized filter.
Adding a filter will also keep your turtle healthy and less prone to disease. Even though turtles are somewhat tolerant of poor water conditions. It doesn't mean they are impervious to the build up of waste products in an aquarium.
One of the most harmful waste products is ammonia, if the ammonia levels become elevated a turtles health might suffer. By adding a filter to your tank the ammonia will be converted into less harmful substances.
Types of Filters for Aquatic Turtles
Submersible Internal Filter
Fully submersible internal filters operate completely underwater. Their inlet and outlet circulate the water without disturbing the surface. This can be useful in a planted tank, where excessive surface agitation can lead to a loss of carbon dioxide.
Completely submersible filters will also run quieter, which is great if tank noise is of any concern.
Submersible Waterfall Filters
A submersible waterfall filter is really a partially submersed filter. The lower half where the intake is located is underwater, while the waterfall returns the water above the surface. The waterfall effect can help oxygenate the water, which can help reduce tank odor and other water quality issues.
Decorative Submersible Waterfall Filter
The decorative submersible waterfall filter is almost exactly the same as a regular water fall filter. The main difference is the filter is encased in an artificial decorative rock, that is contoured to return the water in a more aesthetically pleasing way.
Also a decorative rock filter cover can also act as a basking area for a turtle. That means if you purchase a decorative filter you might not need to purchase any other platforms to put inside our turtle tank.
External filters
External filters are best suited to large tanks that require the added filtration power they provide. Since an external filter is not taking up space in the tank, you can have a lot more filtration power without sacrificing space.
A external filter can also be used with different kinds of filtration media, like ammonia reducers and alternative biological substrates.
Choosing a Filter for Aquatic Turtles
Before you select a filter for your aquatic turtle, you should first assess the needs of your turtle and the size of your tank. The first thing to consider is tank size, you have to make sure the filter you choose can handle the amount of water that is in the tank.
If you have turtles that produce a lot of waste and tend to be messy eaters, you might want to select a filter that is rated for a larger tank.
If you get a filter that isn't powerful enough to meet the needs of your turtles, you will end up doing water changes more often. This would negate one of the reasons for getting a filter in the first place, which was to reduce the need for frequent water changes.
Selecting a properly sized filter the first time will save you time, money and effort in the long run.
Best Turtle Filter for Aquatic Turtles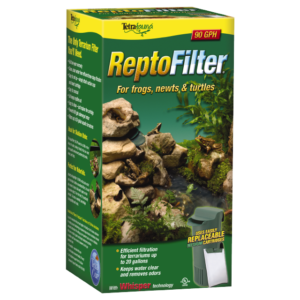 The TetraFauna ReptoFilter is a partially submersible waterfall filter, that is rated to handle tanks up to 55 gallons. The filter will function in as little as two inches of water, and has a flow rate of 125 gallons per hour.
This filter is easy to install and maintain, and unlike fully submersible filters this filter will be accessible from the waters surface. The filter can be mounted to the tank using the included suction cups, but if the filter is not resting on the ground the suction cups have been known to slip.
The ReptoFilter uses easily replaceable Tetra ReptoFilter Disposable Filter Cartridges.
They are usually available in 3 packs for under ten dollars. These filters are easy to replace by simply removing the old spent filter, and then sliding in the new one.
The filter cartridges use a three stage filtration process to keep the water clear and odor free. The first stage provides mechanical filtration. A dense dual-sided mesh is used to remove any particles from the water.
Chemical filtration is handled by activated carbon, which will help keep odors under control inside the turtle tank. The third stage is a foam filter that has a large surface area for bacteria to colonize, which will provide more than adequate biological filtration.
The ReptoFilter can also be concealed in plants or a rock formation. That makes this filter perfect for anyone with a decorated turtle tank. This filter is great for any tank under 55 gallons. With it's high capacity and easy to change filter cartridges, this filter will work even in very challenging conditions.
PROS
Powerful
Easy to Maintain
Customization
---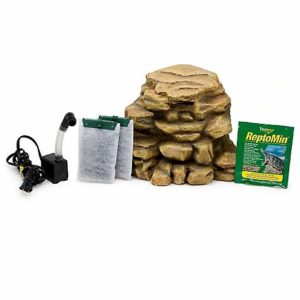 The Tetra Decorative ReptoFilter has all the same performance features as the regular ReptoFilter. It is also rated for tanks up to 55 gallons. And it has the same flow rate of 125 gallons per hour. It also uses the easy to replace Tetra ReptoFilter Disposable Filter Cartridges.
The thing that sets the Decorative ReptoFilter apart is the realistic artificial rock filter cover. Since the rock is meant to be placed on the bottom of the tank, this filter is suited for shallow water setups. The rock cover also has a locking mechanism to keep turtles from popping it off while swimming in the tank.
The rock provides a nice smooth contoured surface for the water to flow on, which creates a peaceful waterfall effect inside the tank. The decorative rock will also act as a basking area, so the turtles can get up and out of the water whenever they need to. And since a turtle tank needs a basking platform anyway, adding this filter is like getting two products for the price of one.
PROS
Powerful
Easy to Maintain
Good Basking Area
---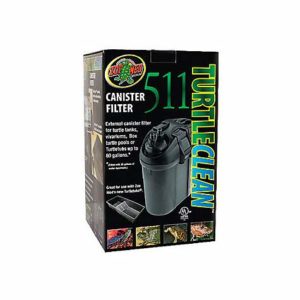 The Zoo Med Turtle Clean 511 Canister Filter is rated to handle turtle tanks up to 60 gallons. And it has a flow rate of 160 gallons per hour. That makes it one of the more powerful filters designed specifically for turtles. The filter is easy to maintain, and has an easy to open filtration unit, so cleaning and changing the filter media will be a quick task. The filter has anti vibration bushings so it will run very quietly during normal operation.
The filter also has adjustable flow control so you can calibrate the strength of the current in the tank. Having an adjustable flow is great if you have young turtles or you are using this filter on a smaller tank. The filter also comes with a spray bar, which can be attached to the return line to provide added aeration to the tank.
The Zoo Med Turtle Clean 511 Canister filter uses a 3 stage filtration process. The first stage is the sponge filter which provides mechanical filtration. The sponge media will help remove particles from the tank and keep them out of the other two stages of the filter. The sponge can be easily rinsed and reused, and only need to be replaced when it has degraded.
The second stage is the biological filtration stage which is handled by ceramic bio-media. The ceramic bio media has a very high surface area for bacteria to colonize, which makes it very efficient at removing ammonia from the tank. The ceramic bio-media is also reusable, and only has to be rinsed cleaned if any debris is caught in the second stage.
The third stage is chemical filtration which is handled by an easily replaceable activated carbon bag. The carbon bag is really the only stage of the filter that will have to be regularly replaced. It is recommended that the carbon filter be replaced on a monthly basis. As with all filters keeping up with carbon filter changes is very important, since it will limit any potential odor problems from arising.
PROS
Powerful
High Capacity
Reusable Filter Components
---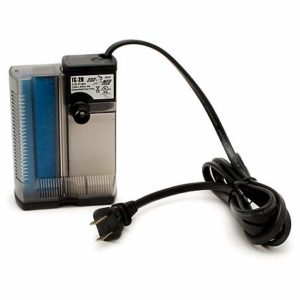 The Zoo Med Save Your Reptiles Turtle Clean Filter is good for small to medium tanks. This is a fully submersible internal filter, which can be conveniently placed anywhere inside a tank. The included suction cups will make sure the filter stays attached to any smooth surface. The small design makes it perfect for tanks with limited space, and it can be oriented in either the horizontal or vertical position.
The filter also uses a dual inlet system to help prevent the filter from clogging. And as any turtle owner knows clogging can be a common problem with most filters. The filter uses sponges for mechanical and biological filtration. The sponges will help remove large and small debris from the water, while also providing a large surface area for bio filtration.
Chemical filtration is handled by activated carbon. The activated carbon will help remove organic chemicals from the water. Since most odors that come from turtle tanks are volatile organic compounds, having activated carbon in this filter will help reduce any offending smells emanating from the aquarium.
This filter is rated for use in tanks up to 30 gallons. If you have turtles that are messy eaters, or if they produce a large amount of waste. It would be advisable to use this filter in a tank no larger than ten gallons.