We all know it can be a challenge finding the quietest aquarium water pump. All aquarium pumps will emit some sound, but there are submersible pumps and inline pumps available that have a low noise output.
If you're in a rush we recommend the Reef Octopus Varios (Buy Online) for larger aquariums. While the Hygger Quiet Submersible Pump (Buy Online) works best for small to medium-sized aquariums.
Quietest Aquarium Water Pump
Best and Quietest Aquarium Water Pumps
The Reef Octopus Varios-6 (Buy Online) is an extremely quiet freshwater and saltwater aquarium pump. One of the main reasons this pump is so quiet is because it runs on DC power. DC powered pumps are far more efficient than AC powered pumps, and you can even control the flow rate to match the need of your aquarium.
Pumps that run on DC power also don't have the characteristic hum that you usually hear from an AC powered motor. Another benefit of a DC powered pump is that they generate less heat as they circulate a given volume of water.
That means it will be less likely that you'll need to get a chiller to cool down your aquarium, which can help reduce the overall noise level around your aquarium.
The Reef Octopus Varios-6 is also built to last since it has a durable ceramic drive shaft and propeller bearings that help reduce friction and vibration. The Reef Octopus Varios-6 also comes with a detachable pump controller that will allow you to optimize the flow rate to help reduce the pump's sound output during normal operation.
The Current USA eFlux DC Flow Pump (Buy Online) is an ultra-quiet hybrid submersible or inline aquarium pump. This pump is available in three different models that each respectively has a rated flow rate of 1050 GPH, 1900 GPH, and 3170 GPH. The Current USA eFlux also runs on DC power, which makes it far more efficient and quieter than pumps that run on AC power.
This pump also uses 65% less electricity than a comparable AC pump, so you can expect to end up saving hundreds of dollars on your utility bill over the lifetime of the pump.
The Current USA eFlux DC Flow Pump also has built-in circuitry that slowly ramps up the pump speed on start, which will help prolong the life of the driveshaft and the pump impellers. Also, the Current USA eFlux DC Flow Pump has built-in sensors that stop the pump from running while it's dry to prevent overheating and internal damage.
The Hygger Quiet Aquarium Water Pump (Buy Online) is one of the quietest aquarium water pumps on the market. You can get the Hygger Quiet Water Pump in six different models that have flow rates that are suitable for most medium to large aquariums.
The Hygger Quiet Aquarium pump comes with an external controller that uses SineWave Technology that will allow you to adjust the flow rate from 30% up to 100% full power. This can help reduce noise by running the pump at the precise flow rate to suit the needs of your saltwater reef tank or freshwater planted aquarium.
The Hygger Quiet 24V DC Water Pump also has a removable impeller that can be easily taken out of the pump and cleaned during regular tank maintenance. Also, the impeller shaft on the Hygger Quiet Aquarium Water Pump is made from ceramic to prolong its service life and to reduce friction and impeller shaft vibrations.
The Eheim Universal Pump (Buy Online) is a reliable pump that's made by one of the leading brands in the aquarium industry. This pump is one of the only AC pumps we recommend for silent operation since it has a hermetically sealed motor.
The epoxy sealed motor chamber enables the Eheim Universal pump to operate at a similar sound level as more expensive DC powered water pumps.
Eheim products are also built with a high level of craftsmanship and attention to detail since all their pumps are designed and manufactured in Germany.
The Jebao Silent Swirl DC Aquarium Pump (Buy Online) is a high powered aquarium water pump that has a rated flow rate of 2650 GPH (10000 LPH). It operates at 24V DC and it consumes 80 Watts of power, and it has a maximum head height of 18 FT (5.5 M).
The Jebao DC Pump is a very capable water pump that's made for tanks as large as 250 gallons. It can either be used as a submersible aquarium pump, or it can even be used as an external aquarium pump in an aquarium stand or cabinet.
The Jebao DC Pump also comes with an external variable pump speed controller that makes it easy to dial in the flow rate for any size or type of aquarium.
The Blueline 30 HD-X External Water Pump (Buy Online) is a high powered industrial grade water pump that's made for demanding aquatic applications. This pump is quieter than similar Iwaki models since it operates at a lower motor frequency. It also comes with a full 5 Year Warranty on parts and labor, and the seal-free bearings have a 10+ year service life under normal operating conditions.
The KEDSUM 880gph Submersible Pump (Buy Online) is great for small aquariums where you need a quiet pump like a kid's room or in a living room.
This KEDSUM 880gph Submersible Pump has a unique 360-degree intake design that helps the pump run silently since it draws in water with less turbulence. It also has rubber suction cup feet, along with a thick outer casing that helps reduce vibrations.
Also, the KEDSUM 880gph Submersible Pump only outputs 54 dB of sound when measured with a decibel meter right outside the walls of a small aquarium.
How To Quiet An Aquarium Water Pump
Vibration Damping
A Noise Reducing Pad (Buy Online) can help limit the noise a water pump makes when it vibrates on a solid surface. These vibrations can be one of the leading causes of pump noise, so it's a good place to start to get control of any sounds caused by excessive vibrations.
A Silicone mat can be placed under a submersible water pump or even under a water pump on a dry surface. These mats are fish safe, and they can be placed in a sump or even inside an aquarium.
Silicone mats can also be cut to size if you have a sump with limited space or if you keep your pump in a tight area.
Maintenance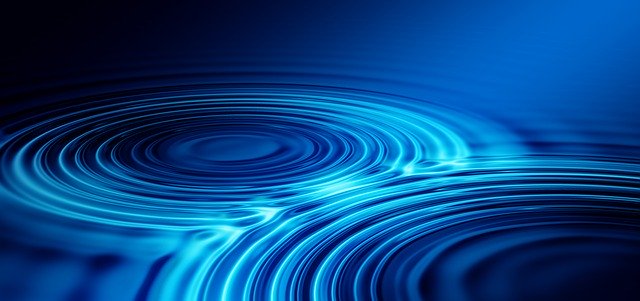 Water pumps can become noisy due to a lack of maintenance. Most pumps have strainers that catch debris, but over time the strainer can become clogged with organic material, or with hardened calcium build up.
That's why it's a good idea to clean your pumps strainer regularly to keep it free of debris and to help keep the pump operating at peak efficiency.
If your pump is still making noise after you clean the strainer then you might need to clean the impeller assembly as well. This will require that you take the pump apart and do a deep cleaning of the impeller blades to remove any biofilm or stuck-on debris.
As long as you maintain your water pump regularly it will help keep your pump running silently. Another added benefit of keeping up with maintenance is that it will also help prolong the life of your aquarium water pump.
Placement
You can also control the perceived noise level of a water pump with careful and deliberate strategic placement.
Some pumps will make more noise when they have to fight against a lot of head pressure. That's why it's always a good idea to keep the pump as close to your aquarium as possible to reduce the amount of strain on the motor.
You can also try to keep your pump behind other items in your aquarium cabinet to help muffle any pump sounds or vibrations.
Also, try to avoid placing your pump near any equipment that might amplify your water pump's vibrations like a skimmer or any other equipment that might serve as a hollow resonance chamber.
Choosing An Aquarium Water Pump
Water Pump GPH (Gallons Per Hour)
Properly sizing a water pump can help reduce its overall noise output, and it will also save you money on electricity as well.
If you want to know what size pump you should get you can use our Aquarium Water Pump GPH Calculator for a quick answer.
Types of Water Pumps
Submersible Water Pumps
Submersible Water Pumps (Buy Online) can be less noisy since the water can help muffle some of the pump's vibrations. A Submersible water pump will also tend to run a little cooler in water, which can prolong their life and keep them running more efficiently.
In-line Water Pumps
In-Line Water Pumps (Buy Online) can make more noise than a submersible aquarium pump, but they have their own unique set of advantages. First, you can keep them in a utility closet to help dampen pump noise. They also can be surrounded by sound dampening foam to help reduce their noise output.
An in-line water pump also won't heat your fish tank as much since it's air-cooled. That means you won't need to run a chiller on your tank if the water gets too hot. In most cases, a chiller is much louder than a water pump, so it's best to avoid overheating your tank with a water pump if you want to enjoy your aquarium in peace and quiet.