Pugs are adorable dogs with a wrinkled face that everybody loves.  Those distinctive wrinkles are part of a pugs charm, but those deep folds do need to be kept clean.  Making sure your pugs face is free of dirt and debris is very important for their overall health and well being.  In the following article we have reviewed the best pug face wipes available, so you can decide which face wipe is right to use on your pug.
Best Pug Face Wipes
Image
Name
Size
Rating
Shop
 

100 ct

 
 

45 ct

 

 

50 ct

 

100 ct

 

 

100 ct

 

4 fl. oz.

 

4 fl. oz
Pug Face Wipe Reviews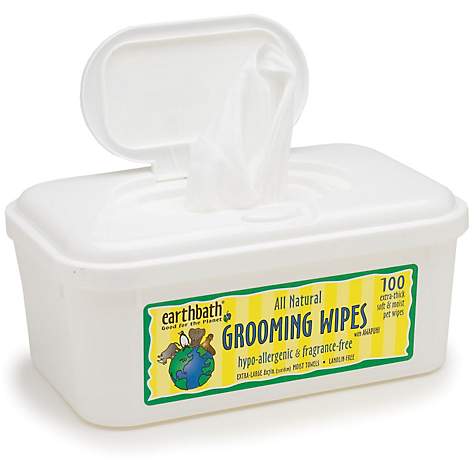 Earthbath All Natural Hypo-Allergenic Wipes (Buy Online) are as gentle on the environment as they are on a dogs face. These wipes follow the old adage that less is more. They are fragrance-free and contain no soaps, parabens or synthetic dyes. And they are not tested on animals so they are completely cruelty-free.
The main active ingredients found in these wipes are Polysorbate 20, Aloe Vera, Awapuhi Extract and Vitamin E. Polysorbate 20 is a form of the natural sugar sorbitol which acts as a moisturizer and skin conditioning agent. And it plays a role in releasing and trapping the dirt that can build up in the deep folds on a pugs face.
The Aloe Vera extract also helps soothe dry, cracked and irritated skin. Aloe will also speed up wound healing and reduce scarring if your pug has some minor scrapes on their face. And the Vitamin E in these wipes will also help moisturize and rejuvenate dry flaky skin.
The Awapuhi Extract will impart a nice healthy shine to your pug's coat. Awapuhi is a form of wild ginger found in tropical locations. The juices of this plant are used by indigenous people as a shampoo and conditioner. The result of which is soft lustrous hair that is not as brittle and prone to breakage.
Earthbath All Natural face wipes are perfect if you need a face wipe that contains a limited set of ingredients, that won't irritate your pugs face. If you have a dog with skin allergies or sensitivities to scents and fragrances, then this face wipe will work well for you if you are in that situation.
---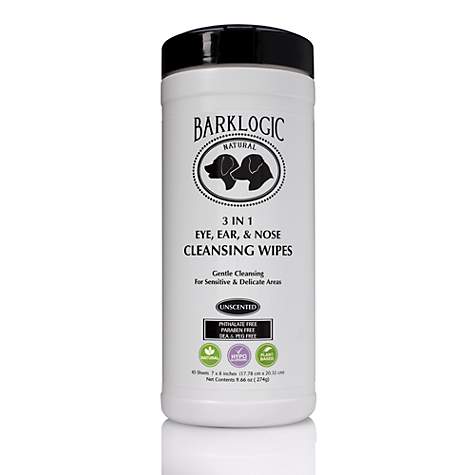 Barklogic Eye and Nose Cleansing Wipes (Buy Online) are specifically designed for use on a dogs face. These wipes contain a wide range of natural ingredients that cleanse and rejuvenate a dogs skin. And they are Eco-friendly since they are made from renewable bio-degradable plant fibers, so they won't build up in our landfills when they are thrown away.
The main active ingredients in Barklogic Eye and Nose Cleansing Wipes are Polysorbate 20, Aloe Extract, Chamomile Flower Extract, Cucumber Fruit Extract, Oat Extract and Vitamin E. All of these ingredients are some of the best you can find for a pug's overall skin and hair health.
Aloe and Vitamin E are added to help heal and repair any damaged skin. The Oat extract will help soothe itchy irritated skin brought on by allergies or even from bug bites. And the Cucumber and Chamomile extracts will impart a soothing cooling sensation on your pug's skin, which can make cleaning their face a little more bearable for them.
Barklogic Eye and Nose Cleansing Wipes are one of the few wipes available that are made for use on a dogs face. While they are not marketed as hypo-allergenic like some of the other wipes on this page, they are very gentle and will work well for cleaning a less sensitive pugs face.
---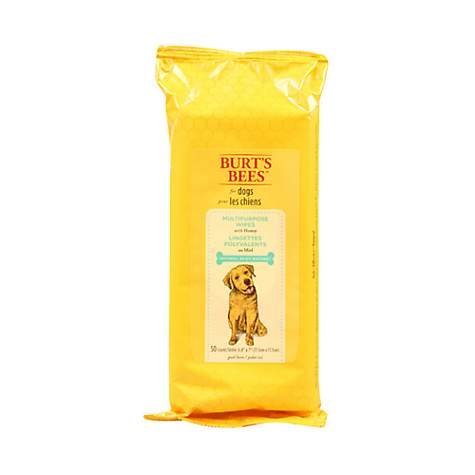 Burt's Bees Multipurpose Dog Wipes (Buy Online) are made by the same company that is famous for their wide range of human skin care products. That means you are getting the same level of quality from this pet product you would expect for yourself.
The same all natural philosophy that Burt's Bees follows when making their products for humans carries over to their pet product line. For example, these dog wipes contain no essential oils, fragrances, sulfates or artificial colors. And when Burt's Bees develops their products they never do animal testing so they are 100% cruelty-free.
The main ingredients found in these wipes are Coconut Extracts, Honey, Beeswax and Shea Butter. All of which play an important role in maintaining a dogs skin and hair health.
The coconut extracts are gentle cleansers that won't irritate a dogs skin, unlike harsh soaps and detergents. The Honey and Beeswax are the signature ingredients found in almost all Burt's Bees products. Honey is well known for its antibacterial and skin restoring properties. And Beeswax helps lock in moisture so your dog's skin will remain supple even in dry environments.
The Shea butter will help moisturize heal and nourish your dog's skin and coat. Shea butter has natural anti-inflammatory and anti-aging properties. Shea butter can be especially helpful for dogs with skin conditions or if their skin just isn't looking up to snuff. Overall Burt's Bees dog wipes offer a top quality product for your dog at an affordable price.
---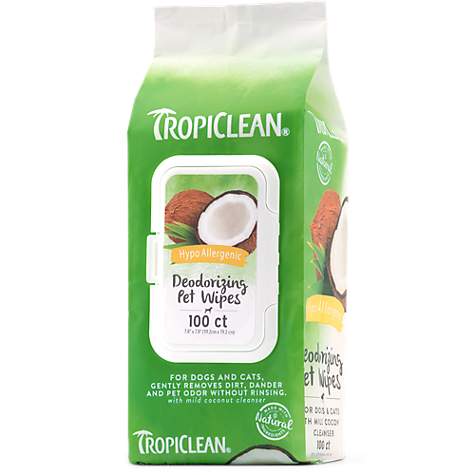 TropiClean Hypoallergenic Dog Wipes (Buy Online) are gentle on a dogs skin but they are tough on dirt. These face wipes are hypo-allergenic and contain only natural ingredients like aloe, coconut and witch hazel.
The coconut cleansers in this product are very effective at removing dirt from the folds on a pugs face. While at the same time they won't leave behind a harsh residue, that could irritate the delicate skin found in a pugs facial folds.
The inclusion of aloe in these wipes will also help heal any broken or irritated skin that may be present on your pugs face. The aloe will also soothe your pug's skin when you rub their face with this wipe. Which is very nice since no matter how gentle you are while cleaning a pugs face there can still be some mild irritation from all the rubbing.
TropiClean Hypoallergenic Dog Wipes are great if you need a face wipe that is gentle enough to use around your pug's sensitive nose, ears and mouth. And as an added bonus these face wipes have a subtle coconut smell that will help deodorize your pug in between their regular baths.
---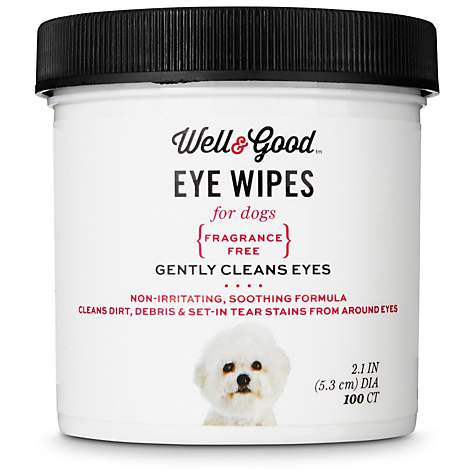 Well & Good Dog Eye Wipes (Buy Online) are great if you have a pug that has tear stains all over their face. These wipes will not irritate the delicate skin found around your pugs' eyes. And they are specially designed to not cause any discomfort if a little bit of cleanser finds its way into your dog's eyes.
Some pugs only need the folds on their face cleaned out, but some pugs will also need any discharge from their eyes removed as well. Eye discharge can lead to unattractive yellow to brown stains forming around a dog's eyes and down their face.
Actively cleaning around your dog's eyes will help keep these stains from becoming a permanent fixture on their face. Excessive tear buildup can also lead to eye irritation or infection, so cleaning them off your dogs face can help preserve your dog's eye health.
Well & Good Dog Eye Wipes are excellent if you have a pug that has had issues with excessive tear production. You can use these wipes alone or in conjunction with other cleansers to finally get control of your dogs tear build up problem.
---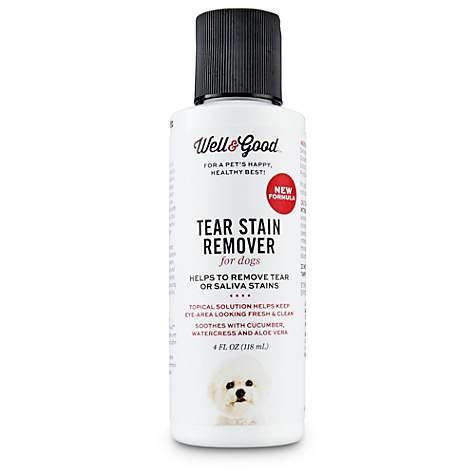 Well & Good Dog Tear Stain Remover (Buy Online) will help you remove tear stains from your pugs face. This is a liquid formula that can be safely applied around a dog's eyes. The main ingredients in the tear stain remove are Cucumber extract, Water Cress, and Aloe Vera.
The cucumber will cool an soothe the skin around your dog's eyes as you apply this formula. And the Aloe Vera will heal and moisturize any damaged skin that may have formed when your dogs tears dried out.
This tear stain remover can be applied to cotton balls or any other disposable applicators, or it can be used on a reusable washcloth to minimize any waste. In order to remove deep stains from a dog's eyes, you will need to apply this tear stain remover daily until you see the stains lighten up.
After the stains have been removed to your satisfaction, you can continue to use this formula to prevent any future stains from taking hold. If you have had trouble removing tear stains from your pugs face, it might be worth giving the Well & Good Dog Tear Stain Remover a shot.
---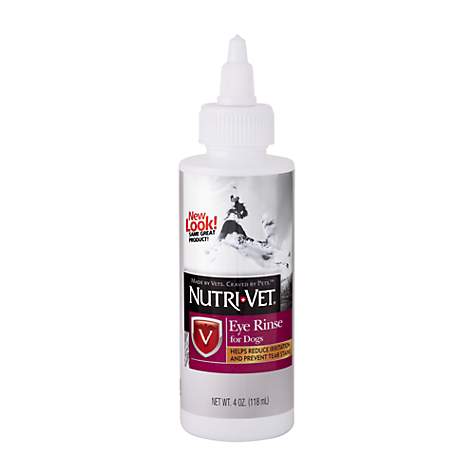 Nutri-Vet Dog Eye Rinse Drops (Buy Online) is designed to stop excessive eye discharge right in its tracks. Being proactive about your dog's eye health is one of the best ways to avoid having to clean tear stains off your dogs face.
These drops will help prevent eye irritation from a wide array of sources like dust, pollen, ragweed and even from chlorine and salt water. All of these substances can cause discomfort for any dogs eyes. But they are especially problematic if you have a dog who is prone to excessive tear discharge.
In order to use these drops all, you will have to do is put 2 to 3 drops in your dog's eyes in order to flush any irritants out. Then follow up by wiping the excess liquid from around your dog's eyes to loosen any dirt or build-up that may have already been there. If you do this on a regular basis you will be able to prevent the build-up of tear stains around your dog's eyes.
---
How to Clean a Pugs Face
Step One
Decide on what cleaning product you want to use to clean your pug's facial folds. You can use a prepackaged face wipe like the ones reviewed in this article. The other option is to make your own wipes by moistening a towel with a gentle cleanser. Either one will clean your pugs face, but using store bought wipes is the more convenient option.
Step Two
Before cleaning your pug's face, inspect their skin for any signs of irritation or a rash. If you do find any irritated skin you should carefully check for any signs of infection. If there is a strong smell emanating from the folds than your pug most likely does have an infection. In that case, you should consult with your veterinarian about the proper course of action.
Step Three
If your pug's skin is healthy, then you can start gently cleaning their facial folds. Start by lifting their folds up so you can fully clean their skin. Make sure you get in deep since this is where bacteria and mold will grow the most. If the wipe starts to get dirty pull out a new one so you don't risk transferring dirt to the rest of your pugs face.
Step Four
If your pugs face is still moist from using the face wipe you can towel them off, so as to avoid any new dirt clinging on to their face. And if you want, you can give your pug a treat to reward them for being such a good dog while you cleaned their face.