Finding a good automatic fish feeder for flake food can be a little bit of a challenge. Unlike pellet food, flake food is more susceptible to moisture damage, and it is more prone to clumping. That means you have to pick the right automatic feeder for flake food or you run the risk of your fish not being fed if the feeder jams up. In the following article we review the best automatic fish feeders on the market. If you just want our top pick of the best automatic fish feeder for flakes we recommend the EHEIM Automatic Feeding Unit as our number one choice.
Best Automatic Fish Feeder for Flakes
| Image | Name | Capacity | Rating | Shop |
| --- | --- | --- | --- | --- |
|   | | 3.3 fl oz | | |
|   | | 3.04 fl oz | | |
|   | | 7.5 cu in. | | |
|   | | 2.7 fl oz | | |
|   | | 2.7 fl oz | | |
Best Automatic Fish Feeder Reviews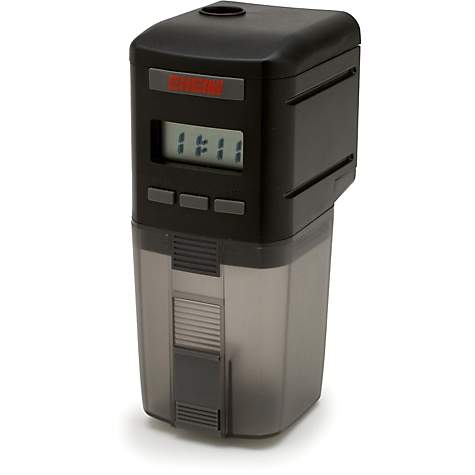 The EHEIM Automatic Feeding Unit (Buy Online) has all of the features you would want in an automatic fish feeder. This is one of our favorite feeders because it is so simple to use. You can program this feeder to dispense flake food once a day or all the way up to four times a day if you like.
Programming this feeder is a simple task thanks to the large easy to read LCD screen. You also have the option of programming this feeder to release a single serving or a double serving with a 1-minute delay. And there is a manual override button that will allow you to feed your fish any time you want.
The feeding drum that holds the flake food on this automatic fish feeder will hold up to six weeks of food. The exact capacity of the feeding drum is 3.3 fl oz (100 ml). And it is made of transparent plastic which makes it easy to see how much food is left in the drum with just a quick glance.
This feeder dispenses food by rotating the feeding drum, which allows the food to fall out of a hole on the drum. When the feeding drum rotates it also helps agitate the fish food in order to prevent it from sticking together and forming clumps. The rotating drum along with the very good internal air circulation makes this feeder much less prone to jamming up than other feeders on the market.
---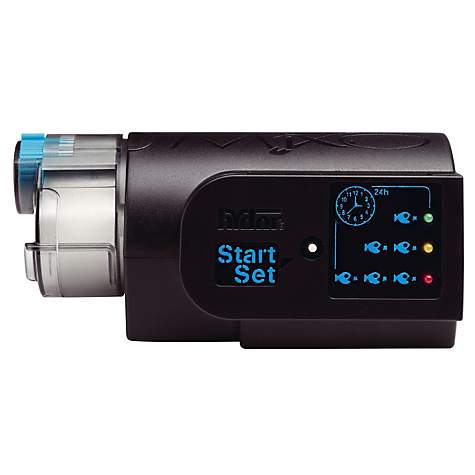 The Hydor Ekomixo Digital Aquarium Feeder (Buy Online) is a highly configurable feeder with an attractive design. This feeder has a simple to use one-touch control button and easy to read LED indicators, so set up will be a snap.
You can program this feeder to feed your fish from one to three times a day. If you select one feeding a day it will dispense food every 24 hours. The twice-daily option will feed your fish once at the start of the 24 hour period and then 8 hours later. And if you select three feedings a day it will dispense the first serving at the beginning of the 24 hour period, and then the other two servings will be released every 6 hours after that.
The timer in this feeder is set as soon as you insert the batteries into this device. That means the first feeding cycle will occur every day at the same time you first inserted the batteries. For this reason, it is important to install the batteries into this device at the exact time you prefer to feed your fish. This unit uses two AA batteries that are not included, so be sure to take that into account when setting up this device.
This feeder drum has a capacity of 3.04 fl oz (90 ml) which will allow it to hold about 5 to 6 weeks of food. The drum also has a unique vibrating design to reduce clumping. And it has an airline input, so you can hook up an air pump in order to keep the food well ventilated and dry at all times.
---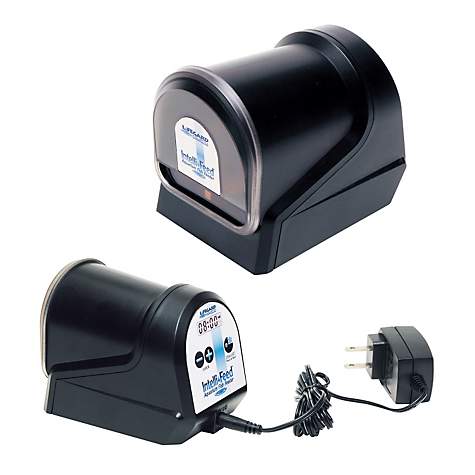 The Lifegard Aquatics IntelliFeed Automatic Fish Feeder (Buy Online) is one of the most reliable feeders you can buy. It has a superior moisture-proof design to keep your flake food dry. And it has more programming options available than most other feeders on the market.
This feeder is pre-programmed right out of the box to feed your fish twice a day at 8 am and 6 pm. Or if you prefer to set your own schedule you can program this feeder to feed your fish up to 12 times a day.
What really sets this feeder apart is the moisture-proof design. The way this system works is by retracting the feeder drum into the body of the unit in order to completely lock out moisture. This is achieved with a rubber O-Ring gasket that tightly seals the feeder drum when it is not in use.
The airtight design and rotating feeder drum will ensure that the flake food inside will never clump together and clog up the machine. And keeping moisture out of the feeder drum will reduce the risk of dangerous mold and bacteria from growing on any of the fish food.
You will also have two options when it comes time to power this device. This feeder can run on 4 AA batteries or off a 6-volt adapter. Having the option to use a 6 volt AC adapter is great if you plan on going away for a long time. Having a constant source of power will ensure your fish are always well fed and the feeder is always running on time.
---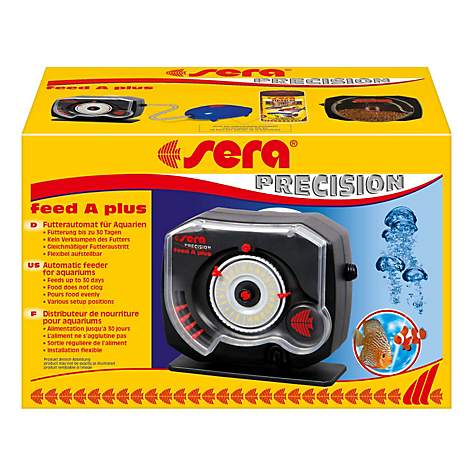 The Sera Feed A Plus Automatic Feeder (Buy Online) is a reliable feeder that will get the job done. This unit offers all the features you want with a simple to use design. There are no flashy digital displays or blinking lights anywhere to be found on this device. If you want a German engineered automatic fish feeder that runs like clockwork then this feeder is the one to buy.
This feeder can be programmed to feed your fish 1 to 12 times a day. The feeding time and quantity can be set simply by turning the timer to the desired setting. This mechanical timer is set by inserting the red pins into the slots with your desired feeding times.
The feeding drum of this device holds 2.7 fl oz (80 ml) which is large enough to hold four to five weeks of food. The drum automatically rotates and agitates the food when it dispenses it in order to prevent the food from sticking together and jamming the unit. And this automatic feeder has an airline connector, so you can keep the food drum well ventilated by simply hooking it up to an air pump.
Another nice benefit of this unit not having a bunch of bells an whistles is that it consumes a lot less power. All this feeder needs to operate is a single double A battery. And this battery will last for quite a long time since it doesn't have to power any digital electronics.
---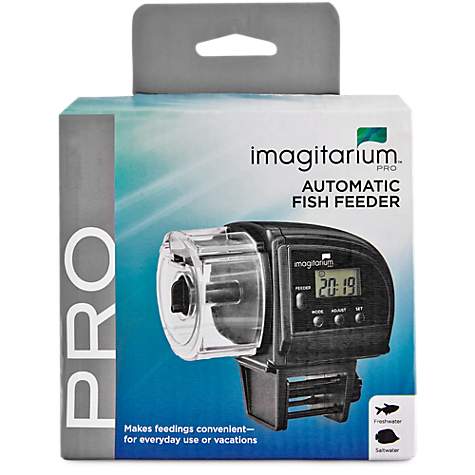 The Imagitarium Automatic Fish Feeder (Buy Online) has the features of a high-end feeder at an affordable price. You can program this feeder to dispense flake food or pellets one to four times a day at flexible intervals.
This feeder has an easy to read LCD display that makes it simple to setup and configure right out of the box. All you have to do is set the clock, and then program your desired feeding schedule using the large easy to press buttons located right on the side of the device.
When a feeding cycle occurs the feeder drum rotates around and a transparent door opens which lets a portion of the food fall out. Then when it rotates back around, the door automatically closes back up in order to keep moisture and any other debris out of the drum.
You can also manually feed your fish whenever you like by simply pressing the instant feed button. Which is great if you want to give your fish a little treat whenever you are around to perk them up. And finally this unit requires two AAA batteries that are not included, so you will have to take that into consideration if you purchase this device.