Training a kitten to use the litter box can be enough of a challenge, without having to worry about their safety in the process. And while training a kitten to use the litter box shouldn't be a problem, it can help put your mind at ease if you know the litter is safe for your kitten.
Best Litter for Training Kittens
| Image | Name | Type | Rating | Shop |
| --- | --- | --- | --- | --- |
| | So Phresh Odor-Lock Crystal Cat Litter | Silica Crystal | | |
| | So Phresh Odor Control Paper Pellet Cat Litter | Paper | | |
| | Purina Yesterday's News Softer Paper Pellet Unscented Cat Litter | Paper | | |
| | Dr. Elsey's Precious Cat Respiratory Relief Silica Cat Litter | Silica Crystal | | |
Why Kittens Need a Different Litter
Most cat litter available in stores today is the clumping variety, while this kind of cat litter makes clean up easier it can be potentially harmful to kittens. The way this cat litter forms clumps is the reason why this kind of litter can be dangerous for kittens.
Clumping cat litter contains sodium bentonite clay, which will form hard clumps when it comes in contact with any kind of moisture. While sodium bentonite clay itself is non toxic, there can be serious dangers associated with clumping cat litter.
In a worst case scenario if a cat consumes a large amount of clumping cat litter, it can block their small intestines, which can be life threatening if not properly treated. In less severe cases other symptoms may occur like stomach upset or nausea.
And while it's not very common for a kitten to eat the litter right out of the litter box. A kitten will most likely get litter on their paws, when they go into the litter box. If the kitten has litter on its paws, and begins grooming itself, they could lick the litter off their paws and ingest some of it.
Another concern is if a kitten spends a lot of time in the litter box playing and exploring. If a kitten is in the litter box for a long period of time, the risk of breathing the litter in and accidentally getting it in their mouth is increased.
Kitten Safe Litter
While clumping litters make up the majority of litters available today, you can find kitten safe alternatives that are just as effective. The main thing to look for is a non clumping litter, the best non clumping cat litters will have alternatives to sodium bentonite clay to absorb liquids. And if you really want to stay as natural as possible, for the health and safety of your kitten, there are litters that are additive free, dust free and bio-degradable.
Silica crystals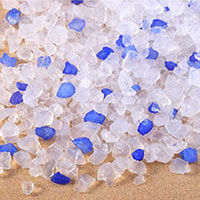 Litters that use silica crystals are the best alternative to bentonite clay based clumping litters. The way they work is by using moisture absorbent crystals in place of clay. These crystals will not form the same hard clumps that bentonite clay will. Instead the crystals will remain separate just like when they were dry.
Some crystal based cat litters may also have odor absorbing capabilities, making them attractive for kittens or even full grown cats. Crystal based litter will also produce less dust than clay based litters, and they are less likely to be tracked out of the litter box on your cats paws.
Paper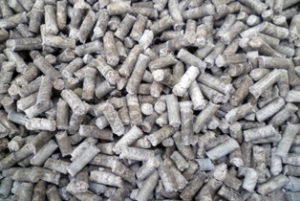 Paper based litter is a good natural alternative to most other litters. Paper based litter usually comes in a pelleted form. And the source of the paper is usually recycled paper products. While paper based litter is not as absorbent as silica crystals, or easy to pick up as regular clumping litter, it is very safe for a kitten to use.
The other benefits of a paper based litter is the lack of dust and its biodegradability. And since the paper is formed into rather large pellets, it won't be easy for a cat to ingest or track out of the litter box. And if you are ecologically conscious, paper based litter is one of the few types of litter that is fully bio-degradable.
Best Litter Brands for Kittens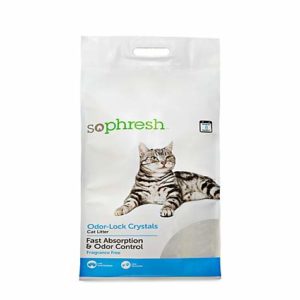 The So Phresh Odor-Lock Crystal Cat Litter is a high quality non clumping litter that will effectively lock moisture away. The So Phresh crystal based litter will also reduce any odors from the litter box with its odor trapping capability. Like most other silica crystal based litters this one will produce very little dust, and will last for up to thirty days without having to be changed.
Scooping this litter from the litter box can be easier for some people, because unlike clumping varieties crystal based litters can be removed in smaller scoops. That makes it perfect for the elderly or other people with physical limitations. If you are looking for the best litter for training kittens, that can beat or exceed all of the benefits of a clumping litter this one is a good choice.
PROS
Very
Reduces Odor
Easy to Scoop
Minimal Dust
---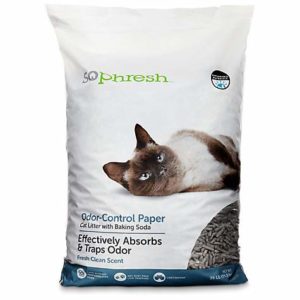 The So Phresh Odor Control Paper Pellet Cat Litter is a kitten safe paper based litter. This litter is completely biodegradable and is made with 95% recycled paper products. The paper pellets are infused with baking soda and zeolites, to help with odor control. The pellets are rather large so any accidental ingestion by a kitten is highly unlikely.
PROS
Biodegradable
No Dust
Large Size
CONS
Not as Absorbent as Silica Crystals
---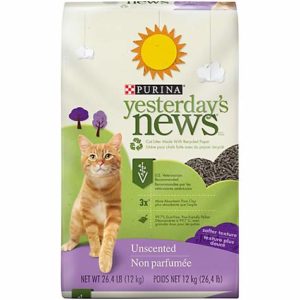 The Purina Yesterday's News Softer Paper Pellet Unscented Cat Litter is a paper base litter from the good folks at Purina. This paper based cat litter is made with up to 70% recycled newspaper and is completely biodegradable. This paper based litter doesn't have any odor absorbing chemicals or artificial scents added. While the lack of odor control might be a problem when it comes to controlling strong smells, this litter is about as natural as you can get. That makes it very kitten safe if you want to make sure there is nothing in the litter that can cause a problem for your cat.
PROS
Biodegradable
Natural
Large Size
No Dust
---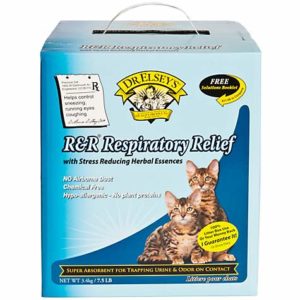 Dr. Elsey's Precious Cat Respiratory Relief Silica Cat Litter is another silica crystal based cat litter, that will work well when training a kitten. This litter like most other silica based litters will trap moisture effectively. But unlike some other silica based litters this one claims it is biodegradable. The litter is also hypoallergenic and it is dye and perfume free. And as the name respiratory relief suggests, it is a low dust litter that won't cause problems for people or cats.
PROS
Absorbent
Odor Control
Minimal Dust
Biodegradable