If you're an English Bulldog owner, then you know that it can be a challenge to find the perfect crate for your pup. They are so big and have such a wide body, but their legs are short which makes finding a good fit difficult. Below you'll find the best crates for an English Bulldog along with some tips on how to choose the right crate for your dog.
Best Crate for an English Bulldog
Best Crate for an English Bulldog
Pet Gear "The Other Door" 4 Door Steel Crate with Plush Bed + Travel Bag for Cats/Dogs 36-inch Tan
The Pet Gear "Other Door" (Buy Online) is a great crate choice for English Bulldogs because it has four doors including the large side door that opens up and out of the way like a garage door. This is perfect if you need to get a stubborn bulldog inside without them putting up a fight. It also makes cleaning easier since you can access all sides of this crate without having to take it apart.
Plus, the Other Door Crate has an innovative design that combines convenience with safety and security. You'll appreciate how easy it is to set up this sturdy crate with no tools required. And when it is not in use, simply fold it down for storage or transport and pack it away in the included carrying bag. It even has a handle on top and roller wheels so you can easily take it along when traveling in an RV or a car.
HCY Dog Crate, Dog Kennel 36 Inch Double Door Metal Crate
The HCY Dog Crate (Buy Online) is an excellent choice for crate training a bulldog because of its durability and portability. This metal dog kennel has two doors with dual latches that reduce the risk of escapes. It also folds down quickly for easy storage if needed. Plus, it features a slide-out plastic pan which makes cleaning up messes super simple.
This sturdy metal crate will last through years of travel, training, and playtime with your furry friend. The two doors make it easy for dogs to go in and out as they please while still being safely secured inside the crate. And the divider panel allows you to adjust the size of the kennel as needed so that multiple puppies can share one large space or so that one larger dog can use the whole cage. It's also perfect if you want to keep puppies separate from adult dogs until potty training is complete.
PawHut Folding Design Heavy Duty Metal Dog Cage Crate 37-inch
The PawHut Folding Design Heavy Duty Metal Dog Cage (Buy Online) was designed to make it easy and convenient to take care of your best friend. This is not just any ordinary dog crate. It features a large front door with 2 security locks that prevent dogs from opening doors and escaping. Plus, the wheels on this foldable cage make it easy to move around the house or even outside.
This heavy-duty metal crate is 37 inches long and 22.75 inches wide, providing more than enough room for your pup to stretch out comfortably while still being able to fit into smaller spaces if needed.
BestPet Large Dog Crate Dog Cage Dog Kennel Heavy Duty 42-inch
The BestPet Large Dog Crate (Buy Online) is designed specifically to keep dogs in one place so you don't have to worry about them causing any damage or getting hurt while you're away at work or running errands. This crate comes in three sizes 36 inches, 42 inches, and 48 inches, which means it will fit most breeds comfortably without taking up too much space in your home. Plus, this dog cage is incredibly sturdy so it won't wobble around or bend when your pet tries to escape like weaker wire crates.
MidWest iCrate Starter Kit 36-inch
The MidWest iCrate Starter Kit (Buy Online) is the perfect size for an adult English Bulldog with a weight of 41 – 70 pounds. It comes fully equipped with everything you need including two (1 quart) pet bowls designed to attach directly onto the dog crate along with a cover and a comfy crate pad.
Best Furniture Crate for English Bulldog
unipaws Furniture Style Dog Crate End Table with Cushion, Wooden Wire Pet Kennels – Espresso
The unipaws End Table Dog Crate (Buy Online) is the perfect way to keep dogs off your furniture while still looking stylish in any room of the house. This crate has two doors – one double door and one single door – so it's easy for both you and Fido to get inside. And when it's time for bedtime, simply open the large double doors and let your English Bulldog hop right into its new den without lifting him or her into it.
SIMPLY + Wooden Dog Crate Furniture – 38-inch, Light Brown
The Simply + Wooden Dog Crate Furniture (Buy Online) is a stylish crate that features an elegant design that blends seamlessly into any home decor and provides your pet with plenty of room for sleeping, playing, or relaxing.
This durable cage is strong enough to stand up to even the most rambunctious dogs. And the removable top cover makes it easy to clean after use while also providing additional ventilation when needed. Plus, you can choose between two different colors depending on your home décor.
unipaws Furniture Style Dog Crate End Table, Grey – 41-inch
The unipaws End Table (Buy Online) has been designed with an elegant grey finish that blends into any room decor, while also serving as the perfect place to keep your furry friend safe when you're away from home.
This end table is made of quality wood and wire to ensure many years of use, while also keeping your beloved companion safe and secure at all times. It even has added ventilation on both sides so they can see out while still remaining protected inside their cozy abode during nap time or playtime.
Plus, with its unique design, it will be impossible for anyone to know this isn't just another piece of furniture until they notice the two separate doors and an English Bulldog inside.
Best Soft Crate for an English Bulldog
EliteField 3-Door Folding Soft Dog Crate, Indoor & Outdoor Pet Home, Multiple Sizes and Colors Available (36″ L x 24″ W x 28″ H, Beige)
The EliteField Soft Dog Crate (Buy Online) folds flat for convenient storage or travel, and it's available in four sizes so you can find the perfect fit for any breed of dog
This versatile pet carrier has plenty of space inside, plus two mesh pockets on the side that are ideal for storing treats or toys. It comes fully assembled out of the box, so there's no hassle setting it up in your home – simply unfold it.
Then when you need to stow it away, just fold down all 4 sides using the quick-release buckles and carry it using the built-in handle.
LIOOPET 4 Door Quick Portable Folding Dog Crate Kennel 38-inch
LIOOPET 4 Door Quick Portable Folding Dog Crate Kennel (Buy Online) has just about everything you could want in a travel crate – mesh windows for plenty of air flow, padded leashes on both sides so that your pooch won't try to bold when you open the crate.
Plus, you can fold up the whole thing in seconds flat when it's not needed (it even fits into most car trunks), and LIOOPET even includes an extra bed mat with every one of their collapsible dog's crates.
Best Travel Crate for an English Bulldog
Petmate Ultra Vari Kennel 36-inch
The Petmate Ultra Vari Kennel (Buy Online) is one of the best travel crates for an English Bulldog because it offers superior ventilation and visibility. Plus, it's very durable since it's made from strong plastic held together with metal screws to help keep your pet safe during their travels.
This dog crate has everything you need in a kennel for your pooch. Not only does it offer 360-degree visibility with wire vents surrounding the crate, but there are also tie-down holes so you can secure your pup while driving or flying on an airplane. Plus, this kennel is easy to assemble with no tools required.
SportPet Designs Large Double Wire Door Plastic Kennel and Feeding Kit – 34-inch
The SportPet Designs Double Wire Door Plastic Kennel (Buy Online) makes traveling easy and enjoyable for you and your pet. It's the perfect size for an English Bulldog, sturdy enough to endure trips in cars, planes, and even trains; plus it meets all international airline requirements.
This double-door kennel has been designed with safety in mind. It features two secure slide-bolt latches that will keep your dog safely inside. There's also an included tie-down loop on each side which allows you to attach zip ties or other restraints for added security.
The SportPet Designs Large Double Wire Door Plastic Kennel is spacious enough to allow plenty of room for pets up to 90 pounds so they can stretch out comfortably during travel. Plus this crate comes with 2 dishes so food and water remain close at hand when you are traveling.
English Bulldog Crate Size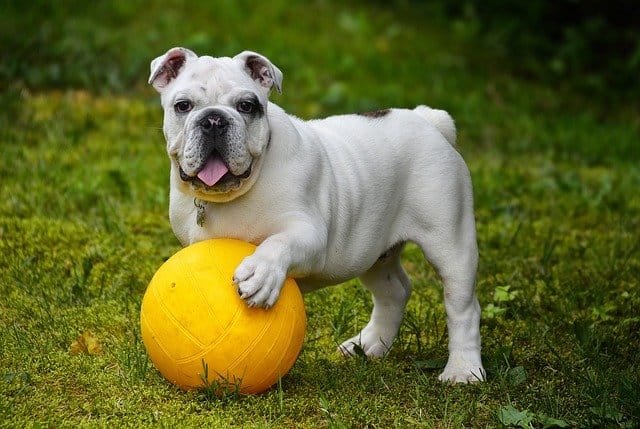 When selecting a crate for an English Bulldog it should be 2 to 4 inches longer than their overall length. An English Bulldog will need at least a 24 to 30-inch cage since the average English Bulldog has a body length of 20 to 27-inches (51 to 69 cm).
English Bulldog Size & Proportions
English Bulldog s generally measure 15" to 19" (38 to 48 cm) at the withers, and they typically weigh between 40 to 55 pounds (18 to 25 kg).
How To Choose a Dog Crate for an English Bulldog
Choosing a dog crate that is appropriate for your English Bulldog can be difficult, but there are a few things you need to consider before buying one.
One important factor is the size of the crate. You want it to be big enough so they have room to turn around and stand up, but not too big where the crate becomes unwieldy.
The next thing you should think about is how easy it will be for them to get in and out quickly since some dogs don't like being confined.
And lastly- will it be able to stand up to a large English Bulldog if they try to escape.
Measure your dog
Measure the area where you plan to use the crate
Pick a crate based on your needs (Training, Travel, etc)
Find a crate that is extra wide and long for an English Bulldog
Get a crate with wheels if you plan on moving the crate frequently
Choose an extra durable dog crate if your dog is destructive and prone to trying to escape