So, you're looking for the best dog carrier for a Dachshund, then you probably know how challenging it can be to narrow down your options. That's why we have put together this list of dog carriers that will work well in any situation.
Whether you need a pet carrier for air travel, or you just need one for taking your Dachshund on a short road trip. You are sure to find a dachshund carrier that will work well for both you and your dog in the following article.
If you just want to know our top picks we recommend the Pet Peppy Expandable Pet Carrier (Buy Online) as the best soft carrier for a dachshund, or the 2PET Foldable Dog Crate (Buy Online) if you want one with a steel frame.
Best Dog Carrier for a Dachshund
Best Dog Carrier for a Dachshund Reviews

The 2PET Foldable Dog Crate (Buy Online) comes in a wide range of sizes and colors, so you can be sure that both you and your Dachshund will be happy with their new crate. If you have a standard Dachshund then the Medium 24-Inch crate will be a perfect fit. While smaller miniature Dachshunds will do just fine in the Small 20-Inch crate.
This crate also comes in 4 color options such as Rawhide Red, Grizzle Grey, Bonny Blue, and Biscuit Beige. Having a choice of colors is nice since most carriers either come in Beige or Grey. Picking from a few extra color options will also make it easier to find one that blends in around your house, or if you want you can even get one that matches your car's upholstery.
Like most other foldable crates this one is made of 600 Denier nylon with a durable steel frame. The nylon fabric is also fully machine washable, so if your dog has an accident, or if they make a mess cleaning up should be very easy. Each wall of this crate also has a mesh ventilation panel, so your dog will always have a nice cross breeze.
The 2PET Foldable Dog Crate also has improved the design of their zippers, so it is harder for a dog to escape. In most other soft dog crates the zipper can be opened from the inside if you have a dedicated dog who wants to escape. This crate shields the zipper on the inside, so it is almost impossible for your dog to manipulate the zipper in order to break free.
The Pet Peppy Expandable Pet Carrier (Buy Online) might just be the most versatile and unique dog carrier for a Dachshund. This carrier not only expands on both sides, but it also comes with an optional tunnel expansion. The carrier itself measures 18" L x 11" W x 12" H when it is not fully expanded. The side panels alone add another 6 to 12 inches to the width of the carrier, while the tunnel is 16" inches when fully extended.
This carrier is also perfect if you are looking for an airline approved pet carrier for a dachshund. It is just the perfect height and width to fit under the seat of a plane. Then once you are in the air you can extend one of the side panels to give your dog a little extra space.
Moreover, if you plan on taking this carrier in a car or SUV you can extend both of the side panels and connect the extension tube to give your Dachshund lots of room to roam free. The extendable side panels also have a mesh canopy, so you will easily be able to check in on your dog and make sure everything is OK.
Even if you don't plan on traveling with this carrier it can still be a fun place for your Dachshund to get some sleep and play around. The also will love the expandable tunnel since it mimics the underground Badger tunnels that Dachshunds were bred to infiltrate.
The Petnation Port-A-Crate (Buy Online) is a very spacious and lightweight dachshund carrier that comes in a wide range of different size options. If you have a miniature Dachshund then the 20-Inch model will offer more than enough space. A standard Dachshund, on the other hand, will probably do better in the 24-Inch model.
This crate is extremely lightweight and portable due to the fact that it is made of durable fabric with a collapsible steel frame. The fabric walls are made of water resistant nylon, with mesh windows on every side in order to provide ample ventilation. There is also a drop-down privacy screen on the front door, so you can darken the interior a bit so your dog can get some sleep.
The Petnation Port-A-Crate also comes with a carrying strap that will make it easy to carry and load into a car or SUV. In addition, thanks to the soft rounded edges you can also load this crate into the back of your car without having to worry about tearing the upholstery. All in all this carrier/crate is a good option if you need a high-quality dachshund travel carrier for your next vacation, or for your pets next play date.
The Aspen Pet Porter Heavy-Duty Pet Carrier (Buy Online) is a great carrier if you need a sturdy carrier for your car or a plane. This carrier measures 24.1" L x 16.7" W x 14.5" H, and it can hold dogs that weight 15 to 20 pounds.
This crate meets most airline travel requirements, so it can be checked into the cargo hold of a plane. As always check with your airline first to make sure, but this carrier meets all of the IATA standards, so it should be fine to bring on most planes.
This carrier is also good for small dogs that can't be kept in a soft carrier. If you have a dog that you know will dig right through a fabric carrier, then this carrier is what you need. The durable plastic walls will stand up to anything your dog can dish out, and they are also very easy to clean.
The Aspen Pet Porter Heavy-Duty Pet Carrier has excellent ventilation on both the top and the sides of this crate. It also has a secure latching door and tie-down straps for added safety. You can also get this carrier in a number of color and size options, so we're sure you will find one that meets your needs.
The Natuvalle 6-in-1 Pet Carrier Backpack (Buy Online) is a unique dachshund backpack carrier that can also be used in a car or a plane. This carrier/backpack comes in a few different sizes. The medium is for 15 to 17 inch long dogs, so it will be just the right size for a miniature Dachshund. The large is made for 17 to 19 inch long dogs, which should be just large enough for most standard size Dachshunds.
What really sets this carrier apart is that it can be used as a backpack or a shoulder bag. The large shoulder straps will make it easy for you to comfortably carry your dog around on your back. That means you can take your Dachshund with you anywhere, without having to struggle to hold onto a strap with one hand like you would have to with most other carriers.
This carrier is also airline approved for use as an under-seat carrier, so you can bring it with you on a plane. You can also easily load this carrier into a car or SUV on the front or back seat. The seat belt loops will also allow you to secure the carrier, so your dog will remain safely in place.
There is also a leash inside this carrier, so you can make sure your dog doesn't easily escape. There are also reflective safety strips and a photo ID panel incorporated into the design, so you can rest assured that both you and your dog will be safe whether you are walking around, or if you are loading them onto a plane.
The Paws & Pals Airline Approved Pet Carrier (Buy Online) is an excellent choice if you need a soft carrier that you can bring onto a plane. This airline approved premium pet carrier for Dachshunds measures 19-Inches x 10-Inches x 13-Inches, and it can hold up to 15 pounds.
This carrier is compliant with most airline policies, but you should always call ahead before you take it on a plane. The soft flexible walls make it easy to fit this carrier under the seat of most planes. It also has an"Unwind and Bind" feature that will reduce the risk of escape if you have to open the carrier while on a plane.
The Paws & Pals Airline Approved Pet Carrier is also very easy to carry since it only weighs 2 pounds when it is empty. You also get a comfortable fleece pad included with this carrier, along with ample storage compartment space to carry your pets treats and any other accessories.
The FurryFido Reversible Pet Sling (Buy Online) is a great pet carrier if you want to bring your Dachshund with you every where you go. This dachshund sling carrier will hold dogs up to 13 pounds, and it is long enough to fit most Dachshund breeds.
If your looking for a dachshund front carrier that has some style then this is the best sling. Most other slings on the market look far less attractive, and they tend to come in colors that just don't look that great.
This sling also has a nice size shoulder strap, so it will evenly distribute your dog's weight without looking too large and out of place. You can also machine wash this sling when it starts to get a little funky. It also has a safety collar hook, so you can make sure your Dachshund doesn't try to jump out and escape.
Find Out More: Best Gifts for Dachshund Lovers
Types of Dog Carriers for Dachshunds
Hard-Sided Dachshund Pet Carriers
Hard-Sided carriers are one of the most common types of dog carriers that you can buy. These dog carriers have strong plastic walls that will help keep your pet safe while they're inside. Hard-Sided carriers also make great pet travel carriers since they usually meet the requirements of most airlines.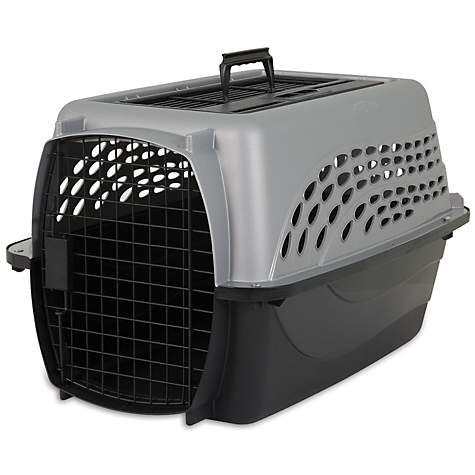 One of our favorite hard-sided dog carriers for a dachshund is the Petmate Two Door Dog Carrier (Buy Online). This crate is a little longer than most other dog carriers, which makes it a perfect fit for a longer dog like a dachshund.
This dog carrier also makes it easier to place your dog inside since it has a front door as well as a top door.
Soft-sided Dachshund Travel Carriers
Soft-sided dog carriers are a great choice if you're looking for a dog carrier that's lightweight and easy to carry. They also tend to provide more comfort for your dog since they conform to your dogs body when they're inside. In addition, soft-sided carriers are much easier to store when not in use since you can easily fold them down.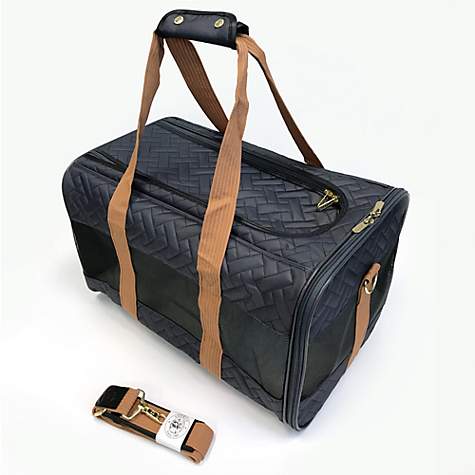 The Sherpa Deluxe Dog Carrier (Buy Online) is one of the most popular premium pet carrier products on the market. It has plenty of room for a dachshund, and it has a mesh window that provides plenty of ventilation, and the mesh window will also let your dog see whats going on outside.
The Sherpa Deluxe dog carrier also has some nice features for the pet owner like exterior pockets for carrying dog treats and supplies. It also comes with a padded shoulder strap that makes it more comfortable to carry your dachshund around.
Dog Backpack for a Dachshund
A carrier backpack is an excellent option if you want to carry your dachshund on your back while you walk around. A dog backpack will also provide more comfort for both you and your dog since the shoulder straps help distribute your dogs weight evenly.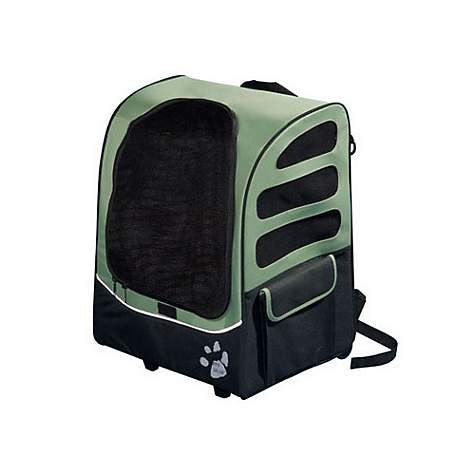 The Pet Gear I-GO2 Carrier Backpack (Buy Online) is one of the best dog backpacks for dachshunds. This backpack has plenty of room for a long dog, and it's built to last since it's made from high-quality materials that can handle the added weight of a dog which can help extend its life.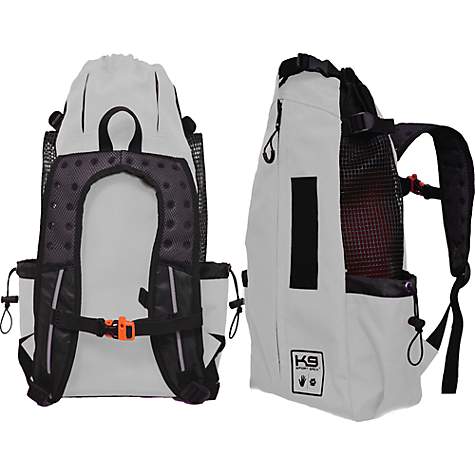 The K9 Sport Sack (Buy Online) is high-quality backpack carrier for a dachshund that's made for people that lead an active life. This backpack is very lightweight and comfortable to carry. It even has a cushioned back panel that provides added support for your back and some added comfort for your dog.
A backpack carrier is great if you're the type of person who loves to take long hikes or walks with your dog. You can also use it to pack some water and treats for your dachshund, and if their little legs get tired you can put them in the backpack to let them rest and cool down.
Dog Shoulder Sling for a Dachshund
Shoulder carriers (Buy Online) are great for carrying small dogs. You can even use a shoulder sling to carry your dachshund with you when you're out walking around town. A shoulder carrier is also perfect for anxious dogs that love to be close to their owner at all times.
6 – Dog Crates for Dachshunds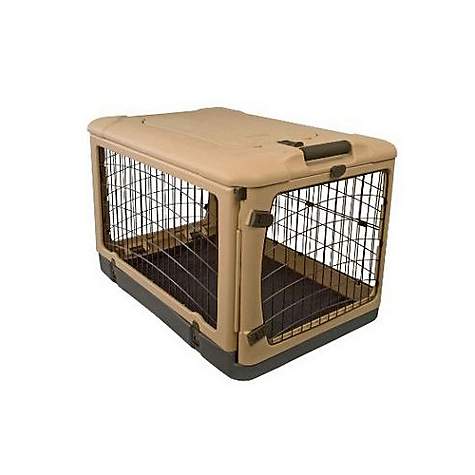 It's a good idea to have sturdy Dog Crate (Buy Online) if you just got a new dachshund puppy. They also make it much easier to train your puppy before they learn how to do their business outside.
A crate with strong framed will also make a good pet travel carrier for a car since they are very sturdy, and they are better for their health since they offer better ventilation and visibility than a hard-sided plastic carrier.
How to Measure a Dachshund for a Dog Carrier
It's always a good idea to measure your dog before you decide which dog carrier you want to buy. If a carrier is too small, your dog won't be able to turn around. If their carrier is too large they can slide around and hurt themselves when you're carrying them around.
Make sure you measure your dachshund when they are standing with their head upright. You should always measure your dogs height from the top of their head all the way to the ground. Then you can measure their length from the tip of their nose to the base of their tail.
You also want to make sure to weigh your dachshund since most dog carriers usually have a weight limit usually in pounds ( lbs ) that you can read on the product listing. A Dachshund usually won't exceed the weight limit for most dog carriers, but if your dachshund is overweight you should weigh them first just to make sure the carrier can safely accommodate your dog.
Dachshund Size
When selecting a carrier for a Dachshund you might want to know the length of most common Dachshund breeds. This will allow you to select the right size carrier for your dog, so you can be sure that your dog is comfortable and safe.
Standard Dachshund Measurements

The average standard Dachshunds height is anywhere from 8 to 9 inches. The AKC standard says that they should be between 13.8 and 16 inches long.
Miniature Dachshund Measurements

The average miniature Dachshunds height is anywhere from 5 to 6 inches. The AKC standard says that they should be between 8.5 and 11 inches long.
How to Pick a Dog Carrier for a Dachshund
Size
Make sure when you pick a dog carrier for a Dachshund that you get one that is big enough for them to move around freely. If your Dachshund can't easily turn around in their carrier it can be very uncomfortable and unsafe.
Be sure your carrier is at least two inches taller than your dog, as measured from the top of their head. The length of the crate should also be 4 inches longer than their full length.
Material
In most cases, you will either have the option of getting a carrier that is made of soft or hard material. Soft carriers are great since they are lightweight, and they usually collapse down to save a lot of space. The only downside to soft carriers is that they are not as durable, so if you have an aggressive digger they can tear their way out of the crate.
Hard carriers, on the other hand, are very durable, so they can stand up to almost any abuse. They are also very easy to clean out since they are usually made of plastic, so you can hose them out if they get soiled in any way. The only downside to hard shell carriers is that they tend to weigh more, and they are not as easy to store.