There are many different types of Nerite Snails that make a great addition to a freshwater aquarium including: Horned Nerite Snail, Tiger Nerite Snail, Zebra Nerite Snail, Olive Nerite Snail, Red Racer Nerite Snail, Black Racer Nerite Snail, Gold Racer Nerite Snail, and Midnight Black Nerite Snails.
Nerite Snails for Sale
Nerite Snails
Nerite snails (Buy Online) are part of the Neritidae family, which is a large group of snails that is made up of over 200 species. They usually live in brackish water near seashores and tidal estuaries, but there are a few species that live exclusively in saltwater or freshwater.
The nerite snail you find in most freshwater aquariums comes from Eastern Africa where they live in brackish water. This species usually lives for 1 to 2 years, and they can grow to a size of 1-inch under optimal conditions.
Nerite snails are capable of living exclusively in freshwater, so you won't need to add any salt to your water. That makes the nerite snail a perfect addition to your clean up crew for both fresh and brackish water aquariums.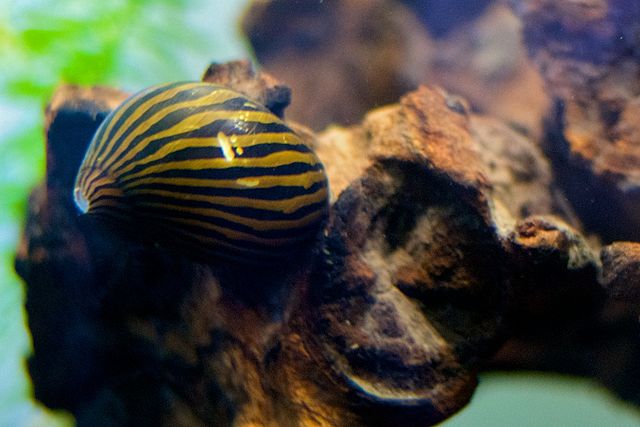 One of the best parts about keeping nerite snails is that they can't breed in freshwater, which means they won't overpopulate your tank and cause a snail infestation problem. However, they still lay nerite snail eggs in freshwater, but the eggs won't be able to hatch if there isn't a high enough concentration of salt in the water.
Nerite snails are also good algae eaters, and they will feed on uneaten food and detritus that builds up in your aquarium. You can also feed them foods that are specially made for nerite snails if your tank is relatively algae free. Nerite snails will also need enough calcium in their diet to help them grow their shells, and their shells can be susceptible to erosion in soft acidic water.
Types of Nerite Snails
The Horned Nerite Snail (Buy Online) is one of the most ornate nerite snails that you can add to a freshwater aquarium. They usually have a black and yellow shell with "horns" protruding out from the edge of their spiral.
You can find horned nerite snails for sale in most pet stores if your lucky, but they usually sell out fast due to their popularity. However, you can buy them online and have them shipped for free if you can't find them in your area.
Olive Nerite Snails (Buy Online) are one of the most common nerite snails for sale. They have a smooth olive green shell that closely resembles the look of their wild relatives. They also make a great addition to a planted tank if you're looking for a snail that will blend in with a verdant aquascape since they have a more muted natural color.
Zebra Nerite Snails (Buy Online) have a banded shell that has a dark golden brown color. Their shell is smooth and their zebra pattern stands out against most aquarium backdrops. They are also one of the more common nerite snails, so they tend to be one of the more affordable nerite snails for sale in most pet shops.
A Tiger Nerite Snail (Buy Online) has a light brown shell with red bands with a smooth texture. Tiger Nerite Snails also have small black spots on their shell that form patterns that are reminiscent of tiger stripes or leopard spots.
The Red Racer Nerite Snails (Buy Online) is a rare nerite snail that comes in a wide variety of vibrant red and yellow colors with a varied shell texture. These snails have been bred to either be predominantly red and dark orange or yellow and red with dark zebra-like patterns.
The Gold Racer Nerite Snails (Buy Online) is one of the most beautiful types of nerite snails. They have a bright orange shell with jagged dark zebra stripes in a wide variety of patterns. They are also very rare and you won't find them in most pet stores, but they are readily available online if you're looking for a unique nerite snail to add to your aquarium.
A Midnight Black Nerite Snail (Buy Online) has a dark shell that makes them perfect for aquariums with dark substrates. Their shells generally range in color from black to dark brown, and sometimes they can exhibit small flecks of dark gold, grey or orange.
How Many Nerite Snails Per Gallon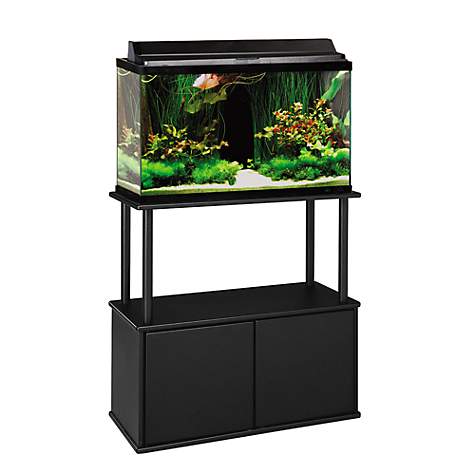 In most cases, it's a good idea to get 1 nerite snail for every 10 gallons of water in your aquarium. If you have a planted tank you can add 2 to 3 nerite snails for every 10 gallons of water since they'll have more access to uneaten food, detritus, and algae.
If you want to keep even more nerite snails in a fish tank you'll need to supply them with a supplemental food source. Nerite snails will gladly eat zucchini and greens like romaine lettuce. But they will grow faster if you feed them a specially formulated snail diet. The snail foods in the following sections our some of our favorites.
Food For Nerite Snails
Invert Aquatics Micro Mix (Buy Online) is a nutrient-rich mix of algae wafers and Nutri-Spheres for Snails and other bottom-feeding invertebrates. These sinking pellets are made with a formula that has all the vitamins and minerals a nerite snail needs to thrive in any aquarium.
They also can be fed to Plecos, Cories, Shrimp, and a wide range of other vegetarian bottom dwellers.
Super Freshwater Snail Mix (Buy Online) is a fortified food that's specially formulated to meet a snail's nutritional requirements. This snail food contains a mix of mini veggie sticks, krill bits, and snail sticks that have all been fortified with extra calcium. The extra calcium will ensure that your nerite snail grows a strong shell, and the protein-rich krill sticks will keep them healthy and active.
Weco Wonder Shell Natural Minerals (Buy Online) are an easy way to add more calcium to your snail's diet. These "Wonder Shells" also remove chlorine from the water, and they will help clear up cloudy water. If you're looking for the best calcium supplement for snails then you should try adding a Weco Wonder Shell Natural Minerals to your aquarium.