On this page, you'll find a complete selection of the Best Pet Ramps for RVs
Traveling the country in your RV is a great adventure, and it can be even more enjoyable when you get to bring along your best friend for the ride. The fun you can have when your dog can make any place feel like home.

And while your dog might be eager to come along for the ride, but for some dogs it's not so easy for them to jump into and out of a large vehicle.
RVs can be especially daunting for small dogs since the step into the RV can be higher than they can manage. And for dogs that are getting a little older, they might need a little more help to ease the stress on those old bones.
That's why a pet ramp is a must have item for any RVer that's also a dog owner.
Pet Ramps for RVs
Selecting a Pet Ramp
That's where picking the appropriate pet ramp for your RV comes in. There is a wide variety of options to choose from when selecting a pet ramp for your RV or camper.
Pet Ramps can be found with shallow or steep slopes depending on the needs of your dog. Some dogs especially older dogs will need a shallow slope to effectively walk up a ramp, where as other dogs will be fine with a steeper slope.
Another couple points to consider when selecting a ramp are how easy is it to deploy, and how easy is it to store. Remember to select a pet ramp that is compact enough to store in the limited space of an RV.
Also pick a ramp that can be easily handled and put into place by every member of the family. Keeping these things in mind will make using and owning dog ramp for motorhome a more practical and enjoyable experience in the long run.
Related: Best Dog Crate for RVs
Dog Ramp for RV Reviews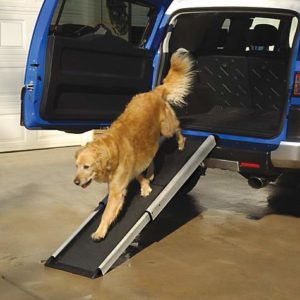 The Solvit Smart Ramp is a very sturdy telescoping pet ramp which can be extended from 42 inches all the way to 70 inches. The ramp is 17.5 inches wide with highly visible side rails to keep your dog safely on the walking path. The no slip path and no flex design will allow your dog to feel confident walking up and down this ramp.
The ramp is rated to hold up to 300 pounds, but the ramp itself only weighs 14 pounds. The light weight construction, and the built in handle make moving the ramp into place simple for almost anyone. The Solvit Smart Ramp is perfect for storing in a RV when fully collapsed, since it will easily slide into small storage spaces with ease.
---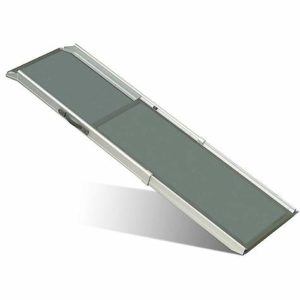 The extra large Solvit Deluxe Telescoping Pet Ramp is specifically designed for loading large breed dog's into cars and RVs. This extra wide dog ramp is 22 inches wide which is 45% larger than the regular Solvit telescoping version. That makes this ramp much safer and easier to walk up for very large or older dogs. Solvit ramps are extremely strong, and this one is rated to hold up to 300 pounds..
The telescoping design allows this ramp to extend from 47 inches, all the way up to 87 inches, making it the most adjustable slope of any ramp. And when fully collapsed this extra long dog ramp is almost as compact as the regular version, which makes it convenient to store when not in use.
The ramp is very easy to setup and move around. Even though this is a extra large ramp, it weighs only 18 pounds. Along with its light weight the ramp has a built in handle, which makes moving the ramp into place when you get to your destination much easier.
---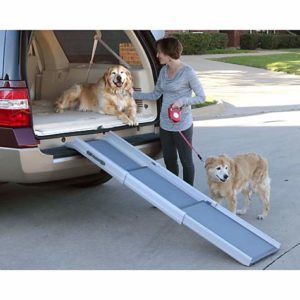 The Solvit Deluxe Triscope Ramp is the ultimate in strength and portability. The Tri-Scope design allows this ramp to collapse down to 28 inches when fully closed, making it 30% shorter than the regular model. Like all the Solvit Telescoping ramps this one is rated to hold up to 300 pounds. And the ramp has a slip free walking surface that is 16.5 inches wide.
Even though this ramp has an extra telescoping segment it weighs only 14 pounds, which is exactly the same amount as the regular version. The Tri-scope ramp has all the same features as the regular model, including the handle which makes setting up and storing this ramp a easy task.
Where the Tri-Scope ramp really shines is its compactness and portability . Coming in at 28 inches long, 16.5 inches wide and 5.75 inches high. Making it one of the most compact ramps available. This alone makes it one of the best pet ramps for RVs with limited storage space.
---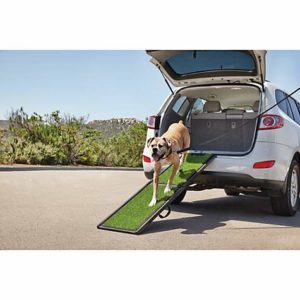 The Good2Go Portable Pet Ramp is a nicely designed very affordable pet ramp. One of the more unique features of this ramp is the artificial grass walking surface. In some cases the artificial grass walking surface can feel more natural. And it can provide better grip for your dog when climbing into and out of your RV. So if you have tried other pet ramps, or you know your dog would be a little uneasy on other types of surfaces, this is one of the few ramps that comes with this design.
As for the other features, this ramp is 72 inches when fully extended and has a width of 17 inches. The ramp is rated to hold up to 200 pounds, and the ramp itself weighs only 17 pounds. When not in use the ramp folds in half. And the Good2Go ramp has conveniently placed carrying handles, which makes it easy to move in and out of an RV. While it is not the smallest or the lightest, this ramp will meet the needs of even the most ramp shy dogs out there.
---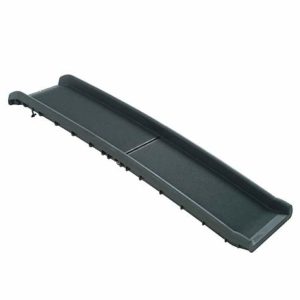 The Solvit UltraLite Pet Ramp lives up to it's name, weighing only 10 pounds it is one of the easier ramps to pick up and move around. Besides the light weight design this ramp can be folded in half for easy storage. When the ramp is in the folded position a safety latch keeps the ramp closed, so it will never swing open when you are moving it into position.
At sixty two inches when fully extended the ramp will provide easy access to all kinds of vehicles and RVs. With a rated capacity of 150-200 pounds, this ramp is perfect for all but the largest dogs. The no slip surface makes climbing in and out of the RV easy, while the four rubber feet keep the ramp firmly in place when in use.
---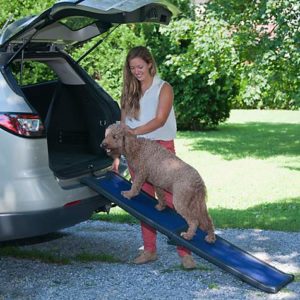 The Pet Gear Bi-Fold ramp is another ramp with a folding design. While not as light as the Solvit Bi-Fold ramp, this ramps still weighs in at 12 pounds making it very easy to carry. When folded this ramp dimensions are 34"L x 13" W x 9" H which makes it nice and compact for storage in a RV. When fully unfolded this ramp will extend to 66 inches which is slightly longer than the Solvit Bi-Fold ramp, which might come in handy in some situations. The walking path width is 13 inches, and the ramp is rated to carry 150 pounds.