Can I brush my cat's teeth with human toothpaste? No, human toothpaste is not safe for a cat to ingest. This is because human toothpaste contains toxic ingredients that can cause a wide range of health problems and cause harm to a cat's intestinal tract.
Continue reading this article to learn more about cat toothpaste, and why you shouldn't use human toothpaste to brush a cats teeth
If your cat consumed human toothpaste and they are showing signs of distress you should contact the Pet Poison HelpLine, or take them to the veterinarian.
If you want to know the best cat toothpaste we recommend Virbac CET Cat Toothpaste (Buy Online)
Can I Brush My Cat's Teeth with Human Toothpaste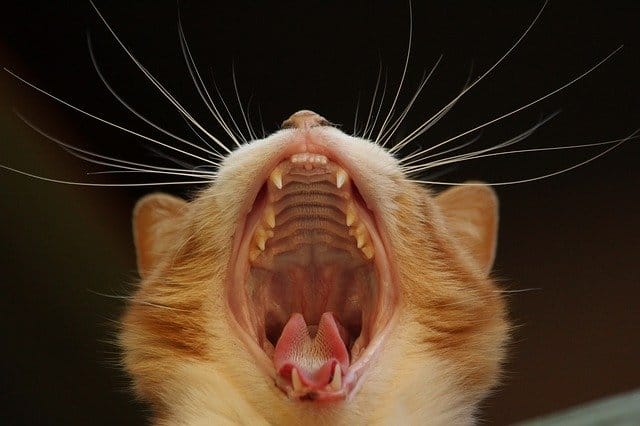 Human toothpaste contains chemicals like fluoride that can be toxic if swallowed in large amounts. The label on most human toothpaste even has warnings that say it isn't safe for humans to swallow due to the fluoride content.
That makes human toothpaste even worse for cats since they aren't able to rinse their mouth and spit out the toothpaste as a human can. Cats are also much smaller than humans, so they can easily consume a toxic amount of fluoride even if you only use a small amount of toothpaste to brush their teeth.
Human toothpaste also isn't as effective at removing tartar from a cat's teeth. Specially formulated cat toothpaste contains enzymes that help dissolve tartar and loosen plaque. Using cat toothpaste makes it much easier to clean your cat's teeth, which can make routine cat dental care less stressful for both you and your cat.
Fluoride Toxicity in Cats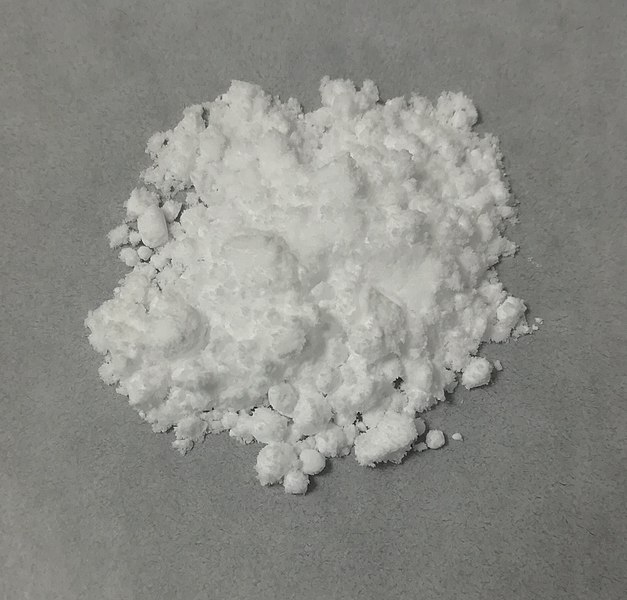 Human toothpaste contains fluoride, which is a toxic chemical that isn't safe for cats to ingest. The fatal dose of sodium fluoride is about 5–10 mg/kg, but signs of fluoride toxicity can arise at a dose as low as 1 mg/kg.
Fluoride poisoning can cause a rapid reduction in the amount of calcium and magnesium in a cat's bloodstream. This can lead to tachycardia and convulsions followed by cardiac depression and death.
Even "mild" fluoride poisoning can lead to a cat experiencing severe gastrointestinal distress, excess salivation, restlessness, anorexia, and muscle weakness.
Is Xylitol Toxic to Cats?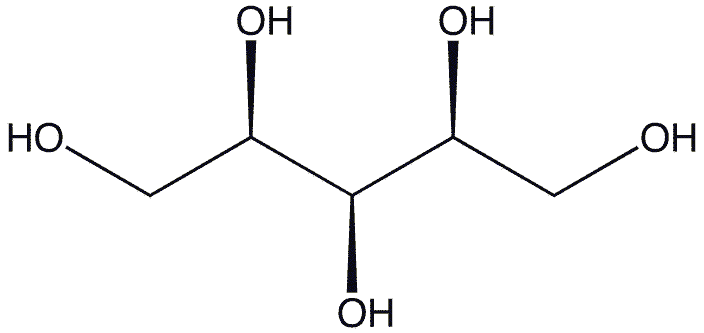 It was once assumed that the xylitol in some brands of human toothpaste was toxic to cats since it can cause severe hypoglycemia in dogs. However, a recent study published in the Journal of Veterinary Pharmacology and Therapeutics, has found that xylitol isn't toxic to cats.
It's still a good idea to avoid using a toothpaste that contains xylitol on your cat's teeth since it can cause mild intestinal issues when swallowed.
Xylitol can lead to an imbalance of bad bacteria and fungus in a cat's intestines as the unmetabolized portions of the artificial sugar molecule start to ferment. It's also known to contribute to acid reflux and digestion problems in some cats.
Cat Toothpaste
Virbac CET Toothpaste (Buy Online) is a specially formulated pet toothpaste that will prevent plaque formation, and it will help support a cat's dental health. This toothpaste contains no foaming agents, and it's 100% safe for a cat to swallow. It even comes in three tasty flavors that your cat will love like Poultry, Malt, and Vanilla Mint.
Virbac CET Toothpaste is one of the most effective enzymatic cat toothpaste brands on the market. The cat safe enzymes in this toothpaste help loosen tartar on your cat's teeth and at the gum line. Removing tarter before it hardens can keep it from turning into plaque, and it will help keep your cat's breath smelling fresh.
Petrodex Dental Kit for Cats (Buy Online) is a cat-safe toothpaste kit that comes with a cat toothbrush at an affordable price. This toothpaste uses both hydrogen peroxide and a special blend of enzymes to breakdown tartar and reduces plaque.
Fluoride Free Human Toothpaste
Toms of Maine Toothpaste (Buy Online) is a fluoride-free human toothpaste that doesn't contain any artificial ingredients. If you don't have any cat toothpaste then Tom's will do in a pinch, but it's still better to use cat toothpaste since it works better at removing tartar and freshening a cats breath.
Cat Toothbrush
H&H Pets Dual Headed Cat Toothbrush (Buy Online) is professionally designed to make it easier to brush a cats teeth. This cat toothbrush has soft bristles that are far gentler on a cat's gums than a regular human toothbrush. The head of the toothbrush is also smaller, so it will easily fit into the mouth of a kitten or an adult cat.
How To Keep Cats Teeth Clean Without Brushing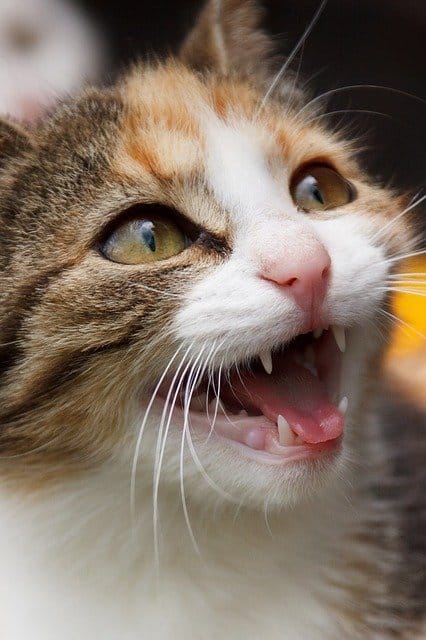 If you want to know how to keep cats teeth clean without brushing then you're in luck since there are several alternatives to brushing a cat's teeth. You can use these cat teeth cleaning products to help maintain your cat's oral health between regular cleanings.
There are water additives that you can pour into your cat water bowl to limit tartar build-up. You can also get special cat food that will help clean a cat's teeth as they eat. There are also treats that you can give to your cat that will help scrape the tarter off their teeth.
There are even teeth cleaning cat toys that will keep your cat's teeth clean while entertaining your cat at the same time. And cat teeth cleaning toys are also great for overweight cats since they are a calorie-free way to clean a cat's teeth.
Cat Teeth Cleaning Products
Dental Fresh Water Additive for Pets (Buy Online) will help control plaque, tartar, and bad breath. It works by killing the bacteria that are the leading cause of tartar and bad breath. It also helps loosen plaque when used daily, and it will even help restore tooth enamel and whiten a cat's teeth.
VETRISCIENCE Perio Support, Dental Health Powder (Buy Online) is made to help keep a cat's breath fresh between regular dental cleanings. Perio Support can help reduce plaque and tartar formation in just 28 days. It works using natural zeolites that help prevent plaque formation, and it contains probiotics that eliminate the sulfurous bacteria that cause bad breath.
Best Cat Food for Dental Health
Hill's Science Diet Oral Care Cat Food (Buy Online) will limit harmful plaque and tartar buildup on a cat's teeth. This is one of the best cat foods for dental health since it has been clinically proven to support a cat's oral health.
Hill's Science Diet Oral Care Cat Food has been formulated with a unique interlocking natural fiber technology that helps remove tartar and plaque from a cat's teeth. It does this by gently scouring tartar from your cat's teeth every time they bite into a piece of kibble.
This food also contains all the same high-quality ingredients you'd expect from a cat food made by Hill's Science Diet. So you can be sure your cat is getting all the nutrition they need along with the added benefit of having cleaner teeth.
FELINE GREENIES Natural Dental Care Cat Treats (Buy Online) are the number one veterinarian-recommended cat dental treat. These treats have a unique shape and texture that help remove stuck-on tartar and plaque from the surface of a cat's teeth. They are also packed with vitamins and minerals, and they have been fortified with the essential amino acid taurine that all cats need to be healthy.
Cat Teeth Cleaning Toys
The Lobster Cat Teeth Cleaning Toy (Buy Online) helps take the work out of cleaning your cat's teeth. This rubber toy can be filled with catnip, treats, or a nutrient paste. This soft silicone cat toy has bristles like a finger toothbrush that will gently scrape away any stuck-on tartar off your cat's teeth. It's also very flexible so it can get to those hard to reach places in between a cat's teeth.
Potaroma Catnip Ball with Suction Cup Dental Cat Toy (Buy Online) makes it fun for your cat to clean their teeth. The cat dental treat in this toy also contains catnip to make it irresistible to most cats.
The Potaroma Catnip Ball with Suction Cup Dental Cat Toy can be anchored using the suction cup in its base, which will let a cat put some force into cleaning their teeth. And best of all when they are done with the treat it can be easily replaced with a new dental cleaning treat.
Cat Dental Care
How Often to Brush Cat Teeth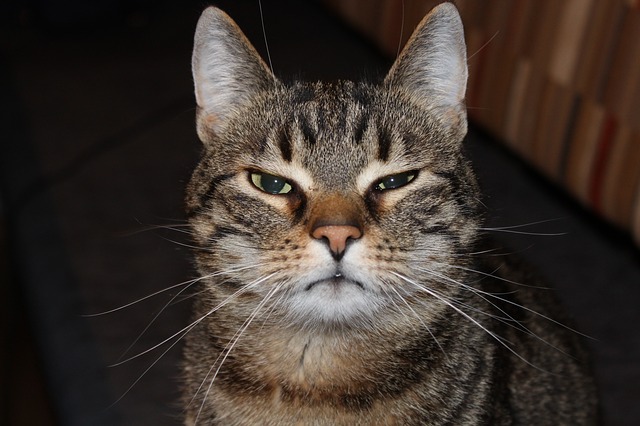 To reduce the risk of your cat developing a dental disease it's recommended that you brush your cat's teeth at least two to three times a week. It's also a good idea to take your cat to a veterinarian to get a professional dental cleaning at least once a year for a more in-depth cat teeth cleaning procedure.
As a busy pet parent, I know how hard it can be to regularly brush your cat's teeth. But it's important to keep up with your cat's oral health so they don't get gum disease and to avoid the possible loss of teeth. Poor oral health in a cat can also lead to other health ailments like chronic mouth infections and even heart disease.
If you're having trouble brushing your cat's teeth regularly you can try some of the alternatives to brushing cats teeth mentioned in this article
Resources:
Feline Dental Disease
Dental Anatomy of Cats
Feline Dentition