When picking out the best cat tree for multiple cats, you should keep in mind your cat's activity levels and their behavior. If you have very active cat's that like to climb to the highest spot in the house, you will need a tall cat tree with high perches.
If instead, you have cat's that like to hide under furniture or just like to keep to themselves a cat tree with multiple cat condos will be the best option. If you have a mix of cat's where some are climbers and others like to stay hidden. You will need a cat tree that has a good mix of perches and condos.
Best Cat Trees for Multiple Cats
Selecting a Cat Tree
When selecting a cat tree be sure to pick one that is appropriately sized for your cats. Some cat trees can look big in a photograph but are really more suited to kittens, instead of full-size cats. The size and shape of the perches are one of the more important things to be aware of when picking a cat tree. If a perch is too small your cat's legs could hang off the edge, or they might be afraid to use it at all.
The best perch designs have either a "U" shape or some other railing to make the cat feel secure. Cat's will feel most comfortable when they can feel some support on all sides of their body, especially when they are on a high perch.
As for selecting a tree to meet the needs of a cat that likes to hide. Make sure the cat condos on the tree are big enough to fit a full grown cat and are easy for the cat to get in and out of. Cat condos also come in a variety of styles, some of them are more open while others are closed and very private.
If your cat needs a really hidden spot to feel secure, go with the enclosed condo. Just make sure they can fit through the opening easily and will be comfortable laying down once inside. Other cat condos are more open and will be better suited to cat's who want to feel a little more secure but don't need a completely enclosed condo to be happy. As with the enclosed type of cat condo just make sure they are sized appropriately, so your cat will want to use it on a regular basis.
Best Cat Tree Reviews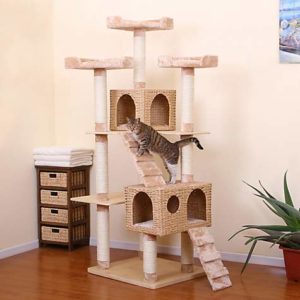 The PetPals Group Towers Multi Level Cat Tree is a very large cat tree that will comfortably handle five to six cats. This cat tree has three nicely designed perches that will support full-grown cats with ease. The perches are located at the top of the cat tree giving your cat's a birds-eye view of their surroundings.
This cat tree also comes with two stylish wicker cat condos that will blend nicely into most home decors. One cat condo can hold up to two cats while the other condo will comfortably house a single cat. Along with the very nice accommodations for your cat's, all the supports are covered in sisal and act as scratching posts. The PetPals Group Towers is one of the best towers for a large cat family.
---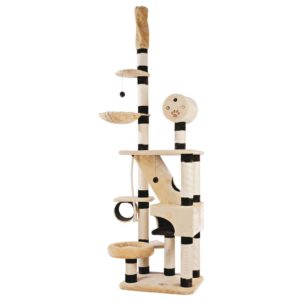 The Trixie Belorado Adjustable Cat Tree is one of the tallest and most well-appointed cat trees available. A unique feature of this cat tree is that it can be safely secured to the ceiling using the spring loaded top pillar without using any tools. This feature makes this cat tree very sturdy, which is perfect for cats that like to play very aggressively.
The Belorado Cat tree will comfortably hold five to six cats and has a good mix of perching platforms and condos, The four perching locations are nicely sized, and they are spaced evenly along the whole tree, which is perfect for cats that like to stay a different heights. The two condos are plush-lined and provide a high level of privacy.
Besides the condo, a cat tunnel is also included where a cat can take a break, or have some fun playing around. Multiple dangling tease toys come attached to the tree, and all the supports act as scratching posts. If you are looking for a really unique large cat tree you might want to give this one a try.
---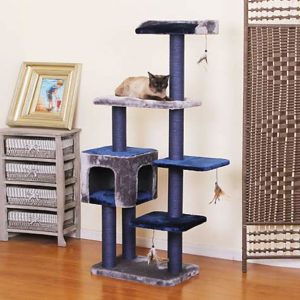 The PetPals Group Midnight Molly Navy Cat Tree is a great choice for a house full of active cats. This cat tree will easily support up to five cats. There are four very large perches perfect for active climbers.
The top perch has a railing for added comfort and support, while the lower perches are wide and suitable for any size cat. The one cat condo is also very large, and even though it is open on two sides it should provide good privacy for most cats.
All the support posts act as scratching pads since they are covered in sisal. The tree also comes with 3 teasing toys. This means your active cats will always have something to do when they use this well-designed cat tree.
---
The Trixie Mariela Cat Playground has a very good balance of perch space to condo space. This cat tower is perfect for a household with five to six cats. The tower has four perching locations, two of which are located at the top of the tower and have nice support railing. The other perching areas are located lower down near the cat condos.
As for the two condos, one of them will hold up to two cats at a time, while the other one is made to hold one cat. The condos are very large and provide a good level of privacy.
All of the support pillars act as scratching posts, and another interesting little addition is a hanging cylinder for cats to squeeze through for some added enrichment. This is one of the more affordable cat trees with a good balance of features, which makes it perfect for a home with multiple cats.
---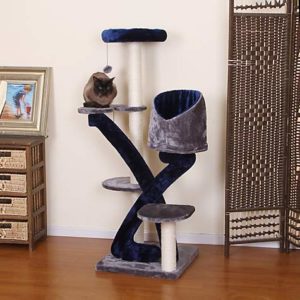 The PetPals Group Five Level Cat Tree has a nice modern design with arching support pillars and rounded edges. This cat tree will support up to four cats, with a good amount of perching space it's perfect for climbers. The tree has four perches and they are all large enough to support a full grown cat.
The cat condo on this cat tree is one of the more unique ones I have seen. The condo has an open top with high walls, if you have cats that like to hide in similar structures this might be a good choice for those cats. The tree comes with two teasing toys, and the main support pillars are covered in sisal and will provide abundant scratching opportunities.
---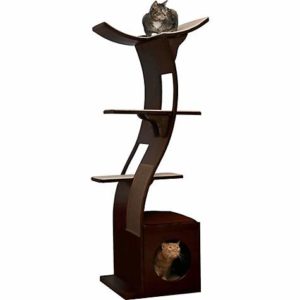 If you are looking for one of the most stylish cat trees on the market look no further than the Refined Feline Lotus Tower. This cat tree is made of espresso colored wood with a smooth flowing design making it more a piece of furniture than a cat tree.
Beyond the looks, this cat tree is designed to handle up to four cats. This cat tree is more suited for cats that like to perch then for cats that prefer to hide. There are three very spacious perches, with the top perch having a "U" shape for ultimate cat comfort.
A single enclosed cat condo is located at the base of the cat tree. If you have one cat that prefers to hide and stay low to the ground this configuration is perfect. The Refined Feline Lotus Tower is definitely one of the best-looking cat trees available. If you have the right mix of cats this would be a great addition to any home.
---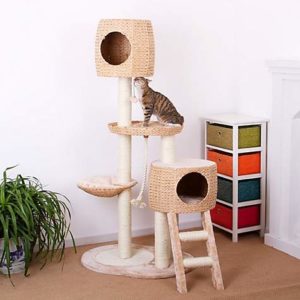 The PetPals Group Multi Level Condo Cat Tree is nicely designed and will easily handle up to three cats. This cat tree has less perching space and focuses more on condos. While the perches are nice they might not provide the security some cats prefer.
The two condos though are nicely designed and will provide a good enclosed space for your cats to relax in. A hanging teaser rope and pom-pom toy come included with this tree, allowing your cats to have some fun when hanging out on this cat tree.
---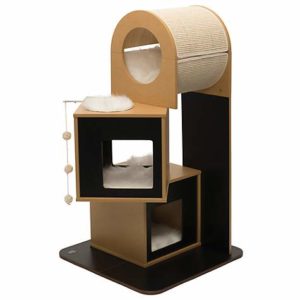 The Vesper V-Tower is great if you don't need a tall cat tree with perches. The design of the V-Tower is very modern and will look good in most settings, and it will not take over a room. The V-Tower is good for senior cats and they all prefer cat condos over perches. The three condos are very spacious and easy to access for any size cat.
With the included memory foam cushions the condos are extremely comfortable. There is also an included ball toy and a large scratching pad to keep your cats occupied. If you have a group of cats that like privacy and comfort this tower is a perfect fit.
---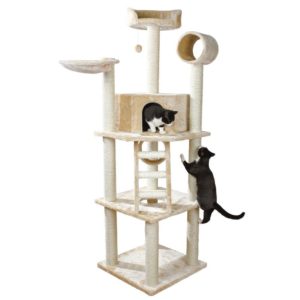 The Trixie Montilla Cat Playground is a good cat tree for up to four cats. It has two or three good perching areas and one cat condo. The perch at the top of this tree is well designed and offers very reassuring support. The other main perch is more open which is perfect for more adventurous cats. A cat tube is also located at the top of the tree for any cats that want to hang around inside.
While this cat tree is more suited for active climbers a single large cat condo is available for any cats who prefer to keep to themselves. All the support beams are covered in sisal and act as scratching posts. One more thing to keep in mind about this tree is it doesn't have a stair step design for getting to the top. Because of this cats will have to climb the support beams. if your cats are very strong climbers this will not be a problem. Otherwise just be aware this cat tree is better suited for active cats.