One of the most important things for a crested gecko is to keep its environment moist enough for them to survive. On this page, we'll help you choose the best automatic mister for a crested gecko from the wide selection of reptile misting systems currently on the market.
Best Automatic Mister for a Crested Gecko
Best Automatic Mister for a Crested Gecko
REPTI ZOO 10L Reptile Mister Fogger
The Repti-Zoo 10L Mister System (Buy Online) comes equipped with four 360 degree spray nozzles and this misting system has enough power to handle up to 20 nozzles in total. It also has a timer that allows you to set it and forget it, so you don't have to worry about remembering when or how long the last misting cycle was. Plus, this mister is also super silent which means it won't disrupt you or your crested gecko every time it turns on.
Features:
2.6 Gallon Reservoir
Powerful Pump
Adjustable Water Pressure
360-Degree Nozzles
Pros
Produces a Fine Mist
Expandable
High-Quality Suction Cups
Cons
Nozzles Can Clog if You Have Hard Water
Nozzles Can Drip
Mild Vibration
Exo Terra Monsoon Solo II, Programmable Misting System for Reptile Terrariums
The Exo Terra Monsoon SOLO II (Buy Online) is the best automatic mister for a crested gecko. It can be programmed to mist your pet at regular intervals, and it's easy to connect and install. Best of all, this misting system generates a fine spray of water that will help maintain optimal humidity in any terrarium or crested gecko cage.
The Exo Terra Monsoon SOLO II has a powerful 6.25 PSI pump with adjustable spray nozzles that can be pointed in any direction. Plus, it comes with high-quality pressure-resistant Poly tubing & leak-proof connectors that make installation quick and easy.
The Exo Terra Monsoon SOLO II misting system will also mist your crested gecko's habitat at set intervals, the duration, and frequency of which can be easily adjusted via an intuitive interface on top of the unit.
And the Exo Terra Monsoon SOLO II has a water tank that holds 1.5 liters (0.4 gallons) with an easy-to-fill opening at the top which allows for quick refills without opening up the unit or disturbing your pet.
Pros
Easy installation
Can be pointed in any direction
Keep your geckos hydrated and comfortable.
Cons
Nozzles Needed Droplet Size Adjustment
MistKing 22251 Starter Misting System V4.0 – PetOverstock,Black
The MistKing Starter Misting System (Buy Online) is the perfect automatic mister for a Crested Gecko, especially if you are looking for something that can be scaled up as your gecko grows or needs more misting power.
The MistKing Starter Misting System V4.0 features an easy-to-use 24V DC misting pump capable of running up to 10 nozzles that produce droplets down to 50 microns in size. This starter kit includes 15 feet of 1/4″ black opaque tubing as well as 5 tubing clips with screws so that installation is quick and simple. It also includes instructions on how to set up the digital timer ST-24 which allows you total control over when your pump will run.
Overall, MistKing has been the leader in automatic mister technology for years and if you're looking for the best automatic mister for a crested gecko, then you can't beat a Mist King Misting System since they are used by professional breeders and zoos around the world.
Oiibo High Pressure Reptile Misting System Adjustable Rainforest Sprayer with Remote Controller & 8pcs Nozzles
The Oiibo High Pressure Reptile Misting System (Buy Online) uses a strong pump capable of spraying water at high pressure through multiple nozzles over an extended period of time. This allows you to mist your crested gecko every day without worrying about your gecko getting too wet or having too much water in its enclosure. It also has built-in timers so you don't have to worry about remembering when you last turned it on/off.
If you're looking for an easy way to keep your crested gecko happy and well hydrated then this automatic mister will do just that. It comes with everything you need to install it into any terrarium – including 8 spray nozzles and 29 feet of black poly tubing.
And Oiibo's high-pressure reptile mister has been designed with several features that make it stand out from other reptile misters on the market. It has a built-in programmable timer, 24-hour cycle, 2.6-gallon water tank, and super silent pump that supports up to 20 spray nozzles. And best of all you can control this mister from a distance with the included IR Remote Control.
MRREPTILE Automatic Mister for Reptiles, Terrarium Fogger Misting System
The MRREPTILE Automatic Mister (Buy Online) was designed specifically for reptiles so that you can easily control how much moisture your pets receive while keeping them safe from any potential dangers associated with incorrect humidity levels (like mold). Plus, it's affordable and easy to set up and operate, so there isn't really anything standing between you and having the perfect habitat for your crested gecko anymore.
The MRREPTILE Automatic Mister is easy to use and does a great job at keeping your pet happy and healthy with its adjustable nozzles. This reptile mister has three different modes, manual misting mode, cycle timing misting, and automatic misting mode. There are also five different spray durations to choose from ranging from 5 seconds to 60 seconds. And you can choose between one or two cycles per day with a maximum of 24 hours delay between each cycle.
Giangarden Reptile Waterer and Reptile Fogger
The Giangarden Reptile Waterer and Fogger (Buy Online) will automatically refill your pet's water dish so you don't have to worry about it being empty when you get home from work. It also features an internal fogger that can be used to mist your pet during hot summer days or in dry climates (fogger included).
Zoo Med Reptifogger Terrarium Humidifier
Zoo Med Reptifogger Terrarium Humidifier (Buy Online) is perfect for keeping your pet healthy while providing him with a comfortable environment. This ultrasonic humidifying fogger comes equipped with everything you will need right out of the box so you can start misting immediately.
The Reptifogger has adjustable fog output control and comes ready to operate out of the box with everything you need including (one-liter bottle & fittings). You'll also find a no-spill valve on this unit which makes it easy to remove and refill the water bottle without having to worry about spillage or leaks.
Best Crested Gecko Temperature and Humidity Controller
PETSPIONEER Temperature & Humidity Controller Reptile Timer Day & Night Use, Dual Stage Outlet Reptile Humidity Controller Heat Thermostat with Heating & Cooling Mode
The PETSPIONEER Temperature & Humidity Controller (Buy Online) is an accurate way to control the temperature and humidity in your crested gecko's cage. This temperature and humidity controller can be used with any type of reptile or amphibian. It will save you time by automatically adjusting its settings based on your pets' needs and it has safety features built-in so you don't have to worry about anything going wrong while you're away from home.
This handy device has an LCD screen for easy reading when needed, as well as a convenient push-button controller. It even comes with two high-quality temperature and humidity sensors and 3 outlets that can be connected to Heat Lamps, UV Lights, and Automatic Misting Systems.
Crested Gecko Humidity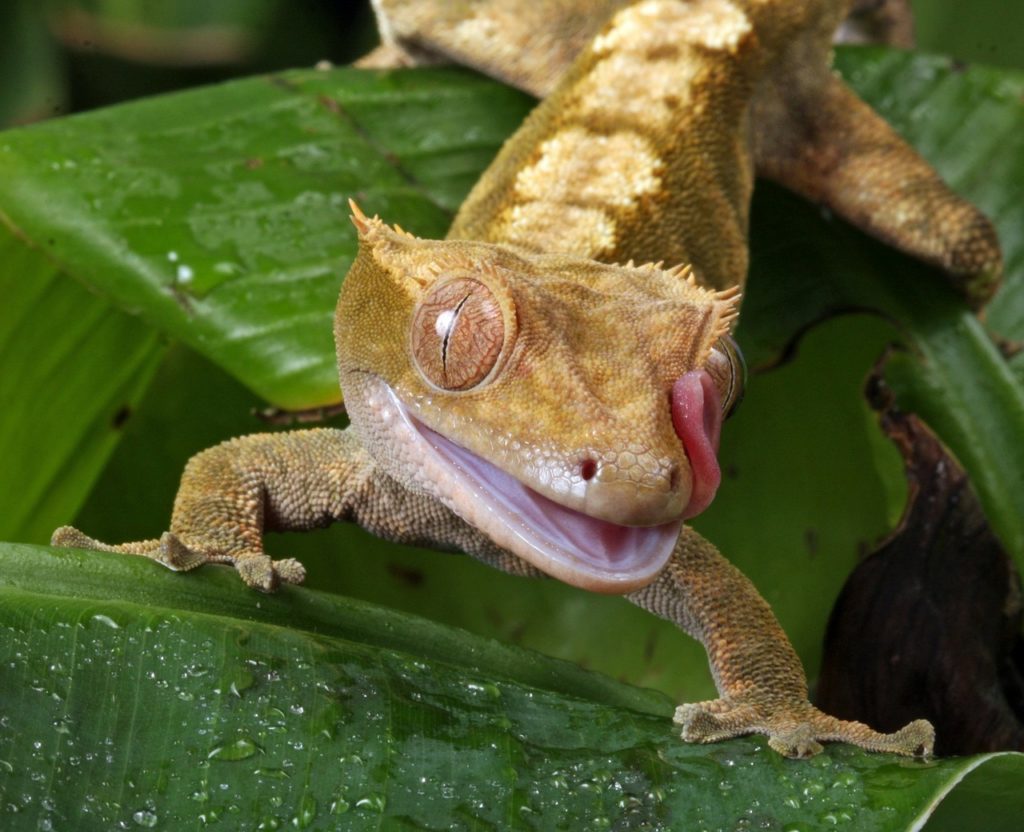 There are many things you need to know about properly caring for a crested gecko. One of the most important factors is humidity. Crested Geckos require a humidity level of 50%-75% for their skin to stay healthy and keep from drying out, and if your crested gecko isn't getting this, then you will need to increase the relative humidity levels in their environment. Read on for more information.
Crested Gecko Humidity Levels
Crested geckos need a relative humidity of 70 to 80 percent. Although they can tolerate lower levels of humidity for a short duration crested geckos do best when their cages are allowed to maintain an environment that is moist enough but not wet. And the moist air seems to help them hold on to water, which is necessary for maintaining healthy skin and scales.
Crested Gecko Humidity Range
Low Humidity: 50 to 70 percent
Optimal Humidity: 70 to 80 percent
High Humidity: 80 to 100 percent
Is Humidity Bad for Crested Geckos
Crested geckos need a relatively high humidity environment to thrive. It's important to maintain proper humidity levels or your crested gecko can run into problems like shedding issues or organ failure. However, excessive humidity can cause excessive mold growth and bacterial infections to arise.
Crested Gecko Humidity Too High
You may be misting too much and not giving the cage enough ventilation. There are various ways to decrease humidity including maximizing air circulation to allow the moisture that's already inside the habitat to dry. You can also purchase a hygrometer (humidity gauge) for accurate measurement of the humidity level in your crested gecko habitat to find the optimal misting cycle.
Crested Gecko Humidity Too Low
One way to increase the humidity inside a crested gecko's terrarium is by misting the walls. There are also commercial brands of "moisture retentive substrates" available at most pet stores which can be useful as well if using perlite to passively release moisture into your crested gecko's environment.
Should You Mist a Crested Gecko Tank
Yes, you can use a spray bottle and just spritz the walls and the leaves of the plants in your Crested Gecko's tank. Misting has been shown to both improve feeding response and increase drinking frequency when done appropriately. Higher humidity is also great for regulating skin moisture content for these guys, so misting is really a win-win all around.
Crested Gecko Misting
Misting is easy and inexpensive – you can use a spray bottle, mister, or humidifier
Mist your gecko's enclosure once or twice per day for 10-15 minutes each time
Mist the floor of the enclosure as well as the walls and plants
Be sure not to over-mist because it could cause mold growth in your tank.
Take care not to mist your gecko directly; instead, mist their environment