Do Pitbulls Need Coats in the Winter? Often, people think that pit bulls don't need protection from the cold in winter because they have a fur coat. However, pit bulls can still get very cold, and they need coats just like any other short-haired dog.
There are many different types of coats that are available for Pitbulls, and on this page, we'll explore why Pitbulls need coats in winter and talk about some of the best winter coats for keeping your pit warm during the colder months.
Best Winter Coats for Pitbulls
Best Winter Coat for a Pitbulls
Canada Pooch True North Dog Parka Warm Dog Jacket
The Canada Pooch True North Dog Parka Warm Dog Jacket (Buy Online) is the perfect dog coat for those extra cold walks. This jacket features a water-resistant exterior with a collar along with a full-body fleece lining, and heavyweight thick insulation to keep your dog warm and comfortable. Plus the dual Velcro closure provides a snug and secure fit, while the reflective trim helps keep your dog visible in low light conditions.
LUCOLOVE Dog Winter Coat with Smart Heat-Reflective Insulation
The LUCOLOVE Dog Winter Coat (Buy Online) is the best winter coat for Pitbulls. The fleece and cotton insulation will keep your pooch extra snug, while the quick-adjust chest straps make sure the coat fits just right. And if you live in a colder climate, no problem. With a waterproof exterior, heat-retaining lining, and fleece insulation, this coat will keep your pup cozy all season long. Plus, with seven sizes to choose from, there's a perfect fit for every dog.
Lymenden Dog Jacket with Harness
The Lymenden Dog Jacket with Harness (Buy Online) is the best way to keep your dog warm and safe during the cold winter months. This coat is made of durable polyester fiber that will last for years. And it has bonded polar fleece material on the inside paired with an elastic waterproof outer layer that keeps rain out while keeping warmth in. Plus, this coat has an adjustable extended collar that prevents cold wind and snow from getting inside, and the zipper on the back of this coat makes it easy to put on and take it off for a quick walk.
Kurgo North Country Dog Coat, Dog Winter Jacket, Waterproof Dog Jacket
The Kurgo North Country Coat for Dogs (Buy Online) will keep your pooch cozy, comfortable, and safe in the winter weather. This high-quality jacket features waterproof ripstop fabric with reflective piping for 360-degree visibility in low light or at night. And the soft fleece lining keeps dogs extra warm and there are also Velcro straps on each sleeve so you can attach it to their harness or collar while they play outdoors. This dog winter coat comes in six sizes from XS-XXL so you can find the right fit for your pup no matter how big they are.
Carhartt Pet Firm Duck Insulated Dog Chore Coat
The Carhartt Pet Firm Duck Insulated Dog Chore Coat (Buy Online) combines classic style with modern technology to create a coat that's perfect for any outdoor activity you want to do with your dog. This coat is made from duck canvas with a water-repellent coating that protects your pup from wind and rain while keeping him warm on even the chilliest days outside. And the quilted liner is made from nylon with polyester batting to provide extra warmth and increased protection from bumps and scrapes. Plus, this coat comes from a company you can trust – Carhartt.
Hurtta Extreme Warmer Dog Winter Coat
The Hurtta Extreme Warmer Dog Winter Coat (Buy Online) is the perfect way to keep your dog warm in the winter. This coat is made of heat reflective material that will keep your dog's body heat close to him, and it also has a hood to keep his head and ears warm. The coat is also adjustable so that it will fit any size pitbull, and it comes in a variety of colors so that he can look stylish too.
Kurgo Loft Jacket Dog Coat
The Kurgo Loft Jacket (Buy Online) is one of our favorite dog coats because it's made from durable ripstop nylon with 140 g Polytech fill. Additionally, this jacket is reversible so you can easily switch between black or red depending on what color matches better with their harness. This jacket comes in 5 sizes (small, medium, large) so it should fit most dogs comfortably without being too tight or loose around their body.
Finally, we love the fact that this jacket has a full back zipper opening near the neck area so you can still use your dog's favorite harness underneath without having to worry about taking the whole coat off.
Kensington Signature Plaid 1200 Denier Dog Coat
The Kensington Signature Plaid Dog Coat (Buy Online) has a waterproof outer shell that withstands rain and snow, while the fiberfill insulation inside provides warmth without adding excess bulk. Plus, this coat is available in multiple sizes for different-sized dogs so you will have no problem finding one that fits perfectly on your pet. And these stylish coats are also available in a wide assortment of vibrant plaid patterns that are perfect for both male and female dogs.
Embark Pets Wax Dog Jacket
The Embark Pets Wax Dog Jacket (Buy Online) is perfect for keeping your pup warm in the winter. It has a wax coating exterior and bonded cotton insulation to keep your dog snug and cozy all season long. Plus, it's water-resistant so your dog will stay dry in light rain, sleet, and snow.
Weatherbeeta Parka 1200 Deluxe Dog Coat
The Weatherbeeta Parka 1200 Deluxe Dog Coat (Buy Online) is a waterproof dog coat for Pitbulls that is made from a durable 1200 denier triple weave outer shell that provides warmth without being bulky making it ideal for active dogs out on walks or playing fetch in the park. Plus, it has a thick inner lining that features 220 grams of polyfill insulation, which traps heat close to your dog's body but still allows adequate airflow.
Why Do Pit Bulls Need Coats in the Winter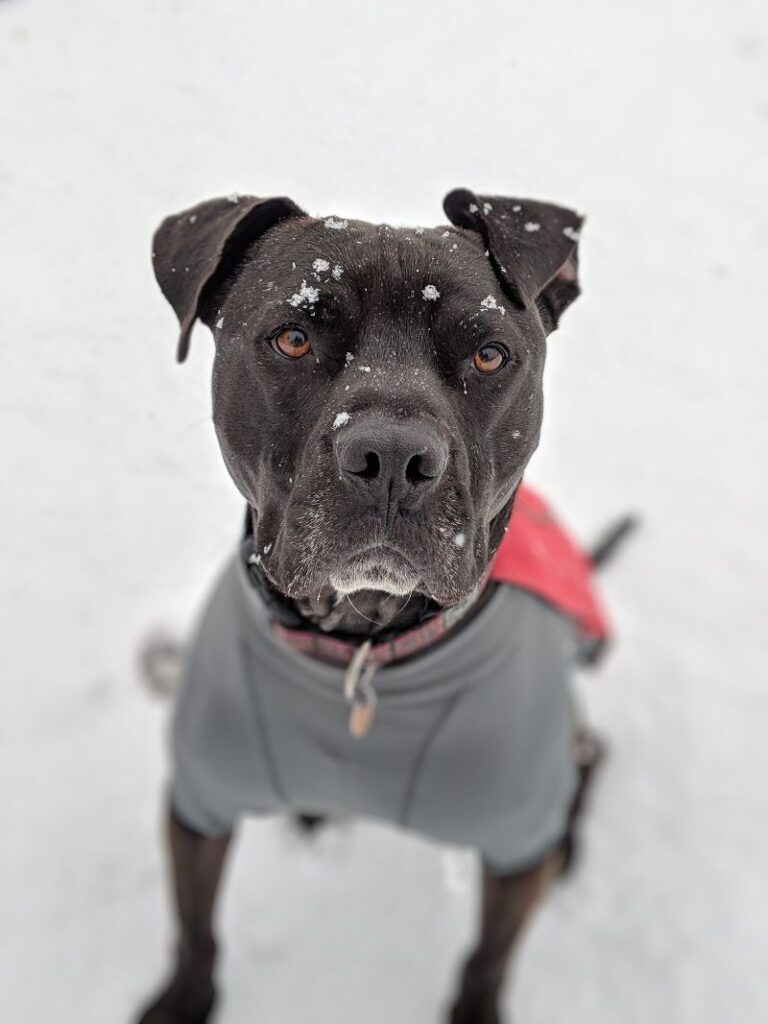 Cold winter weather can be hard on dogs, particularly those with thin fur coats like pit bulls. While some people might think that it's a silly idea to put a coat on a pit bull, there are actually many benefits to doing so. Coats help keep dogs warm and protect them from the wind and snow. They can also help prevent skin irritation and other health problems.
How to Measure Dogs for Coats
Measure the length of your Pitbull's back, from their neck to the base of their tail. Then wrap the tape measure around the widest part of your Pitbull's chest. This will give you the two measurements that you need to size most dog coats.
TIP: Use a fabric measuring tape that is at least 3-4 inches wide so you can get an accurate measurement without too much difficulty.
Pitbull Neck Size
The average neck size for a pitbull is 14-18 inches. However, there is no one "standard" size for this breed. Some Pitbulls have smaller necks and some have larger necks. And, as with any other breed of dog, there will be variations in the size of individual Pitbulls.
Pitbull Chest Size
Pit bulls can have a chest size of anywhere from 25 to 35 inches. This makes their chest size considerably larger than that of most other dog breeds that are a similar size.
Pitbull Weight
A typical Pitbull is about 50 to 75 pounds. However, there are many different sizes and shapes of Pitbulls.
Their weight can depend on whether they're male or female, and how much muscle and fat they have packed onto their frame.
Pitbull Coat Measurement
Neck: 14 to 18 inches
Chest: 25 to 35 inches
Pitbull Coat Type
Pitbulls have short, smooth coats that are glossy and stiff to the touch. Their coats come in a variety of colors, including white, black, brown, tan, and blue. The coat is also very easy to groom and requires only a minimum amount of care.
What To Look for in a Winter Coat for a Pitbull
Size & Length
When looking for a winter coat for a pitbull, the most important thing to consider is the size, width, and length of the coat. You want a coat that is big enough to fit your dog comfortably, but not so big that it gets in the way or restricts movement. The coat should also be long enough to protect your dog's neck and back from the cold weather.
Material
A good winter coat should be both waterproof and windproof. It's also important for a pitbull winter coat to be durable since Pitbulls can easily tear up weaker materials like cotton, so they need something tough enough to last through harsh weather conditions.
Machine Washable
When looking for a winter coat for your Pitbull, you'll want to make sure that the coat is machine washable. This is important, as dogs can get quite dirty during the winter months and their coat will need to be easy to clean. You'll also want to look for a coat that is waterproof since they usually dry quickly.
Easy to Get On and Off
The best winter coats for Pitbulls are those that are easy to get on and off. A good winter coat should have elasticized straps or Velcro closures, so it doesn't take much effort to put on or take off.
Leash Port
When looking for a winter coat for your Pitbull, you'll want to make sure to find one that has a leash port. This is a hole or opening in the coat near the collar that will allow you to attach your dog's leash without having to remove the coat. This is especially important in cold weather since it will help limit any heat loss.
Why Dogs Need Winter Coats
Fur Length & Thickness
A dog's fur length and thickness are two important factors that determine how well they can keep warm in the winter. Dogs with shorter fur, like Pitbulls and Rhodesian Ridgebacks, need to wear a coat in the colder weather to stay warm. Dogs with thicker fur, like malamutes and huskies, can tolerate colder temperatures without a coat.
Sub-Zero Temperatures
In very cold climates, it's important to keep your dog warm with a winter coat or sweater. And if you live in an area where the temperatures regularly fall below freezing, you should consider buying a coat with thick insulation and a heat-reflective lining. They come in all shapes and sizes, and there's sure to be one that will fit your furry friend perfectly.
Age
Older dogs can get very cold since they have a harder time staying warm. Plus, younger dogs and puppies can also be a little more sensitive to the cold.